While natural stone kitchen countertops look great, some kitchen designs elevate those looks to the next level. Ornate edge profiles are one of those design elements.
Among the many edge finishes, homeowners can choose from, the most popular edge profile for natural stone countertops is called the ogee.
In this short read, we're going to introduce you to what the ogee edge is.
What is an ogee edge?
An ogee edge can be easily distinguished from other natural stone countertop edges. This profile features a sophisticated-looking S-shaped curve, giving your kitchen countertop the perfect, classic look for traditional kitchens.
A lot of people often mistake the ogee for bullnose edges. Bullnose edges are all convex edges. Ogee edges, on the other hand, are characterized by free-flowing concave arches into convex arches. This gives the countertop a tiered and sophisticated look. While the full bullnose may be the most common edge for quartz countertops, the ogee remains the premium choice.
Ogee edges are most often found on granite, marble, and concrete countertops. Due to their unique and appealing appearance, they are more expensive to get than other edges.
However, they are not limited only to natural stone countertops. They often make an appearance on woodwork and on decorative moldings as well, where they are carefully cut using routers.
Ogee edges are also used on ornate glass mirrors, tables, and other pieces.
Comparative costing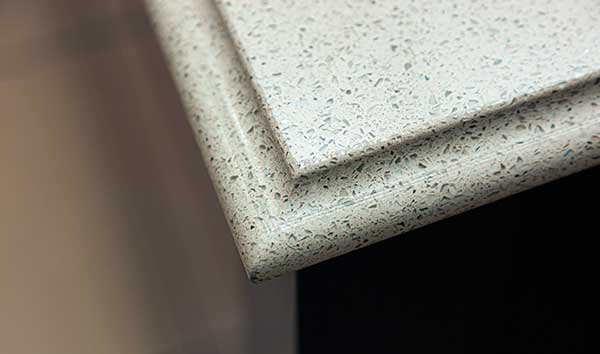 Before you decide on what kind of edging you want for your kitchen countertop, it is important to know what each of your choices will cost you. Here's a look at what you can expect to pay.
A straight edge is the simplest and features a slightly rounded top and bottom just to avoid sharp edges. Expect a cost of between $10 and $30 per foot of countertop.
A half-bullnose or a rounded edge features only the top edge of the countertop being rounded off. This costs the same as a straight edge does.
An eased edge will have only a slightly rounded top edge, and costs can vary between as low as $5 per square foot to $30.
A full bullnose will mean the edge will be rounded off completely, both at the top and the bottom. This will cost you between $20 and $45.
A beveled edge is recognizable by the straight cut with a 45-degree angle at the edge of the countertop. This will cost you the same as a full bullnose will.
A Dupont edge looks somewhat like a shoe, with a 90-degree angle on top of a quarter-round edge. This is among the three most expensive edges, costing between $30 and $60 per square foot.
A double-bullnose, as the name suggests, features two fully rounded edges on top of each other. The cost of a double bullnose is the same as a Dupont edge.
The ogee, whose distinguishing features we have discussed above, will also cost you between $30 and $60 per square foot.
A brief introduction to the ogee edge
was last modified:
April 7th, 2023
by
Recommended