Opportunities for Women in the Construction Industry
There's no doubt about it…women are diversifying the construction industry.  
According to the National Association of Women in Construction (NAWIC), as of Dec. 31, 2016, approximately 939,000 women were employed in various occupation sectors of the construction industry with women making up 9.1 percent of the construction industry in the United States.
Historically, women in the construction industry have been employed in sales and office roles, selling the equipment, products or services used on the construction site, or handling the back office functions related to operations.  However, exposure to construction administration, construction engineering and construction management at the collegiate level has opened the door to professional and management opportunities in the industry.  
Construction administrators perform the administrative duties of a project, monitoring contracts and preparing progress reports that help ensure the project is going according to plan, as contracted. They also coordinate schedules and process invoices ensuring payments don't get ahead of the work. Construction engineers are civil engineers that design specialized systems. These systems relate to the building itself, or the electrical or mechanical aspects of a building. Construction managers plan, coordinate and oversee construction projects from pre-design through completion, preparing budgets and schedules. Let's not forget other professional careers such as architects or designers, surveyors, estimators, and building information modelers, just to name a few.
The natural resources, construction & maintenance fields also offer employment opportunities.  Careers in the natural resources field are either offensive or defensive.  Offensive careers involve preserving our natural resources, while defensive careers typically involve some level of environmental protection, protecting not just the environment but also human health. Careers in construction and maintenance ensure buildings are safe, technically sound and up to code.  
Read more: How to deal with a difficult contractor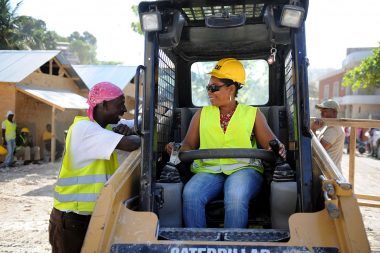 Photo by USAID U.S. Agency for International Development [Public domain], via Wikimedia Commons
Service careers include skilled trades requiring specific training and manual work, such as carpenters, tile setters and electricians. These types of careers have been overlooked in recent years, due to the phasing out of shop classes in high school and the steering of these students from blue collar careers to white collar careers that require a college education.  This diversion has created a shortage of skilled labor which has spawned an opportunity for those interested in filling in the gaps.
Lastly, there are production, transportation and material moving careers. Production careers focus on scheduling, quality control, ordering of materials, budget management and/or customer relations. Think of someone in a production role as an apprentice to an construction manager.  Transportation careers involve trucking, transit, highways, air, rail, and maritime passage of equipment and materials.  Material moving careers involve feeding or removing materials from equipment, moving materials around a building site or driving materials from one site to another.
As more women are exposed to the broad range of careers in the construction industry, we'll see more of them in the various occupation sectors noted above.  
Here's the breakdown of women in the construction industry workforce:
45% Sales & Office
31% Professional and Management
21% Natural Resources, Construction & Maintenance
1.5% Service Occupations
1.4% Production, Transportation & Material Moving
This article was originally published on monicadhiggins.com
Opportunities for Women in the Construction Industry
was last modified:
August 24th, 2021
by