Decorate your organic modern living room with these 10 tips
You can instantly identify an organic modern living room by its earthy tones, clean lines, natural textures, wooden accents, and house plants that provide a sense of being one with nature.
It's almost like bringing the outdoors inside. This type of organic feel, achieved through natural elements, is gaining a lot of popularity on social media and we aren't surprised. There's something really charming about an organic modern interior design.
This blog will help you understand what it takes to achieve this kind of look in your living space.
What is the organic modern style of decorating?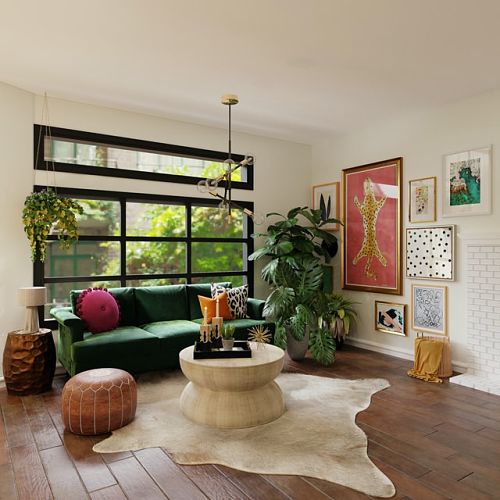 The organic modern design is all about creating an earthy environment with natural materials, neutral colors, natural lighting, and modern simplicity. This decorating style draws inspiration from minimalism, mid-century modern, and boho design trends.
The cozy look is a beautiful contrast between rustic and modern features – resulting in a sophisticated blend of textures and an unfussy style. An organic modern design is ideal for anyone who likes the clean lines and aesthetic of mid-century modern or contemporary designs and the warmth of farmhouse-style interiors. The best part about this type of interior design is that it works well in shared living spaces such as a living room or a family room as well as in bedrooms and bathrooms.
Tips to get an organic modern living room
You can create a simple and uncluttered space that provides a perfect balance between man-made elements and nature. Here are a few tips and tricks to bring the outside world within, with soft organic materials.
Use neutral colors for the living room walls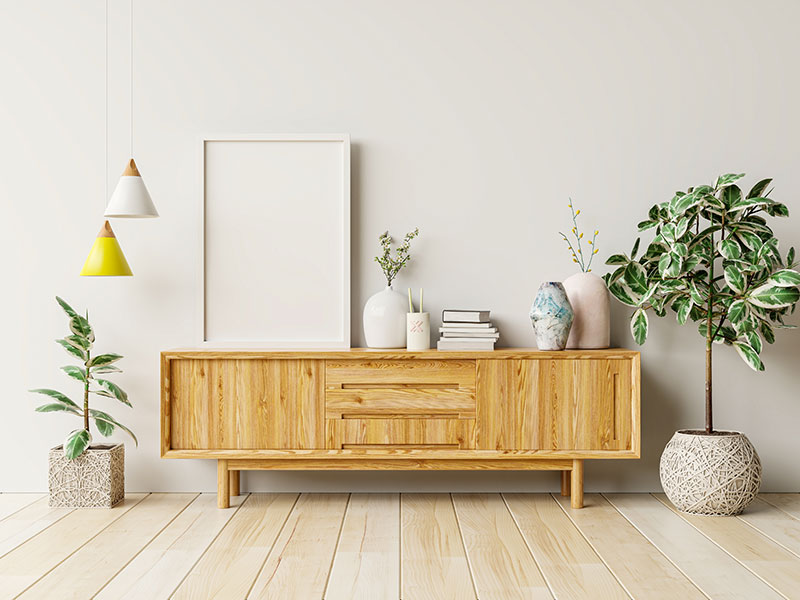 The organic modern style has a subdued and airy vibe – thanks to its light color palette. You can choose between whites, creams, beiges, and pale grays. The best choice is to stick to crisp, white walls that help to set the natural tone of the room. White walls also effortlessly complement organic modern furniture and décor. Even in your décor, it's best to use subtle and subdued tones. Of course, you can add a few touches of bolder colors but we advise staying within the same color family.
Utilize natural materials
You'll always find an abundance of natural materials in this décor style. In fact, it's one of the most appealing and characteristic features of organic modern interiors. Think grainy coffee tables, reclaimed wood dining tables, light-hued cabinets, and simple, comfortable chairs. You can opt for wood, rattan, or bamboo for an organic feel – be it in the light fixtures, furniture, or décor items. For organic furnishing, you can choose from cotton, faux fur, and wool.
Select soft, simple shapes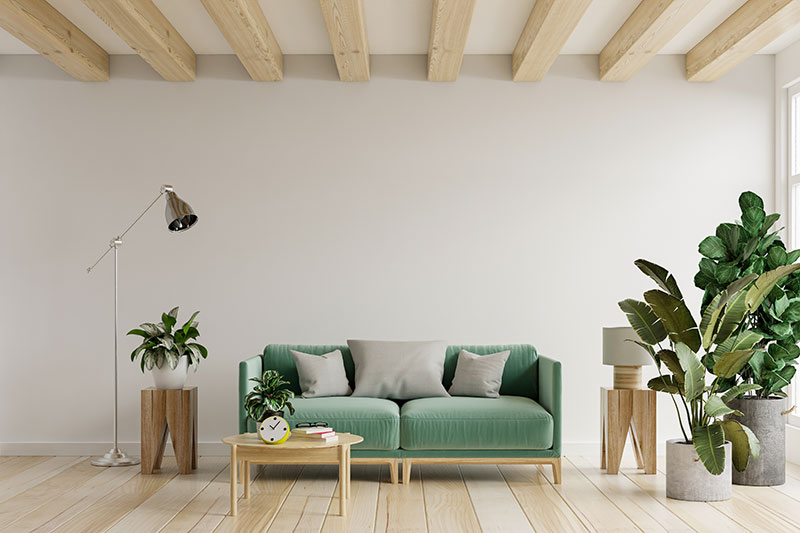 Organic modernism is all about bringing a natural flow and softness to your home through shapes. Keep away from sharp, straight lines that look artificial or too perfect. Your décor pieces should mimic the natural curves and rawness of nature.
Place lots of indoor plants
Nothing makes a living space more earthy than having actual live indoor plants. You can create beautiful corners with lush greenery. Liven up your living room with potted plants and succulents. Plants complement an organic modern kitchen with as much ease as a nature-inspired dining room.
Read more: Succulents care
Keep it simple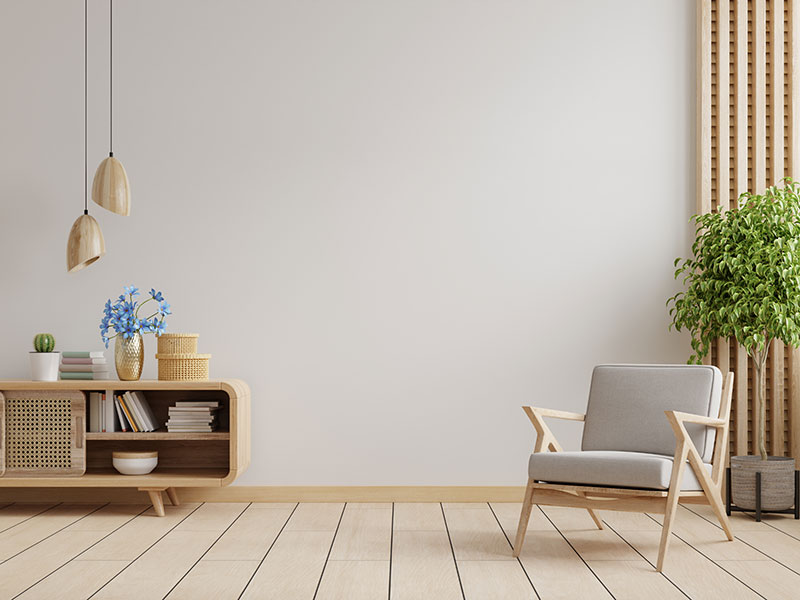 Minimalism is the key to modern organic interiors. Getting inspired by Scandinavian home design ideas, this style too discourages clutter or fuss. Think simple wooden furniture, soft furnishing, and stylish lamps. Remove knick-knacks or anything that makes your living room look cluttered or crowded.
Opt for hand-made pieces
If you want to go organic, you have to buy organic. Instead of a living room décor that looks too perfect, choose hand-crafted items that are uniquely different and beautifully flawed.
A good choice is to buy handmade paintings, woven baskets, macramé wall hangings, and stone sculptures.
Facilitate good, natural lighting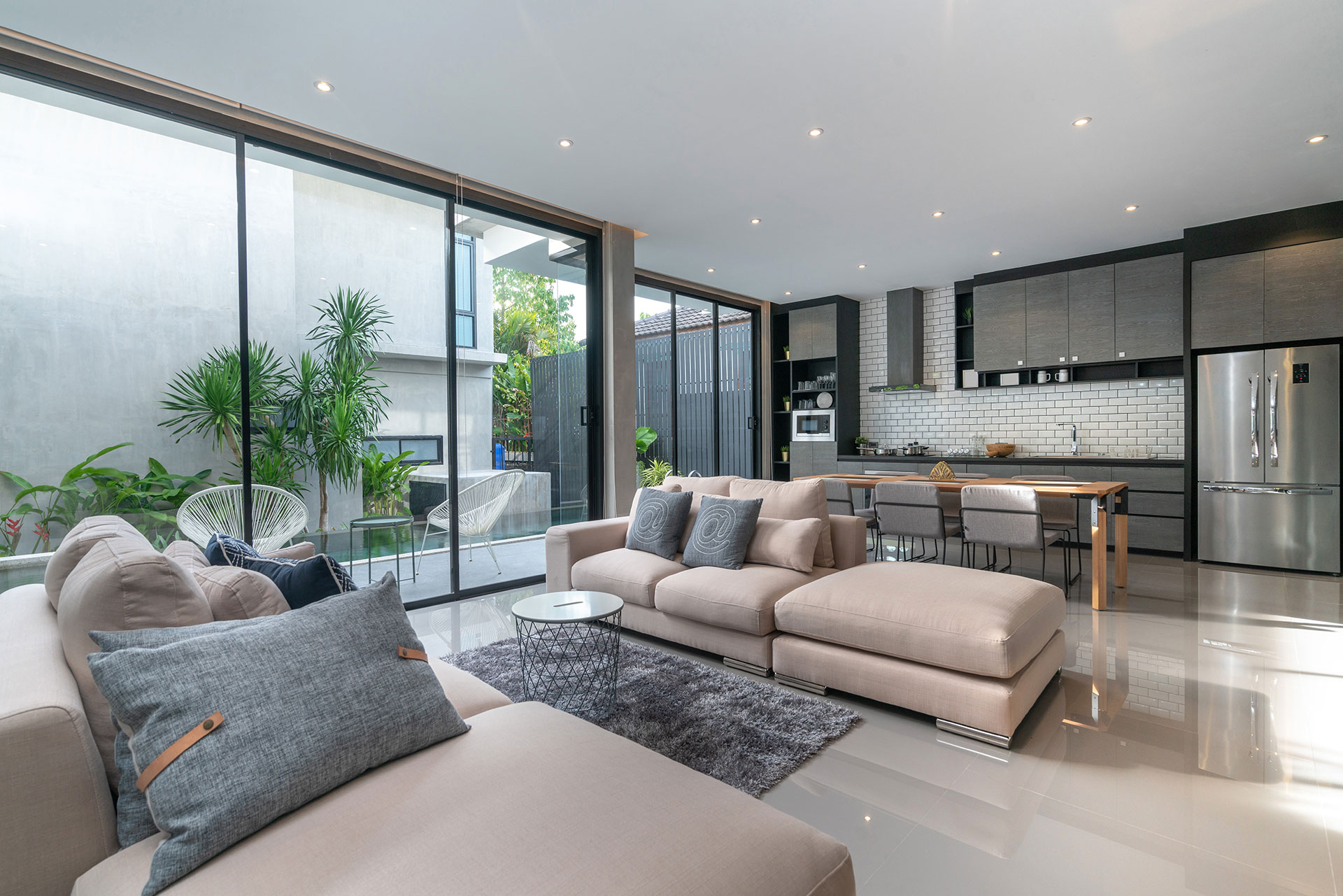 A well-lit living room will not only appear more welcoming and warm, but it will also exude positive energy – making you want to spend as much time there as possible. Good lighting is crucial for an organic modern home. Apart from adding artificial lighting through LED bulbs, make sure your room gets sufficient natural light.
Make comfort a priority
Organic modernism is all about comfort, relaxation, and functionality. A room that inspires you to unwind after a long day.
Your living room should be an oasis of leisure and yet be stylish. A good bet is to choose cozy couches with fluffy woven pillows, sheer curtains, and smart wooden furniture.
Bring in a variety of textures
The color palette may be a bit limited in an organic modern home, but you can play with different sustainable textures instead. For instance, you can mix faux fur cushions, knit throws, soft rugs, and velvet drapes. Just make sure that the textures do not clash in any way.
Choose sleek furniture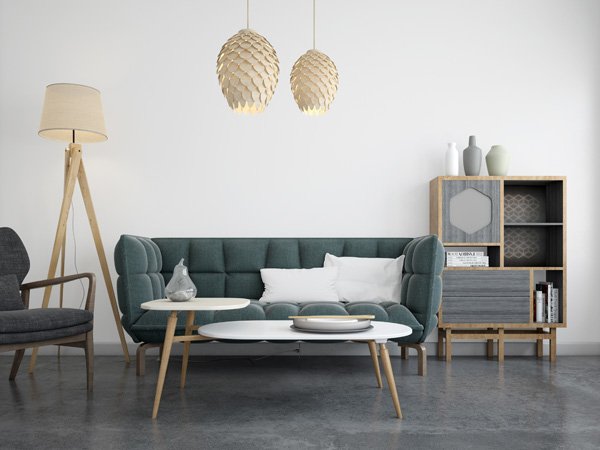 Furniture pieces with a modern design are clean and sleek. For example, your sofas, chairs, tables, and chairs should ideally have smooth slender legs. It's best to avoid heavy or chunky furniture that does not naturally flow through the room.
Last thoughts
You can achieve organic silhouettes in your living room with natural textures, clean lines, and neutral colors. The minimalist, modern space will look effortlessly put-together yet sophisticated.
The idea is to build a design that's in tune with the organic elements. Such architectural elements encourage tranquility — a calmness that's like a breath of fresh air in today's fast-paced life.
Decorate your organic modern living room with these 10 tips
was last modified:
October 18th, 2022
by
Recommended