If outdoor cooking is an important part of your family's culinary experience, this article is for you. We have listed out the most practical materials for your outdoor kitchen cabinets.
We believe that cabinets are an essential part of both an indoor as well as an outdoor kitchen. Outdoor kitchen cabinets help store your best-in-class appliances and provide a unique and inviting look to your outdoor entertainment area.
These appliance cabinets are perfectly designed to accommodate your grills, side burners, pizza ovens, smokers, or microwaves.
Apart from offering you usable outdoor storage and functionality, kitchen cabinets help you organize your outdoor living space — allowing you to make the most of your home.
Whether you want to spend your time outdoors enjoying nature and a luscious barbecue or host a get-together with family and friends — you need sturdy, functional, and weather-resistant cabinets.
We will help you choose the best outdoor kitchen cabinets. So, if you're planning a home improvement for the outdoors in the near future, it'll help if you keep these types in mind.
Is a home remodel on the cards? Use our free home renovation cost estimator to have a fair idea about your budget. You can even get help with the renovation loan from a certified company.
Essential Requirements in Outdoor Kitchen Cabinets
Even though as compared to an indoor kitchen, outdoor options are more limited, you'll still find yourself with a wide range of possibilities. However, before you choose your kitchen cabinets, ask yourself a few questions:
Which material will stand up to nature's elements better?

Which kind of outdoor cabinet will be water-resistant?

Will your final choice be sturdy, and last long without deteriorating or fading under the sun?
Needless to say, whichever material you choose for your outdoor kitchen cabinets, it is of utmost importance to keep your local weather and climate in mind.
Let's See These Simple Outdoor Kitchen Ideas Against Weather Conditions
The Right Materials for Your Outdoor Cabinets
Based on the above questions, there are four kinds of water-resistant, weather- and termite-proof materials suitable for outdoor kitchen cabinets. These are stainless steel, marine-grade polymer, teak, and masonry. Let's explore all four in more detail.
1. Stainless Steel Cabinet
There are tons of reasons why stainless steel is a good material to use for cabinets for outdoors. It is weather- and bug-proof and quite durable. The grade 304 stainless steel, especially, is the most resistant to corrosion and staining.
What's more, it will match your grills and other appliances too.
When it comes to outdoor kitchen design, make sure that your cabinet features welded corners, leveling legs, with hardware and drawer pulls also made of the same material.
Also, consider incorporating wind chains into your stainless steel doors. This is to safeguard them against blowing open in extreme weather conditions such as storms. You may also opt for powder coating for a perfect finish.
The only downside to using stainless steel cabinets is that they can get hot when exposed to the sun. Therefore, food prep is more difficult on a very hot day.
Take a look at everything you need to Know About Kitchen Cabinet Refacing.
Pros
Durable
Weatherproof
Resistant to corrosion and staining
Finish usually matches outdoor appliances (grills, refrigerators, etc)
Contemporary looking and stylish
Blends with most décor
Cons
Expensive option
Not heat-resistant
Can look messy from fingerprints and water spots.
Not very easy to clean
Can be costly
Price range: $1,000-$2,000 for a base model; full-door style.
2. Marine Grade Polymer Cabinet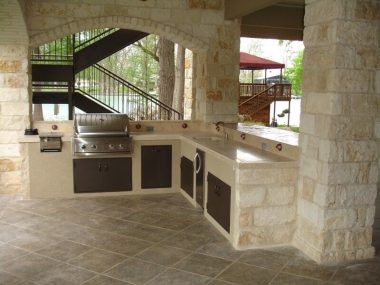 Similar to plastic, the polymer is a synthetic material. For outdoor cabinets, a marine-grade polymer is a safe best. Be it its ability to get wet or its UV-resistant nature.
Moreover, marine-grade polymer cabinets can be hosed down if you need to clean them. You won't have to worry about any damage because they'll be none. And, it holds up well to the harshest of elements.
The material is also stain-resistant. If you want to add a splash of color in your outdoor kitchen, you can — with marine-grade polymer cabinets. There's a variety of colors and styles available in the market.
Pros
Easy to clean
UV-resistant
Water-tight
Fade-resistant
Budget-friendly
Non-corrosive
Cons
Lack of the richness of wood
Made from petrochemicals
Not eco-friendly
Price range: $500-$2,500 for a base cabinet with full doors.
3. Teak Cabinet
Teak gives a classic, sophisticated look to your outdoor kitchen. While it's not as weather-resistant as steel or polymer, its natural attributes make it more weather-resistant than other forms of wood. You can, of course, explore other kinds of outdoor lumber cabinet choices too.
Do keep in mind that teak is an expensive, high-maintenance material that needs regular sealing with a water-proof finish. What's more, it may fade over time (of course, it depends upon the quality of the finish or stain).
Having said that, if you need a beautiful-looking kitchen, go for custom-built teak cabinets.
Pros
Classic, timeless style
Looks rich
With appealing wood grain details
Cons
High-maintenance
May fade under the sun
Needs regular sealing, otherwise, the wood can break down
Susceptible to pests
Price: Depends on the style, details, and of course the number of cabinets you want.
4. Masonry Cabinet
Masonry cabinets is a good choice for custom outdoor cabinets. Basically, your licensed contractor will use a cement block or metal frame covered in decorative stone. This design would create a natural stone look.
Apart from being weather-resistant, stone cabinets provide a built-in look that's quite appealing.
Do keep in mind that there will be significant labor costs.
Pros
Durable and weather-resistant
Perfect for a high-end, natural look
Can be customized
Excellent for increasing home value
Cons
Expensive option
Longer construction time
Hardware (hinges and handles) needs to be purchased separately
Price: Depends on the customization, complexity of work, and local labor costs.
Conclusion
Cabinets are vital to any kitchen, whether indoors or outdoors. Keep in mind that whether you want to create an outdoor kitchen for BBQs or host parties — finding the right materials for them is very important.
After all, you want to ensure that they'll hold up to the weather, right? And, bring the functionality and comfort of the indoors out, in a stylish manner.
We hope you find this post on outdoor kitchen cabinetry materials helpful in creating an enjoyable outdoor space that will serve you for years.
4 Best Materials for Your Outdoor Kitchen Cabinets
was last modified:
May 27th, 2022
by
Recommended