Cabinets are the most prominent features of your kitchen. The finish you choose for them effectively changes the whole ambiance of the room. There are numerous options for the type and color of your cabinets; the most popular one being a tussle of painted vs stained cabinets.
Most cabinets have a wood base; usually maple or birch. Both of these wood species can be painted or stained. And, hence the confusion. Both are equally attractive, each finish has features that appeal to the senses and meet certain requirements. We suggest you weigh both the options and choose the best one for your kitchen.
If you are designing a new kitchen or contemplating a remodeling, this article is for you. You can also calculate the cost of a kitchen makeover through estimators. Or read up on a reliable kitchen cost guide.
Stained Wood Cabinets In Simple Terms
Stained cabinets offer a traditional, woody look. Most homeowners go for this familiar, timeless, and classic touch. Stained cabinets show off the natural features and grains of the wood. Go for a clear stain if you want to highlight the natural color of the wood or a dark mahogany in case you want to add a dramatic, stylish flair to your kitchen.
Painted Wood Cabinets In Simple Terms
Painted cabinets, as the name suggests, consist of cabinetry that's painted with different hues, especially white or cream-colored. These colors make the kitchen look bigger and more roomy. You can even go for dark colors such as gray, black, or navy blue. Or, add a sense of drama with bright shades of yellow, red, orange, or green.
Thinking about interior paint? Find the best cost with our estimator tool.
Painted Vs Stained Cabinets' Costs
If you were to compare a maple stained cabinet versus a maple painted cabinet, the former would be more affordable.
The reason is that paints cost more. The actual painting procedure too adds to the cost. It involves cleaning, sanding, disassembling, painting, and then reassembling. A nicely painted cabinet will have at least two coats of primer, two coats of paint, and then finally a top coat. Typically, the job requires a minimum of two painters.
Staining a cabinet, on the other hand, requires only two coats of stain — finished with an oil-based polyurethane.
Staining cabinets usually costs about $1,500 to $4,000 while painting cabinets costs about $2,000 to $5,000. Of course, the price varies according to the size of your kitchen, the complexity of the work, and your location. Also, equipment for painting is more expensive.
The best way to find your interior painting cost calculator, try our estimator tool!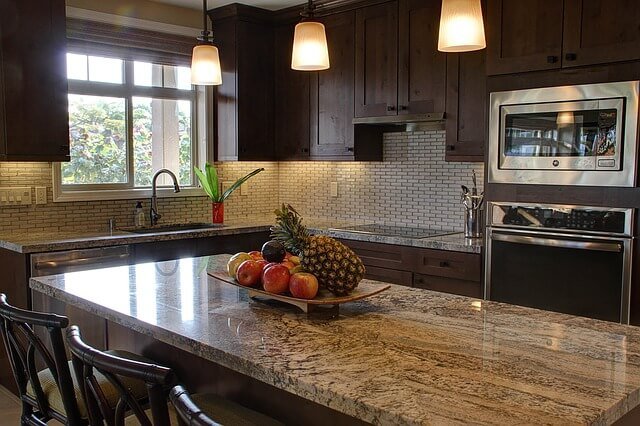 Pixabay
Painting Vs Staining Cabinet Procedure
You don't want a shoddy work, right? How the cabinet is painted affects the total pricing and the quality of the paint. If the cabinet is hung and painted manually with a sprayer, there might be imperfections in your cabinets. The proper way to paint is by flat laying the cabinets and protecting them from streaks.
In the case of staining, the first step is to sand the wood. Then comes the conditioning, finally staining. After that's dry, put on two coats of polyurethane and you are done!
Maintenance Of Painted Vs Stained Cabinets
Once you're contemplating investing in wood cabinets, it's natural to want to know whether they'll be easy to maintain and last long or not. Be aware that painted cabinets will show every little smudge and dirt more easily than a stained wood tone cabinet.
Also, paint chips easily if the cabinet is hit by something sharp. You can buy touch-up kits but make sure they blend well in terms of color and finish. As far as stained cabinets are concerned, it's much easier to find touch-up markers for them. Even without an exact match you can often rely on the grains and knots of the cabinet to help disguise a not-so-good touch-up.
Pros of Painted Cabinets
Trendy, crisp, clean aesthetics

Easy mix and match with any type of countertops

Applies better to medium density fiberboard (MDF)

Many color and type options

Smooth, uniform texture

Disguises imperfect wood grains and knots

Easy to hide dust
Cons of Painted Cabinets
Expensive

Requires more time and labor

Less durability in terms of cracks
Pros of Stained Cabinets
Timeless charm and classic look

Stands up to humidity better

Less prone to chipping and cracking

Easier to touch up

Perfectly showoffs the wood characteristics

Fetches better resale value

Costs much less than a painting job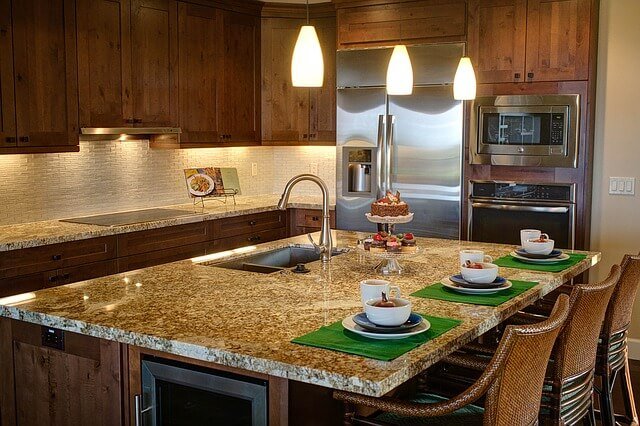 Pixabay
Cons of Stained Cabinets
Requires good-quality wood

You cannot hide the characteristics of wood

Doesn't go well on MDF
Read more: A Concise Guide For Painting Laminate Cabinets
Conclusion:
Finally, the big question: Is it better to paint or stain cabinets?
Understand that there is no right or wrong choice. Both paint as well as stained cabinets are great options. Both will serve you well — to your satisfaction. It really boils down to your personal preference, the wood used, and what you expect from the cabinetry.
For ideas on painting a room, read DIY Tips On How To Paint A Room Like A Professional.
Now that you've gone through the article — and the pros and cons of both kinds of wood cabinets for the kitchen — it's time to take a final call and decide on the one that meets your requirements.
If you're on a budget, go for wood staining — but make sure you have good-quality wood to play around with. In case you love colors in your cooking area, go all out and opt for whimsical hues and decor. The choice lies with you! Our job is to make the selection easy for you.
Read more: Why wont my cabinet doors stay closed
Painted Vs Stained Kitchen Cabinets: Choose the Best For Your Kitchen
was last modified:
August 31st, 2022
by
Recommended