No one likes boring or scratched-up laminate cabinets. They can easily bring down the vibe of the room. However, if you're shying away from replacing your cabinets as it's an expensive as well as time-consuming task, don't worry. Try painting laminate cabinets instead.
Painting laminate cabinets will give them a quick refresh in much less time, money, and effort. It's an affordable way to turn your eyesore storage into eye-catching, modern cabinetry.
Planning a full-scale home remodeling? Try our free estimator to know how much your home remodel cost would be.
When painting laminate cabinets, you need to ensure that the job is done well. Since such cabinets have smooth surfaces, some paints may not bond well with it. The trick for painting laminate cabinets is to prepare the surface well and use a quality paint primer.
Want to know more about painting laminate cabinets? This guide will help you with the entire process, along with some vital tips.
Painting Laminate Cabinets: Step-By-Step Guide
1. The Preparation
If you want to get the best painting results, prepare your cabinets. As mentioned above, you need to remove all the hardware, including hinges. Repair the damage, clean the doors, and sand them lightly.
2. The Primer Work
Laminate cabinets require a coat of primer before the actual painting. A solvent-based primer is best. Or, you can buy a specially formulated primer that's suitable for laminate surfaces.
After the primer cures, sand the cabinet again and remove the sanding dust. Keep in mind that a solvent-based primer cures faster than a water-based one.
3. The Sanding
Once the primer has fully dried, sand the surface again, but lightly. You don't want to take off all the primer you just applied, do you? Clean off all the dust.
4. The Painting
Finally, it's time to start painting the cabinets. Pick a paint that is designed to work with laminate surfaces. Choose a tough, chip-resistant finish that cleans easily with mild liquid soap and hides any minor imperfections.
Want something colorful? try our guide on kitchen cabinet color combinations
This is also the stage when you can also turn your plain flat-front doors into paneled ones with wood or composite moldings. Find moldings in various widths and designs at your local hardware store, cut them to size, paint them, and use wood glue to adhere them to the door fronts when dried.
Thinking in full home improvement? follow our ultimate guide and prepare for your renovation!
Types of Paint for Laminate Cabinets
You must use paint with good bonding qualities to ensure that the paint job lasts. You can choose a semi-gloss finish. Try to avoid chalk paint and matt paint. They will be more likely to show every greasy fingerprint.
When it comes to laminates, the quality and types of paint are important. Here are a few good choices:
Water-based paint or latex works well on laminate cabinets using a good primer. Make sure that it fully cures, otherwise the coat of paint will remain sticky and may peel off easily. Usually, latex paints may take one to four weeks to cure. In order to minimize stickiness, you can apply a thin layer of cooking oil on parts that touch other painted laminate surfaces.
Solvent-Based Alkyd Paint
Solvent-based paint creates a hard finish on laminate cabinets. This allows you to clean your cabinets easily. Therefore, its an ideal choice for hardworking areas such as the kitchen.
It's best if you use specially designed paints that adhere well to laminate surfaces. They don't even require a bonding primer underneath. If you manage to find a one-step paint in your local home improvement store, it will save you some painting time too.
Whichever type of paint you choose, you must practice on scrap laminate surfaces or hidden parts of the laminate cabinets before you paint all your cabinets.
Here are a few vital points that you must keep in mind before painting laminate cabinets.
Painting Laminates: Practices to Avoid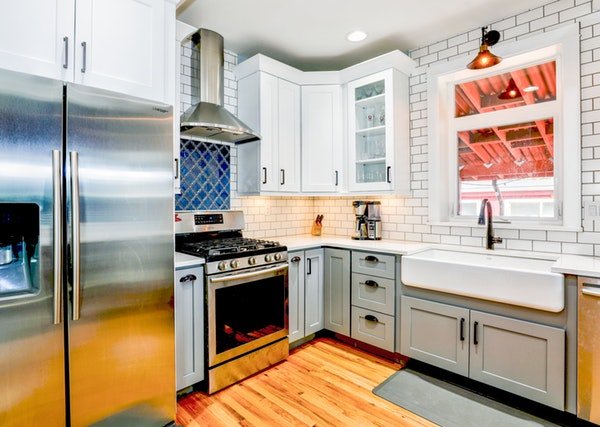 While you may be able to paint most wood furnishing easily, painting laminate is another story altogether. Since it's not as porous as its wooden counterpart, a laminate requires unique surface preparation, paint, and paint application. Make sure that you follow these practices:
Never, ever paint over damaged laminate cabinets

. If you have a laminate that's cracked, warped, or peeling — your paint job will be just as bad. It's crucial that the laminate is in good condition. Repair or reface your cabinets before applying paint.

Don't forget to remove cabinet hardware

. Take out all knobs, pulls, and other visible cabinet hardware before painting laminate cabinets. It will ensure a smooth application. If don't want to remove the metal on the hinges, cover them with painter's tape. Remove all the doors and drawers, and paint them separately.

Never leave any dirt or grit behind

. The paint color you'll use will fail to adhere well to the laminate if there's dirt.

Don't miss to sand the cabinets properly. To enable your paint to bond with the cabinet, you'll have scuff up the otherwise sleek laminate a little with the help of grit sandpaper. 120-grit sandpaper is a good choice for laminates.
Don't reuse old or left-over primer or paint

. Laminates need specially formulated primers and paint. If you do opt for a regular primer, choose a good-quality, strong one and then top it with an oil- or latex-based paint after the primer has cured.

Don't leave any brush strokes behind.

The traditional paintbrush tends to leave an unsightly trail of brush strokes. Opt for a roller, sprayer, or a paint pad instead and get a streak-free finish.

Don't expose yourself too much to fumes

. Primers and paints release strong fumes. Always use chemical-resistant work gloves for the paint job. Moreover, increase ventilation in the room and keep out children and pets.
Now that you have a fair idea of what to avoid when painting laminate cabinets, paint the cabinets in your favorite colors and brighten up your living space.
What about some darker layouts? Try our guide on creative ways to incorporate black kitchen cabinets
Conclusion
If your laminate cabinets are beginning to look a little dated, it's time to refresh their look by painting them.
Our guide on painting laminate cabinets will help you get good results. You can either consider it as a DIY project or get professional help for the task. Either way, your paint job should be up to standard, last long, and look super-cool.
Read more: Why wont my cabinet doors stay closed
How to Paint Laminate Kitchen Cabinets [Guide]
was last modified:
May 27th, 2022
by
Recommended