A bath is much more than just a functional part of your home. It's a place where you want to unwind after a hard day's work. No wonder, you'd want this area to be as relaxing as possible. So, how to achieve that ultimate zen feeling in your bathroom? Here's how. With clever design and accessorizing, you can get the perfect spa bathroom of your dreams.
We have got nine great ideas on how to turn your regular bathroom into a stylish self-care oasis. Check out these gorgeous spa bathrooms and find out which style suits your space.
1. Open up your spa bathroom into an Asian forest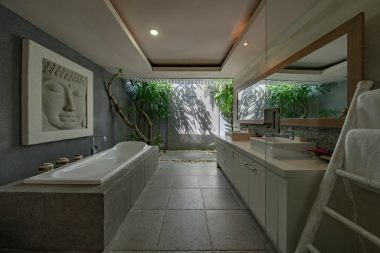 Photo by NELbali Photography on Unsplash CC0
This bathroom design is absolutely Insta-worthy with its serene spa-like pristine beauty. Long passage with poured concrete pavers leads to a lovely area that opens into a lovely mini forest of Asian trees and ferns. The sleek bathtub on one side and white flawless white marble-countertop vanity against a large mirror, on the other, give this bathroom an ethereal look.
2. Create an eco-friendly floor-to-ceiling green wall
Besides providing the most amazing aesthetics, bathroom plants are a perfect way to take your relaxation to the next level. We love how this bathroom vertical garden is a sight for sore eyes. It's truly magnificent. As you soak yourself in a bubble bath after a long day, you almost forget that you're indoors at all. A piece of design advice: make your flooring dark wood for that perfect nature's touch.
3. Build a full-fledged sauna
You can create a mini spa right at your home with a full-fledged sauna. The cost to redo your bathroom might increase a bit, but this kind of high-end feature is worth every penny. You can experience the most relaxing time in your bathroom — as and when you please. No more expensive trips to your local spas!
Apart from the sauna, there's something to be said for this brown, black, and white color scheme with a cool, avant-garde edge. The dark, moody tile floor and walls make the bathroom a perfect setting for romance, relaxation, and self-care. When it comes to an exuberant bathroom, go wild and let your design scheme reflect your personality as well as style.
4. Bring in zen-like tranquility into your personal space
Now, here's a unique way to bring in a spa-like experience to the bathroom. A plant-covered indoor veranda is on full display through a lovely round glass window. There's a sleek soaking tub, enclosed within a concrete unit, plus a modern wet area that lend the room a beautiful vibe. A perfect bathroom design where architecture meets nature. It's almost as cozy as sitting in your living room and looking out towards the outside world! Who wouldn't want to spend some relaxing time here?
5. Place a standalone tub on a bed of pebbles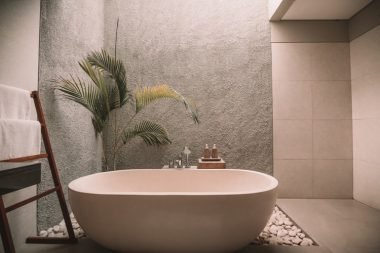 Photo by Jared Rice on Unsplash CC0
This serene master bathroom is tailormade for relaxation. The free-standing tub maintains the room's open, airy feel. Natural light streams in through the roof creating a bright and soothing space. And, we love how the pebbles and the palm lend a relaxing vibe to the room.
Do notice the wooden ladder in lieu of a traditional towel bar. It does its bit to warm up your look while providing a proper place for you to showcase your fancy towels. Overall, there's an inviting, organic touch that only elements from nature can bring.
6. Design your private retreat with a jacuzzi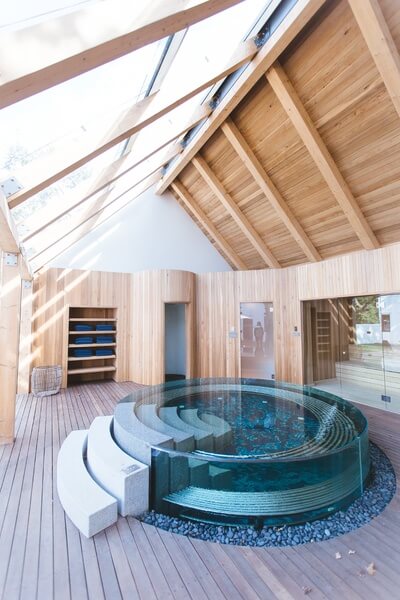 As elegant as it is spa-like, this space has all the amenities of a modern bathroom while still possessing cozy bathroom decor and accents. This bathroom has a big comfortable double jacuzzi that looks into a tropical garden. The planted part is ceiling-less, separated from the bathroom with a clear sliding door. You can even opt for French doors opening to the outside space for that regal touch. Want to watch the stars, while you relax in a bubble bath? This bathroom design is for you.
7. Bring in a lot of woodsy elements
There's something really soothing about wood. You can't have enough of it if you want to create a cozy home. Here, bamboo flooring helps add a lovely warmth to this exquisite bathroom. The large window does its bit to let in a lot of natural light into the room. Also notice the abundance of another element of nature: plants. Plants have a unique way of making a room feel more inviting and sophisticated, and this bathroom is no exception. Consider including easy-to-care-for succulents or air plants for a low-maintenance, high-style solution.
8. Bathe your bathtub under a soothing light fixture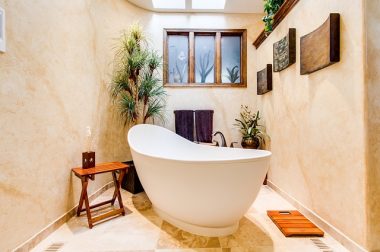 A great example of spa-like freshness, this master retreat is the perfect place to relax and unwind after a long day's work. The marble floors and walls create a smooth, clean design. Furthermore, the LED soft white bathroom lighting casts a lovely glow over the standalone bathtub. And, if you want things to be even more classy, you can also opt for exquisite pendant light over your bathtub. The earthy wooden accents add to the charm of this bathroom.
9. Soften your spa bathroom with the glow of candles
Don't ever underestimate the power of candles. They significantly enhance your ambiance while de-stressing you with their warm glow. Even the simplest arrangement will make a huge difference to the look of your bathroom. So, light up beautiful candles (preferably scented ones) and soak yourself in a luxurious bath. Feel all your anxiety and worries disappear.
Conclusion
If you dream of a bathroom with amenities and design on par with those at your favorite spa, you've reached the right place. These ideas will help you own the most perfect spa-inspired bathrooms.
After all, creating a spa bathroom is a wonderful way to get away from the humdrum of daily life and relax. Fortunately, there are several ways to design such a serene space right in your own home. Be it with quality bathroom fixtures or a creative design — you can transform your bathroom easily and beautifully. Make every day a spa day!
Read more: 16 Small Bathroom Decorating Ideas
9 Stylish Ideas for the Perfect Spa Bathroom
was last modified:
May 27th, 2022
by
Recommended