Important Persian rug cleaning and maintenance tips
Own a Persian or Oriental rug, and concerned about its upkeep? This blog will tell you everything about Persian rug cleaning, with some important maintenance tips for the future.
The fact is hand-knotted Persian carpets (generally made of wool or silk) have a dense weaving of threads and are quite delicate. Although your carpet may be made of easy-to-clean material, actually cleaning it is a task that needs some amount of expertise.
Read more: Things that can ruin your floor carpets
Are Persian rugs hard to clean?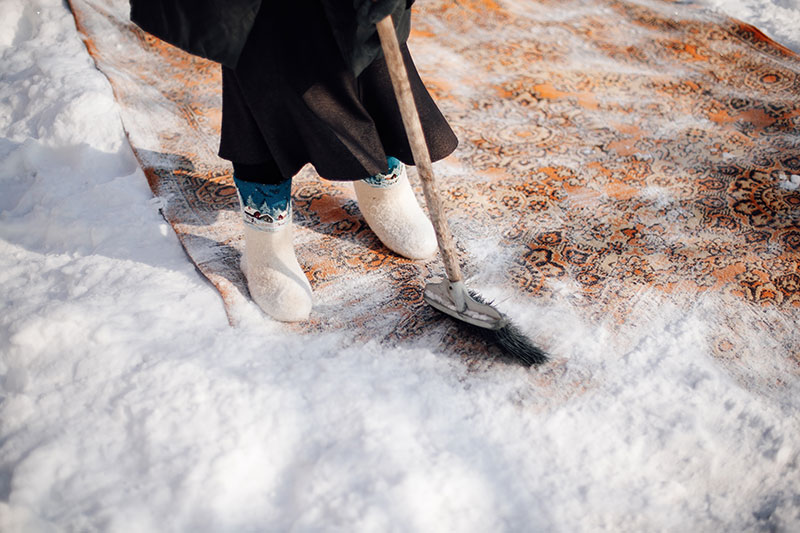 Cleaning these exquisite rugs is best left to professional carpet cleaners. However, if you must, you can clean your Persian carpet with cold water (Some people use snow) and a natural, neutral pH liquid cleanser. Just make sure not to use any strong chemicals or hot water. Keep in mind that the carpet cleaning should be done in the direction of the fibers and that too without any scrubbing. It's a good idea to work on one-square-foot areas at a time.
How do I know if my Persian rug is valuable?
If you have a Persian rug that's 100% hand-knotted, there are good chances of it being authentic. The design should be such that the weaving pattern on the rug's top and underside match. Since there's no additional backing on the underside, you can easily check both sides.
Basically, the knots, as well as colors at the top side, should extend all the way to the base of each tuft. If they do, your rug is handcrafted and not machine-made. Handmade Persian rugs are far more expensive than machine-made rugs.
Another indication is that a high-quality rug typically has about 120 knots per square inch. Persian carpet prices are always on the high side but if properly cared for, they can last you a lifetime.
How often should Persian rugs be cleaned?
Professional rug cleaners recommend a thorough cleaning every one to three years, depending on the foot traffic and soiling. However, if the room carpet is being used in a high-traffic area, cleaning it every six months may be a good idea.
An easy way to find out if your carpet is dusty is to brush its fibers with your hand for a few seconds. If you notice dust flying, it's time for some Persian rug deep cleaning.
It's advisable that your precious rug be professionally washed. A superficial cleaning at home may not get you the result you desire, and may even end up damaging the carpet fibers.
How do professionals clean Persian or Oriental rugs?
Carpet cleaning pros have proper experience and expertise to deal with this kind of delicate home décor item. Generally, the rugs are pounded to remove the majority of surface dirt. Then the stains are treated with specialized stain removers that suit the material of the carpet.
Moreover, according to the carpet material, the professionals decide if it needs to be cleaned and hand-washed or dry-cleaned. The carpets are then air dried to remove any excess moisture.
Can I steam clean my Persian rug?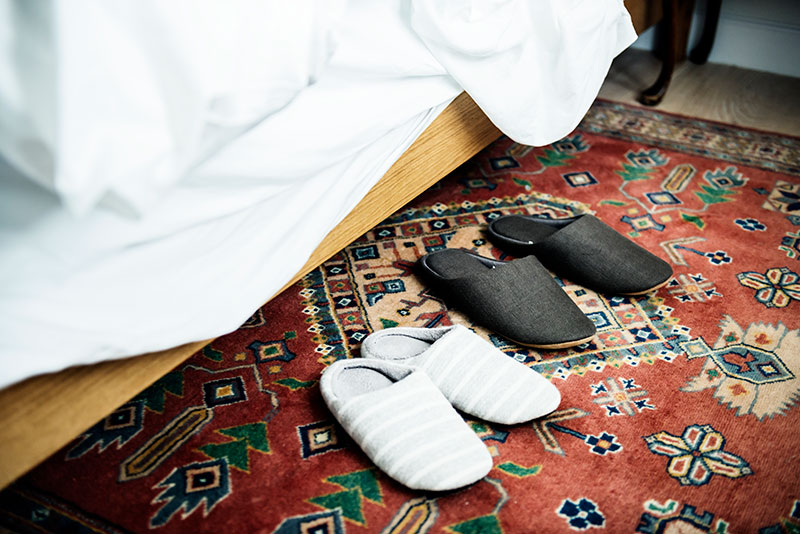 Since Persian carpets are highly sensitive, we do not recommend steam cleaning. The harsh carpet cleaning process can be quite damaging to the delicate floor covering, especially if it's an antique piece. Moreover, a steam cleaner will not be able to thoroughly clean it.
Keep in mind that you should never clean your fine Persian rug the same way that you would your regular carpets. Its natural fibers such as wool or silk necessitate special care. Take your Persian carpet only to a dry cleaner who specializes in cleaning Persian rugs.
How much does it cost to clean a Persian rug?
The average cost of cleaning a Persian rug ranges between $3 and $8 per square foot. The exact cost depends on the carpet material, its condition, size, and the quality or the Persian knot count.
Persian rug maintenance tips
A Persian rug can stay almost the same for more than a century if properly cared for and maintained. The secret lies in the manner it's designed. Here are a few ways to maintain a Persian carpet – even in high traffic locations.
Vacuum your Persian rug 1-2 times a week to extend its life.
Regularly air it out to prevent any moisture buildup over time.
Keep rotating the carpet to ensure equal wear and tear.
Avoid direct sunlight to prevent fading.
Keep flipping the carpet to untangle fringes.
Clean up any spills immediately. But, do not use any chemical to spot clean the rug. You can blot the spot with a white cloth and have a professional carpet cleaner handle the stain.
Last thoughts
Proper cleaning techniques will keep your carpet in good shape for a longer period of time. It's generally a good idea to hire a professional cleaner rather than tackling the job yourself.
But if you're doing it at home, you should check the label for care recommendations or warnings. The last thing you'd want is to permanently damage your valuable rug.
Read more: Tips to choose the best home carpet
Important Persian rug cleaning and maintenance tips
was last modified:
October 14th, 2022
by
Recommended