The kitchen range is that component in your cooking area that's subjected to hard labor almost every day. Be it an electric, an induction, or a gas range, it can even serve as your kitchen centerpiece if it's stylish enough. If you're renovating your kitchen and replacing the existing range with a new one, we would recommend you to do a bit of research first. After all, your new equipment should be sturdy, efficient, durable, and fit the current layout of your space. Therefore, here's your checklist on how to get the best kitchen range for your house.
What Kitchen Range Type Suits You Perfectly?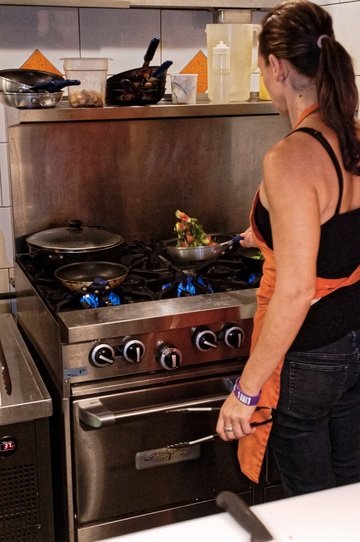 Pixabay
The Electric Smooth-top Range
Also known as radiant range, this version is the most common among customers. The smooth-top range works on the principle of heat radiation, from embedded heating elements or rings in the unit that operate via electricity. You can adjust the rings to control the amount of heat generated, according to your cooking needs. However, since there is a lot of residual heat, temperature variations may take some time.
The Electric Coil-top Range
This is yet another variation of the electric kitchen range — that features coil stovetops. These are the traditional versions of the electric models and come at a cheap cost. They are however harder to clean than the smooth-top models.
The Electric Induction Range
Induction ranges are the most expensive among the electric range category. They operate via induction through dial-controlled magnetic coils which are installed below a reinforced glass surface. Temperature control is pretty easy here because the elements don't get heated themselves. However, not all cookware (aluminum, glass, copper, and certain stainless steel variants) can be used over magnetic induction ranges.
The Gas Kitchen Range
This is again a traditional type of kitchen range — that operates on heat generated when a stream of natural gas is emitted from the burner to generate a flame. It is best for precision cooking since you can actually see the flame size when you control the dial. Most ranges come with minimum two to three and four burners — with different sizes — for different amounts of heat. You don't require electricity to operate this type of range — a simple match or lighter is sufficient.
The Pro-style Range
A pro-style range can be a gas or dual-fuel range — i.e, it features gas burners in combination with an electric oven. This amalgamation of gas and electric ranges looks really sophisticated but comes at a higher price. Pro-style ranges combine the best of both worlds — gas stoves for precision cooking and an electric oven for even baking. If you are someone who loves to cook more and experiment a lot, then maybe you should check this one out.
What Is the Configuration Type You Require?
Free-standing Kitchen Range
This is the most conventional, convenient, easy, and portable option for your kitchen — in terms of the installation process. You can simply buy and place it where you have the required electrical or gas fixtures. A freestanding range is also cheap and it usually features finished edges with controls on the backsplash panel.
Slide-in Kitchen Range
As the name suggests, these ranges can be placed in the spaces between your cabinets. They can come either with finished or unfinished edges. Slide-in models usually don't have a back-guard and they are custom-made according to the layout of your kitchen.
Drop-in Kitchen Range
Similar to the slide-in version, a drop-in range comes with unfinished sides and is placed over a cabinet baseboard. This is again a built-in version, requiring you to have custom-made cabinets. One advantage is that they have a wide top, with no space between the range and counter — thereby, minimizing spills and crumbs falling on the floor or lodging in between openings.
Consider the Size of Your Kitchen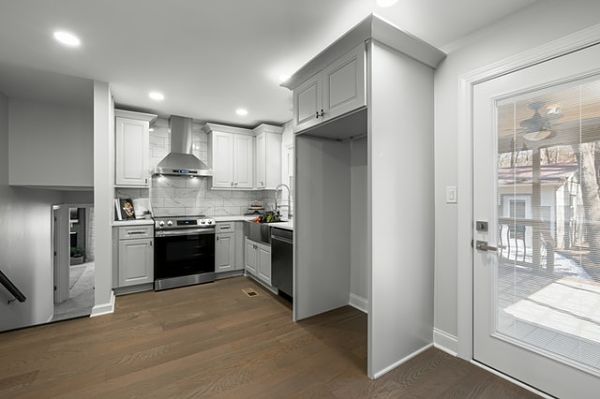 The standard size for most electric and gas ranges is 30 inches in width. You can even get pro-style models with these dimensions. However, if you think that you require more space in terms of cooking and keeping food, you can go for larger models — which can go up to 48 inches in width. Our recommendation would be to go for the regular ranges as they deliver almost the same level of efficiency, functionality, and durability. Most models nowadays feature at least one high-power burner, a convection oven, and a simmer burner.
Think About The Oven Capacity of Your Kitchen Range
The rule of thumb that you can consider when selecting oven capacity is calculating the number of members in your family — where one cubic foot is sufficient for one person. Therefore, if you have four individuals in your household, then a four cubic feet oven will suffice.
You can find oven capacities ranging from 2 cubic feet to more than 4 cubic feet. Obviously, bigger range units will have more oven capacity. You should go for larger models only if your cooking needs demand this extra volume.
Read more: The best way to clean oven hood filters
Look Our for Additional Features
Additional features can lessen your cooking time and enhance your cooking experience. Therefore, check out some of the most important features that you should look out for when selecting a kitchen range.
Double Ovens
Some ranges feature two separate ovens — usually one on top of another — that allows you to cook two different dishes simultaneously at different temperatures. The two cavities may be of the same size or one may be smaller than the other. These models don't have a storage drawer and the convection mode is usually present in the lower compartment. However, for some extra dollars, you can get a range with convection mode in both the ovens.
Child Lock
This is an important feature if you have kids in the house. The hot surfaces and buttons are easily reachable to small children. Therefore, in such cases, get a range with a child lock button.
Self-cleaning Features for the Oven
Many kitchen range models now come with self-cleaning ovens. We all know how tedious it is to clean an oven. With the self-cleaning feature, this task becomes much more convenient.
Automatic Cooling
When you leave a range to cool by itself after cooking, a lot of energy is wasted in the process. Automatic cooling will cool your range within minutes after you switch off the burner.
Removable Fittings
This is a feature which is really necessary for gas ranges. You can easily remove the fittings, easily access the grates, and clean the area.
Fingerprint-Resistant Technology
This technology that offers resistance against fingerprints shall keep your equipment shiny and sparkling for years to come — by protecting its outer finish and coating.
Hot-Surface Warning Lights
Hot-surface warning lights will light up to send a warning signal if the heating element is still hot. You should check out this feature when you are getting an electric radiant smooth-top oven range.
Flexible Heating Settings
Flexible heating settings allow you to control your cooking time. You can switch between the preheating phase or full power while cooking, according to your needs.
Well, these are some of the most important factors that we thought to highlight when you are selecting a kitchen range for your household. Do let us know if there are any other aspects that we have missed mentioning.
Read more: How To Choose A Range Hood For Your Kitchen?
How to Pick the Best Kitchen Range Type for Your Home?
was last modified:
October 14th, 2022
by
Recommended