A look at plantation shutters' cost and benefits
Plantation shutters are a type of fancy window blinds, but with wooden louvers or slats. These windows make a dramatic décor statement without looking flashy. They definitely lend an upscale, elegant look to your home. The shutter style is pricier than the other kinds of shutter windows — including board and batten or flat panel shutters. So, how much do plantation shutters cost?
Here, we'll help you understand the ins and outs of plantation shutters, including their cost and advantages.
The term plantation somehow creates a negative image in our minds as it originates from the Southern plantations and mansions where countless African-American slaves were brutalized. As much as we would like to deglamorize the term itself, there's no denying that the home décor style of these louvered windows is unmatched. The windows provide a lovely transition between the indoor and the outdoor — creating the illusion of more space inside.`
What are plantation shutters?
Plantation shutters are a type of window that has wide, tilted slats or louvers. They're typically fitted to the frame of a window and open outward, like doors. That is to say, unlike traditional window blinds, these do not open by pulling a string. Originally, the plantation shutter design is believed to have come from ancient Greece. Later on, this style of window treatment became popular in Southern mansions and plantations.
Today, homeowners prefer this style not only for the aesthetic appeal but also for the functionality it offers. This design also allows for easy airflow. Most importantly, you can customize the light and shade levels according to the weather or your requirements.
Read more: 4 decisions to make before ordering wooden window shutters
How much do plantation shutters cost?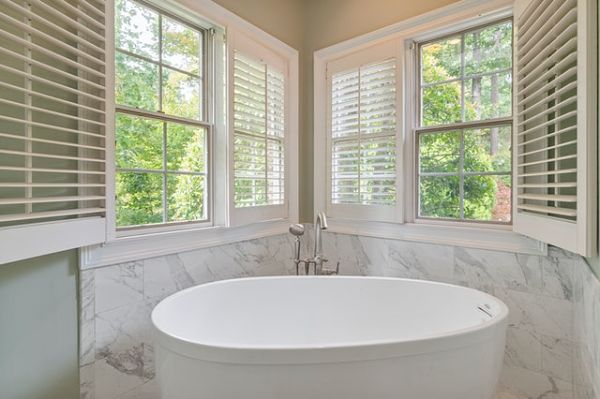 Plantation shutters cost anywhere between $145 and $350 per window depending on the window size and shutter material. For example, the more expensive wood shutters cost $200 to $350 per window whereas faux or composite shutters or vinyl shutters cost $70 to $260 per window. It's best to use a free cost estimator before your window installation to get a good idea.
The average cost to install whole-house plantation shutters runs to approximately $2,350 — with most homeowners spending between $1,450 to $3,360.
If you're on a really tight renovation budget, the cheapest window covering option is to install prefabricated shutters that are easily available in most local hardware stores. You can get them for as little as $50 a set. A reliable cost calculator will help you streamline your budget further.
Read more: Home window replacement financing & loans
The cost of plantation shutters vs. blinds
The average cost of installing window blinds is about $620 (for faux wood slat blinds on eight windows of 27-inches each). Whether you install plantation shutters or blinds, you need to keep in mind that the total installation cost will depend on the material, the number of windows, labor cost, your location, the number of stories your home has, the age of the house, and the type of housing it is (single-family house, multi-unit building, office, or a commercial building). And, also whether you're hiring a professional (window installer and an interior designer) or installing the windows yourself.
Should you DIY or hire a professional?
Professionally installing interior shutters (they are more popular indoors than outdoors) will cost you about $100 an hour. However, the higher plantation shutter price is worth it as such shutters are harder to hang than traditional shutters.
This kind of window treatment requires an anchor, and proper knowledge as well as expertise. You cannot afford to go wrong with the dimensions of the windows. Plus, you need to correctly factor in the shrinking or expansion due to moisture and temperature fluctuations.
Benefits of plantation shutters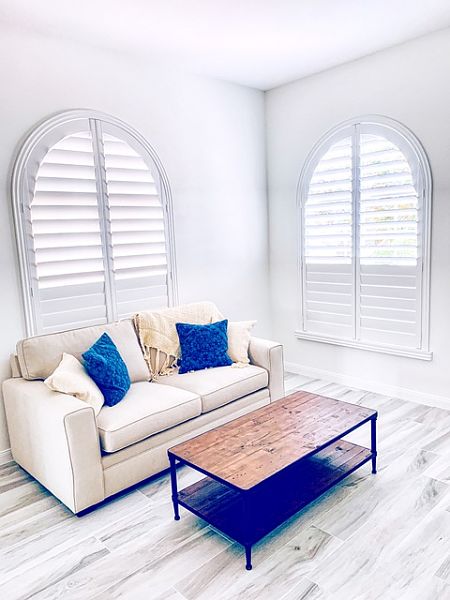 Plantation shutters, popularly called California shutters these days, are a favorite among many homeowners around the United States. Especially, for their bedroom and living room.
Some of the advantages of plantation shutters include:
Energy conservation: The wide louvers efficiently block out any unwanted sunlight, heat, or cold — thereby reducing your energy bills. Keep in mind that the wider the louvers, the greater is the energy-conserving power. And, therefore a higher price range.
Privacy: Since the shutters have a tilt, you can adjust them accordingly to get a good view of the outdoors while preventing outsiders from seeing into your home. If you want total privacy, all you have to do is shut them all the way.
Durability: While ordinary blinds may bend or break, plantation shutters (whether wood or composite) are stronger. Good quality shutters can last for years and are easier to clean. 
Read more: Introduction to turtle vents
Do plantation shutters add value to a home?
Experts believe that quality plantation shutters add to the return on investment or ROI. More so since they offer a lot of benefits than other window dressings in terms of energy efficiency, durability, privacy, and great looks.
These windows block the sun as well as elements effectively. Shutters with wide louvers offer good light control and can withstand rigorous use. There's no doubt that custom plantation shutters are a big investment in your home. But they have a timeless charm, can last a lifetime, and may even improve your home's resale value.
Read more: Opening in a wall to let in air or light
A look at plantation shutters' cost and benefits
was last modified:
November 15th, 2022
by
Recommended