It's common for homeowners to run into issues with their plumbing pipes, drainage system, or faucets – especially in older homes. But, can you do the repair yourself? Find out what plumbing work can be done without a license and which task should be left to a plumbing pro.
Unlicensed plumbing may help you save money but is it a good idea? Keep in mind that home plumbing is complicated – a single mistake can cost you dearly. What's more, home appliances such as water heaters will require permits to install. It's best to leave the complex work to a pro who's had proper training. Having said that, there are some tasks you may be able to do yourself. So, what plumbing work can be done without a license? Let's find out.
What plumbing work can be done without a license?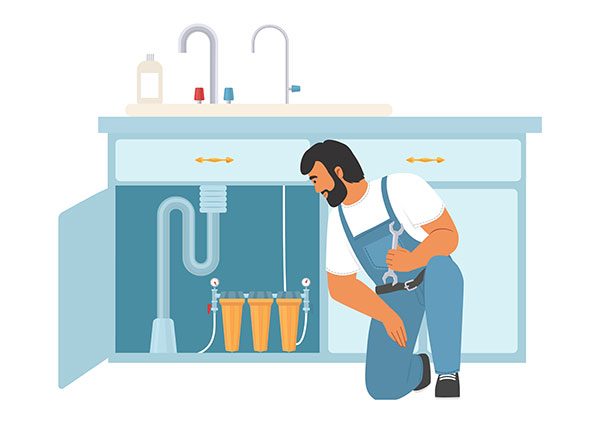 Some simple plumbing jobs that do not require pipe replacement or new pipe installation can be completed at home without any special training. These DIY plumbing works include:
Installing or replacing existing showerheads
Changing simple home equipment
Installing new toilet seats
Installing a dishwasher or a garbage disposal
Replacing floor grates
Changing a water filter
Replacing washing machine hoses
Unclogging a drain pipe with a drain snake, a plunger, or a drain cleaner
Replacing faucets or other parts of a sink
Which plumbing work should not be attempted without a license?
Complex tasks that involve expertise and experience should not be treated as DIY projects. They will require the worker to have a plumbing license and cannot be successfully handled by an unlicensed plumber. Some of these include:
Complete plumbing remodels of bathrooms and kitchens
Pipe replacement inside the house
Sanitary plumbing
Do licensing requirements vary?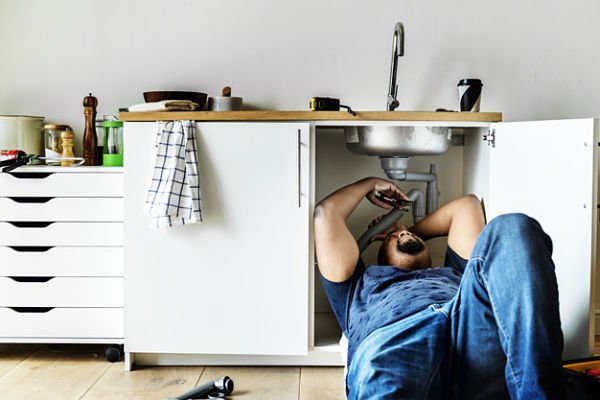 Yes, the requirement of a plumbing license or a permit for tasks varies from one state to another. For example, in Florida, plumbers without a license can only repair simple broken pipes, unclog drains, and provide repair cost estimates. The state of California requires that you must be a licensed contractor to perform plumbing on projects valuing more than $500 in labor and materials. A plumber must pass a license exam issued by the Department of Consumer Affairs Contractors State License Board.
Texas has a more relaxed approach to plumbing. An unlicensed individual can complete a plumbing job if the person's land is located outside of a municipality and not connected to the public water system. Or, if the county has less than 50,000 people or the town has less than 5,000 inhabitants.
Should you carry out DIY plumbing?
If you're an enthusiastic DIYer, chances are you'll be itching to tackle the plumbing issues yourself. But do be aware of the advantages as well as disadvantages of being an apprentice plumber.
Pros of DIY plumbing
The main benefit of doing plumbing work on your own is the money you will save by not hiring a professional plumber. This is a wise decision if the task is straightforward and you have faith in your ability as a DIYer to complete the work without incident.
Cons of carrying out plumbing work without a license
There are several health and safety concerns regarding unlicensed plumbing work. Some of the health hazards could include the growth of mold and mildew due to incorrect plumbing repairs or undetected leaks. These can eventually lead to asthma and other respiratory infections. The leaky pipes could also lead to pools of water, making the floor slippery and posing a risk to children and the elderly members of the family.
The second problem is that DIY plumbing may not hold up to a home inspection. Inconsistencies in routing water may result in inaccurate water pressure in the pipes – resulting in leaks and pipe bursts. All these can degrade your home's foundation and also pose a threat to the safety of your loved ones.
The most important repercussion of a failed inspection could mean serious legal and financial penalties and fines for you. You'll be held liable for any property damage resulting from hiring an unlicensed person or doing shoddy work yourself. Your homeowners' insurance company and warranties will not cover your expenses if any damage happens due to your negligence.
When should you call a licensed plumber?
If ever you need to change the plumbing pipes or relocate the drains in your house, you should always hire a licensed plumber or a reliable plumbing service/company. That way, you can ensure that there are no incorrect installations, wrong connections, or leaky pipes. And, no liability on your part!
Last thoughts
While there are some types of plumbing work that do not require a license, a plumbing permit, or the expertise of a professional, there are those that do. Complicated plumbing tasks such as handling pipes, leaks, replacements, and new installations need a licensed specialist.
What plumbing work can be done without a license by a DIYer?
was last modified:
February 8th, 2023
by
Recommended