An indoor swimming pool is a dream for many homeowners. The biggest perk of having a pool inside the house is that you can enjoy it throughout the year — at any hour! Whether it's an early-morning workout or an evening after-work stress buster, an indoor swimming pool is a luxury that's hard to resist.
The good news is that an indoor pool needn't be limited to the wealthy. Today, installing a pool is much more affordable and easy to maintain. And, a well-maintained indoor swimming pool will certainly not remind you of the soggy carpets and chlorine-induced headaches of your home gym.
Having said that, we understand that installing a pool in your home is a big step. It will change your living space in a big way. This guide will help you with some useful tips and considerations before you invest in an indoor swimming pool.
A pool room or a pool enclosure does add significantly to the average cost of a pool, but it guarantees perfect swimming conditions all year round. Just imagine, you can invite your friends and family for a 365-day pool party!
In fact, a pool may cost less than other luxury recreational expenditures. And when you have the ultimate resort at home, why spend big bucks on vacations in faraway locations? Every day can be a holiday! That's why, if you're planning to get an indoor pool, it's hard to put a value on it.
Can you have a pool inside your house?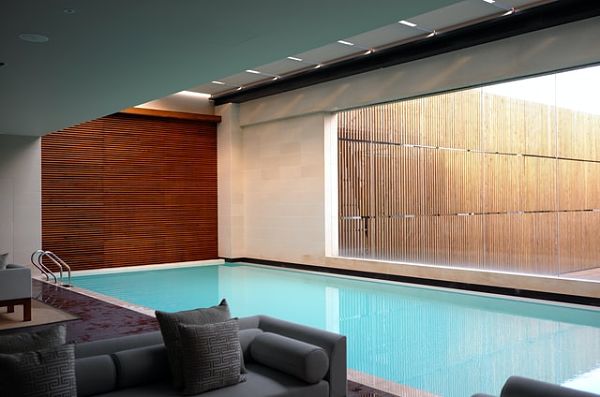 Having a pool in your home is very much doable. Any type of pool — be it a gunite pool, a fiberglass pool, or a vinyl-lined pool — can be constructed indoors. The best time to plan for an indoor pool is when you're designing and constructing a new house. However, it's never too late. With the right architectural plan, you'll be able to seamlessly add an indoor pool to your existing home.
And, the pool installation can be as simple as installing a lap pool. Or, it could be a complex job if you're looking to go all out with a pool deck, steam room, or an elaborate water feature.
A pool inside the house is especially a great addition if you live in a warmer climate and a sought-after neighborhood.
While a planning permission isn't always necessary to build an indoor pool, it's always a good idea to find out about the building codes and permits in your area. Keep in mind that the elements of the indoor swimming pool design and building will be subject to certain conditions and restrictions regarding the roof height, square footage, etc. Hiring a professional pool contractor or a pool company will make these formalities easier for you.
Whichever type of pool design you want, whether it's a classic rectangular pool or a more natural oasis, the shape and size of your pool area depend on the aesthetics you prefer and your home remodel budget. You can create the perfect space suited to your lifestyle, family, and home.
Read more: Swimming pool financing & loans
Advantages of having a pool inside your house
You'll get more out of your investment if you can use the indoor pool for all 12 months of the year. Due to the temperature-controlled environment, you don't have to worry about wind, rain, hail, snow, or other weather events.
An indoor pool requires less maintenance than an outdoor pool. It's a lot easier to keep leaves, insects, grass, and sand out of it. Moreover, it's easier to prevent algae growth. And, there's no suntan lotion slick that builds upon the surface of outdoor pools.
You get complete protection from sunburn, wind, and bad weather. You don't have to worry about sunscreens and shades.
An indoor pool is a lot private — a boon for those who dislike being watched from over the backyard fence. You can have as much privacy as you want. Plus, it's easier to control who's in your pool. Just shut the sliding doors and the pool space becomes your personal haven. 
An indoor pool is a luxury that can help a listing stand out since it adds to the square footage of your property when you're planning to sell your house.
A pool provides immense pleasure to its users. It can be the perfect retreat after a hard day's work, or for your daily aquatic exercises. 
Read more: Best robotic pool cleaners
Is it expensive to have a house with a pool?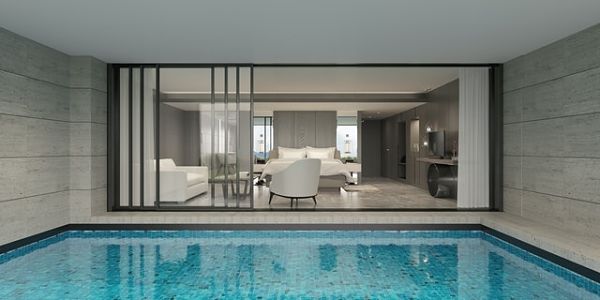 A full-size, in-ground indoor pool, including all pool equipment, costs approximately $187,500 to $200,000. This average cost includes the structure (at around $100 per square foot), a dehumidification system ($20,000 to $30,000), and the other pool parts costing between $40,000 and $60,000.
Apart from the installation, swimming pool upkeep costs a few hundred dollars a year. Any repair or upgrade might increase the expense further. The bottom line is that a swimming pool's cost depends on the pool size, design style, special features, accessibility, region, geography, and climate.
You also need to factor in that an indoor swimming pool will cause your electricity bill to go up due to the water heating systems, water pumps, additional lighting, and other pool devices used.
Read more: How to reduce water level in pools
And, here's a tip for you: A pool heat pump offers an energy-efficient alternative to a gas pool heater. The cost-efficient pool heater can lower your swimming pool bills. You may also opt for solar pool heaters as a more affordable pool heating option.
Although the benefits of a pool can outweigh its expenses, you cannot ignore the cost to build, operate, and maintain a pool.
Unfortunately, the return on investment (ROI) on an indoor pool is usually far less than the money you've spent. So if you're thinking of selling your house in the near future, installing an indoor pool is probably not going to give you a great ROI.
Read more: Does a swimming pool add value to your house?
Constructing an indoor pool
It's important to work with an architect or an interior designer who has a lot of experience designing contemporary indoor pool rooms. A pool installation entails a lot more than just a pool structure. You need a complete HVAC system, pool operation system, and pool cleaning system. You need someone who knows what they're doing!
Most pool builders construct an outdoor pool in such a way that the deck slopes away from the pool. The idea is to keep the debris from entering the pool. On the other hand, an indoor pool deck slopes toward the pool. The idea is to keep the water away from the walls.
An advantage that indoor pools have is that they do not have to deal with the freezing and thawing cycles. That's why swimming pool builders can use a variety of pool materials, such as fiberglass or ceramic.
Whichever pool material and design you use, make sure you factor in the heating, ventilation, and lighting (lots of natural light is best) while constructing a pool inside the house. These will ensure a comfortable environment and humidity levels. And yes, don't forget cool pool room furniture.
Read more: When is it time to call a pool pro
Are indoor pools hard to maintain?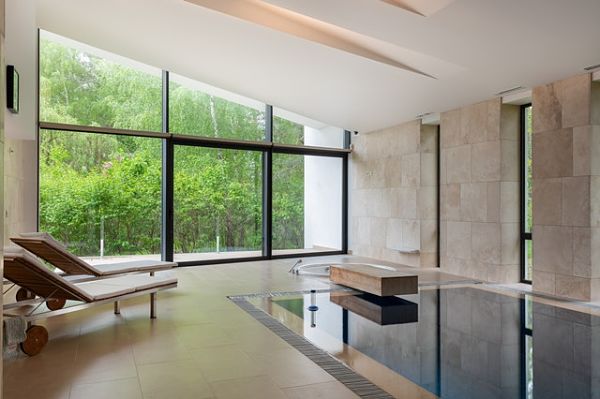 Pool maintenance is a lot less as this type of pool is not exposed to outside elements such as dust and debris. Of course, you have to regularly take care of pool cleaning and maintenance. But, it's less of a hassle.
You need to make sure there's no bacteria or algae build-up. The best way is to run your pool filter 8 to 12 hours a day and clean the pool filter with a good filter cleaner once every three months.
Keep in mind that the upkeep of a swimming pool — whether indoor or outdoor — requires time, chemicals, and pool care knowledge. If you do not have any pool maintenance experience, you can choose a professional pool company that provides maintenance as a service.
Read more: Read more: Pool screen repair
Last thoughts
Indoor pools are becoming increasingly popular with the newer generation of homebuyers. More than anything else, a pool inside your house guarantees perfect swimming conditions all year round.
And, if you plan to install a changing room, shower, exercise facility, steam room, or a sauna too, you'll have your personal pool and spa — right at home!
Read more: Cool swimming pool design ideas for your backyard
Is it worth having a pool inside the house?
was last modified:
November 11th, 2022
by
Recommended