Summer is a great time to spend outdoors with family and loved ones. Poolside areas make for some of the best spaces to entertain guests, have barbeques, or even just catch some sun by yourself. Having a beautifully landscaped poolside makes those experiences even more special. Here's an easy guide to attractive pool landscaping for you to refer to before you begin to work on your yard.
Go Green
A garden around your swimming pool is one of the first things that comes to anyone's mind when you think about pool landscaping ideas. Lawns, shrubs, trees, and flower beds are great ways to beautify the area around your backyard pool and add a touch of color to an otherwise mundane setting.
But what you do need to consider is how much debris you're willing to clean out of your pool and how often. Before planning your poolside garden, keep in mind that you want a garden that's easy to maintain, safe, that helps with privacy, and suits the weather in your area.
Hardy spineless succulents like plumeria and Dudleya are great low maintenance plants to have planted near pool and spa areas. It is advisable to avoid succulents with spines like cacti and euphorbia. You do not want any scratches and injury on the exposed skin of children while playing around your pool.
Take a look at these Drought-Proof Landscaping Ideas
While lawn grasses are fairly common, ornamental grasses look a lot better when it comes to low maintenance but visually appealing plants growing out of the side of the pool. Lemongrass, yellow foxtail grass, Japanese blood grass and bamboo are examples of ornamental grasses you could grow around your pool. Keep in mind though that some types of bamboo grow really fast and can be invasive.
Flower beds and flowering shrubs add more than just color to your poolside landscape. Sometimes, shrubs like the angel's trumpet add a lingering fragrance as well. However, beware the angel's trumpet! It is poisonous, and ingesting it could be deadly. In fact, it is advisable to wear gloves even while handling the plant.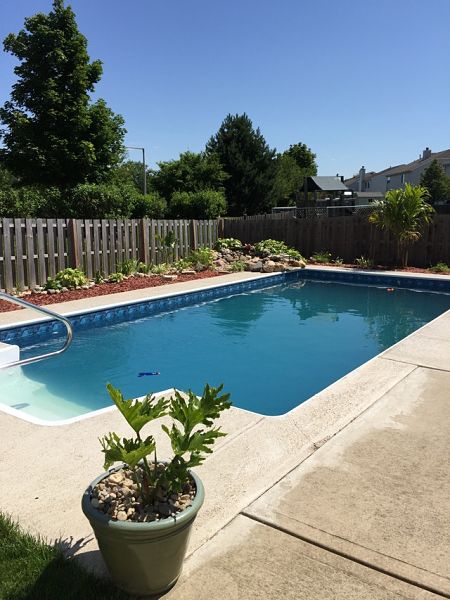 If you have trellises, fences, and/or pillars around your pool, flowering vines would be a great way to add a natural privacy screen. Popular vines to adorn pool areas include passion fruit, jasmine, honeysuckle, and trumpet vines. If you want some more privacy without putting up a fence, here are certain trees and shrubs that make for a great privacy wall. These include the Norway spruce, the emerald arborvitae, and bamboo.
If you're planting large shrubs or trees around your hot tub or pool, be sure to choose the ones that are easy to maintain and won't shed too much, leaving behind a mess for you to clean. Acacia, cypress, spruce, oleander, and windmill palms are great additions to your poolside landscape. Bottlebrush and bougainvillea are better avoided.
You could convert your backyard swimming pool area into an exclusive private retreat by planting exotic looking tropical plants like papyrus, bird of paradise, ginger, palms, and hibiscus.
Setting up your poolside garden could cost you anywhere between $4 to $12 per square foot for the plants, shrubs, and trees.
Not big on trees and greens? No problem. Layout a few bags of river rocks around your pool, maybe a few potted cacti, and voila! You have yourself a rock garden.
Adding a water feature like a fountain, a rock pool or a waterfall will definitely add to your garden's splendor.
Read more: Luxury home upgrades: Pool enclosure financing
Pool pathway magic
Create a pathway leading up to your pool.
A simple but great solution is to make a stone slab pathway from your door to your pool through your garden.
Create a pebble garden in between the stone slab walkway to further beautify it.
Interlaying stone slabs in between your lawn is a great idea to create a stepping stone walkway to your pool.
You could create a Bohemian looking walkway by creating a mosaic using multicolored stones and tiles leading up to your pool.
For the eco-conscious, decorative concrete pavers are a popular choice.
Light it up
Pool lighting is an integral part of pool landscape design. And you don't necessarily need to break the bank to make your poolside evenings magical.
A simple way to make your evenings memorable is to set up white LED string lights, or fairy lights as they're popularly called, along your pool boundary wall and along pillars and trellises. This will make your poolside just bright enough but not too bright.
Or you could choose eco-friendly underwater LED pool lights to make your evenings seem ethereal. Not only will they noticeably reduce your power consumption, but they also come in multiple colors. You could choose a color that goes perfectly with the rest of your landscaping.
Your pool lights will cost you anywhere between $700 to $1,700 including installation.
Of course, nothing beats having a fire pit around your pool. Classic stone fire pits are visually stunning. The glow from your fire will illuminate your backyard beautifully while keeping your guests warm and cozy. Your fire pit project could cost you anything between $300 to $1,400 excluding labor charges.
Read more: What is pool shock treatment
The right decor
You've got your lighting and your poolside garden sorted. Choose the right decor and you ought to be good to go.
You could obviously go with mass-manufactured lounge chairs, tables, and bar counters. Or you could choose to do something a little out of the box.
If you want to go the low cost, DIY way, you could make tables and chairs from wooden pallets. Throw on some cushions for comfort and you have comfortable seating.
Alternatively, there are a lot of companies offering eco-friendly reclaimed wooden furniture made for the outdoors that would add aesthetic value to your landscape architecture. These are cost-effective and environmentally friendly options that you could consider.
Baja shelves are a must-have to lounge around in the shallows while you sip on daiquiris.
A poolside bar and open kitchen adds a touch of class and makes for great entertaining.
Consider orange and yellow umbrellas to liven up the mood while protecting you from the sun.
Do you have a small backyard? Take a look at these awesome small backyard design ideas you should try.
Read more: How to clean a pool
Enjoy the outdoors
While it may not yet be safe for us to venture out to public spaces, these pool landscaping ideas ought to help you enjoy the outdoors this summer without having to leave your home. We hope this easy to follow guide will help you create the perfect poolside patio for your family and yourself.
Read more: Easy-On-The-Pocket Ideas for a Perfect Backyard Makeover
An Easy Guide to Attractive Pool Landscaping
was last modified:
May 30th, 2022
by
Recommended