There was a time when popcorn ceilings were huge. But, not anymore. Most homeowners are choosing to remove popcorn ceiling texture from their living spaces because it looks unattractive. If you're one of them, you will want to know everything about popcorn ceiling removal cost, right? You are in luck. This cost guide will help you. 
Of course, your total expenditure will depend on whether you make this a DIY project or hire a professional contractor. Since popcorn removal is an incredibly messy process and not for the faint-hearted, we would recommend hiring a professional. 
It's more time-effective and you are saved from all the hassles. Furthermore, if your popcorn ceiling has asbestos (a known carcinogen, especially for lung cancer), scraping it out might be dangerous for your health too! 
The cost to remove popcorn averages between $700 to $1,700. Also, it can be as low as $50 to $100 or as high as $3,000 (for an asbestos popcorn ceiling removal plus furniture removal) We will break down this amount for you in the article. But first, a basic question for the uninitiated. 
What is a popcorn ceiling?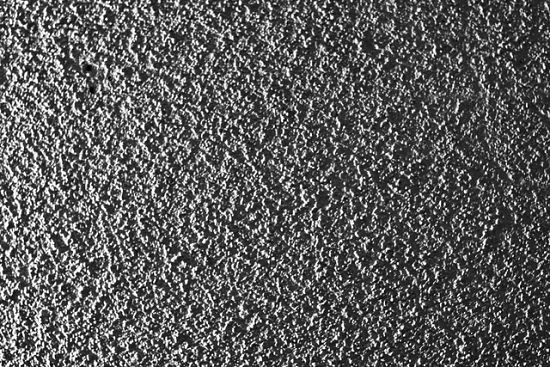 Day 125 of 365 – Popcorn Ceiling, by Jesse! S? on flickr [CC BY 2.0]
A popcorn ceiling, aka cottage cheese or acoustic ceiling, has a textured look similar to popped kernels. While the design was trendy in the 20th century, probably because it hid surface flaws such as nail holes, screws, or any spots caused by water damage — it has lost its charm today. In fact, such an outdated ceiling lowers a house's value in the market. No wonder potential home buyers steer clear of this unappealing feature. 
Since repairing and even repainting an aging popcorn ceiling can be expensive, it often makes sense to replace it altogether. This is especially necessary if the owner is planning to sell the house in the near future and is looking for a good return on investment or ROI. 
Popcorn ceiling removal process
There are five typical steps for removing popcorn ceiling:
The walls and floor of the room are covered with plastic sheets to check the mess.

In older homes, a small section of the popcorn ceiling is tested for asbestos (for an average cost of

$50-$100

).

The ceiling is sprayed with water in sections. The area around electrical fixtures is loosened with sandpaper.

Once the water is absorbed into the popcorn ceiling material, it is scraped off.

The ceiling is smoothed and repainted.
Read more: Popcorn Ceilings: Removal, Costs, And Precautions
Popcorn ceiling removal cost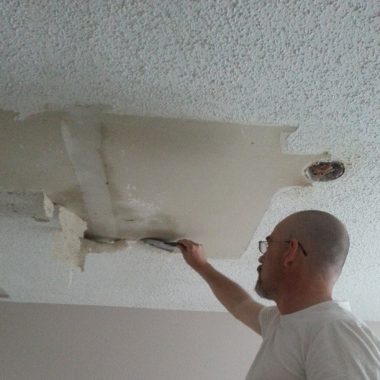 Photo by Candy Beauchamp on flickr [CC BY 2.0]
Contractors typically charge $1 to $3 per square foot for removal of popcorn ceilings. Also, this cost depends on the size of the room, the quality as well as the age of the popcorn ceiling, the risk of asbestos exposure, the paintwork, and your zip code. A basic paint job on the new, smooth ceiling averages $75-$130 professionally.
When hiring a contractor, your total price must include the cost of supplies such as a scraper, drop cloths, ladder, protective gear ($0.10 – $0.15 per sq ft), labor costs (scraping and disposing of the debris, planning, area preparation, and cleaning up), and ceiling painting ($0.808 – $2.150 per sq ft). Generally, it amounts to approximately $15 – $40 per hour. 
Let's say if a popcorn ceiling removal takes up to 20 hours of work for 500-square foot space, the labor cost will be anything between $300 to $750.
Additional cost factors and ceiling options
If you do not want to scrape off the popcorn ceiling, you can cover it with drywall. The cost of drywall is

$1.50 per sq ft

.

A skim coat over the popcorn will cost about

$1 per sq. ft

.

Professional furniture removal will add

$75

–

$125

to the total cost.

Rooms with high ceilings can cost

$50 – $150

extra.

Removing painted popcorn ceiling requires more effort. Add an extra

$150 – $250

to the total cost for a non-enamel painted ceiling. Make the amount

$300 – $600

for an enamel-painted ceiling in a 10'x10' room.

Removing popcorn ceiling with asbestos takes longer as it needs to be disposed of in batches. Also, the workers will have to wear safety gear all the time. No wonder, removing the dangerous asbestos popcorn ceiling costs

a lot more.

It's

$3 – $7 per square foot.

Replacing the popcorn ceiling with a knockdown texture averages

$1 to $2 per square foot in labor, materials, and equipment (like an automatic texture sprayer). Depending on where you live and your ceiling size, you can expect to pay $500 to $1000

on average. 

If going for decorative tiles, be prepared to shell out between $5 and $7 per sq ft.

Ready-to-hang tiles and panels sold at most home improvement stores will cost you approximately

$5 to $7 per square foot, depending on the materials you choose.
Conclusion
Popcorn ceilings, once a popular method decades ago, make a room look dated. Those looking for a chic, modern house find such a ceiling design very unappealing. Since removing a popcorn ceiling is a tedious task with potential health risks, it's best to hire professionals for the job.
We hope our guide will help you understand the costs involved when hiring a contractor. Knowing all the aspects and cost factors of a popcorn ceiling removal can help you build a more accurate budget for your home improvement. 
Read more: How to Test for Popcorn Ceiling Asbestos?
How Much Does Popcorn Ceiling Removal Cost?
was last modified:
September 14th, 2019
by