Popcorn ceilings have been popular in the past as they've been known to add an attractive decorative element to home décor. But, getting a popcorn ceiling repair done requires some expertise.
Especially if you're looking to get seamless patchwork done. The reason is that it's often difficult to match the original texture with the new one. However, the task is not impossible.
If it's time to repair your popcorn ceiling, this blog is for you. We'll tell you how to touch up your popcorn ceiling and make the necessary repairs.
Can you touch up a popcorn ceiling?
Yes. A popcorn ceiling texture repair although a little time-consuming is doable. Keep in mind that a cracked popcorn ceiling can take away from the look of your living area, and is best repaired as soon as possible. You can fix a cracked popcorn ceiling with a few simple tools and supplies.
Required tools for a DIY popcorn ceiling repair
Keeping all the necessary tools handy before you begin the home improvement project will help you save time and reduce your frustration. Here's everything you'll need:
Safety glasses
Rubber or latex gloves
Stepladder
Dust mask
Paintbrush
Putty knife
Required materials for popcorn ceiling repair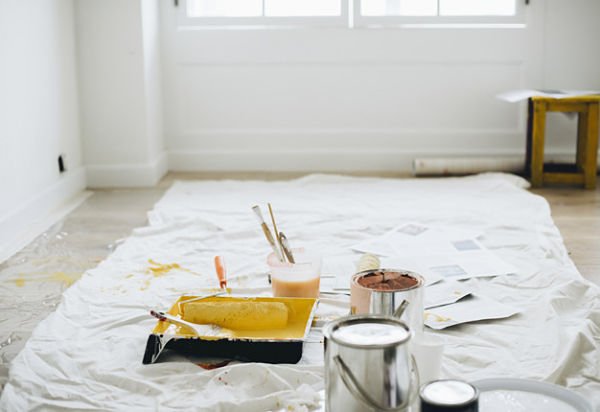 It's always a good idea to have all your materials ready ahead of time. It'll help you avoid last-minute trips to the local hardware store. Here's everything you'll need:
Paint
Plastic sheathing
Scrap cardboard
Stain-blocking primer spray
DIY popcorn ceiling repair process
Identify and fix the underlying cause of the damage or else the problem may reoccur. For example, if the issue is a leaky roof or structural damage, you'll have to fix it before repairing your popcorn ceiling. But, if you've damaged or scraped the ceiling accidentally (maybe during painting your crown molding), you can begin with the popcorn ceiling repair directly.
Assess your ceiling's condition and prepare the damaged area accordingly. For example, in case of water damage, you'll need to allow the ceiling to dry completely before scraping off the flaking paint and texture.
Begin the repair work by laying down a tarp or plastic on the floor.
Put on your dust mask and safety gear to protect yourself from falling debris.
Scrape the stained or damaged popcorn material with a putty knife, going about one inch around the damaged area. Hold a scrap of cardboard underneath to catch the falling flakes.
Sand the ceiling surface. This will ensure that the new texture blends in seamlessly.
Wipe the area with a damp cloth.
Apply a good-quality stain-blocking primer. Let it dry completely.
Choose the right popcorn ceiling patch product — matching the thickness and texture of your existing ceiling. There are various options available such as fine, medium, or coarse grades. Or, you could use a "mix-it-yourself" product and apply it by hand with a roller for a flawless, professional finish.
You could also use a premixed spray texture ideal for the patch and repair of stained popcorn ceilings. Keep in mind that such products are only suitable for small popcorn ceiling repairs.
Shake the can and screw the nozzle onto the valve stem. Hold it 9 to 14 inches away from the ceiling and squeeze with quick half-second bursts. Sweep the can over the entire damaged area. Allow it to dry for 24 hours before painting the ceiling.
Is it worth it to replace a popcorn ceiling?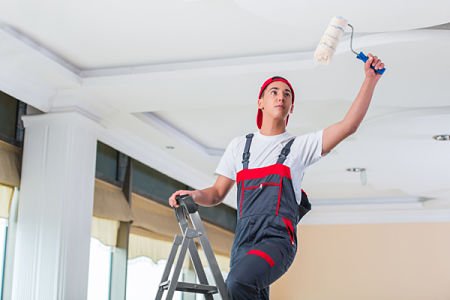 If you're bothered enough by your popcorn ceiling, it's better to have it removed. And often, removing a popcorn ceiling may even increase your home value. However, keep in mind that removing the ceiling will cause a lot of dirt and dust around your home so it's better to let licensed professionals deal with it.
Also, popcorn ceiling removal can be a dangerous project if your home was built between the 1950s and 1980s. There's a good chance that it may contain carcinogenic asbestos, according to the Mesothelioma Center.
You must not attempt to scrape off an old popcorn ceiling yourself. If it actually contains asbestos, you cannot risk introducing the fibers into the air and inhaling them. The particles can lodge in the lungs and cause diseases such as mesothelioma. You must leave the ceiling intact and call a professional company to do the job.
Last thoughts
A cracking or water-damaged popcorn ceiling is difficult to repair and hard to clean. Moreover, it can easily catch dust. It's best to repair it at the earliest.
We hope these easy popcorn ceiling repair steps will help you do just that. Let your newly repaired seamless popcorn ceiling add visual interest to your home interiors, and add a decent amount of room soundproofing too.
Read more: DIY tips to skim coat drywall
DIY popcorn ceiling repair and touchup process
was last modified:
January 31st, 2022
by
Recommended