No matter if you're building a new kitchen from scratch or remodeling your old one, the first thing you have to decide upon is the kitchen layout. The best layout for you depends on the size and shape of your kitchen, your cooking habits, how much you entertain and how much storage you need. Additionally, there are a few different kitchen styles and layouts you can choose from and your decision may not be easy at all. So, here's a little guide to popular kitchen layout types and their pros and cons.
U-shaped kitchen
U-shaped kitchens utilize three walls of your kitchen and are the most common choice of kitchen layout in older homes and smaller apartments. Let's take a look at its advantages and disadvantages.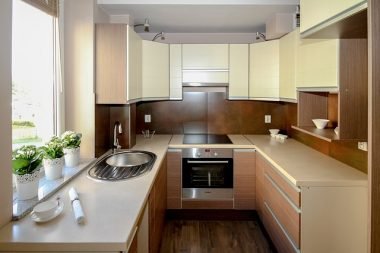 Pixabay
Pros
Because U-shaped kitchens use three walls (or cabinet sections), the first benefit of this layout is the storage space. It's usually quite vast, and you get a lot of storage in a relatively small space.
Additionally, your appliances and cabinets are all pretty close together, so you can cook and clean easily.
Also, if you prefer a closed kitchen design, a U-shaped kitchen will be separate from the rest of your living space.
Cons
On the other hand, many people think that U-shaped kitchens are too cramped because the appliances are too close together. Because of this, you might lack some food prep space, work area, and find yourself feeling overwhelmed.
Additionally, as the open-concept design is getting more popular, U-shaped kitchens usually feel too separated and isolated for many people.
Kitchen with an island
More and more homeowners are considering including a kitchen island in their new kitchen designs. Islands can be a great addition to your kitchen that's both practical and stylish. However, don't think kitchen islands come without cons. There are a couple of things you need to consider before investing in an island.
Pros
The reason why so many people choose to install kitchen islands is the extra space it provides. Most islands are built with cabinetry that nicely matches your kitchen and provides you with a lot of added storage for pots, pans, kitchen gadgets, and other kitchen tools. Basically, islands can double the storage space of your kitchen.
Additionally, islands are not only used for storage. They also provide you with extra counter space for food preparation and cooking. Some homeowners use their island solely for food prep, and they have chopping boards and prep sinks installed into the island design.
Cons
However, kitchen islands are not cheap. The materials and labor needed to make and install an island can seriously damage your budget. For instance, stationary kitchen islands can cost several thousands of dollars. For that money, you can renovate a whole new room.
Additionally, if your kitchen is on a smaller side, adding an island can be quite impractical. Since islands usually take the central space in your kitchen, they can block your walking path, traffic flow, and create bump-hazards, especially when your cabinet or fridge doors are open.
Read more: Kitchen island size guidelines
Galley kitchen
Galley kitchens are designed to have two sections of cabinets (one across another) with a passage between them.
Pros
Galley kitchens provide you with very efficient cooking zones. Your appliances can be nicely organized and very practical to use.
Galley kitchens are also quite versatile. They can be open- or closed-concept, and even employ an island instead of a single wall.
They fit beautifully in every space, utilizing every extra inch of space, which makes them perfect for small kitchens.
Cons
However, galley kitchens are usually quite small. If you want a spacious kitchen with plenty of storage for all your kitchen tools and small appliances, you better opt for some other layout. But, if you have ample storage in other places in your home, such as vast attic storage space, you can store kitchen tools and gadgets you don't use every day out of the kitchen and still pull off this layout.
Additionally, galley kitchens are quite hard to expand, in case you need some extra space in the future.
Read more: Kitchen Layout Mistakes You Don't Want To Make
L-shaped kitchen
L-shaped kitchens utilize two walls of your kitchen, which forms a letter L. They usually have an island in the middle, but it's not a rule.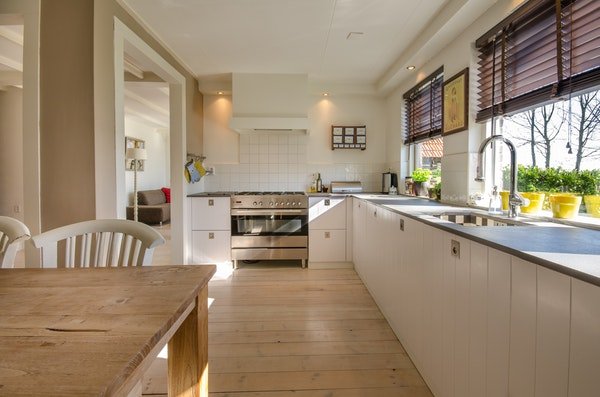 Pixabay
Pros
If you like open spaces, then you'll love L-shaped kitchens. They are ideal for all kinds of entertaining and socializing and will make your kitchen the heart of your home.
Additionally, if you want an island in your kitchen, the L-shaped design is the best option, because it's usually quite spacious. Once you install an island, you will have ample storage and food prep space.
Cons
However, if you don't want an island in your kitchen, the L-shape kitchen layout will not provide you with enough work zones. If the island doesn't fit your budget and your cooking style, better opt for some other design.
Since the space in L-shaped kitchens is ample, you might get tired of walking from the sink to the fridge and stove all the time, plus you'll have more space to clean.
Read more: The Kitchen Work Triangle: Where Geometry Meets Efficiency
Again, thanks to its size, L-shaped kitchens don't come cheap either. They require more materials and labor and thus have a higher price.
Conclusion
Now that you're familiar with the most common types of kitchen layout and their pros and cons, you can choose one that best fits your home, your cooking style, and your kitchen habits.
READ MORE: 6 KITCHEN FLOORING TRENDS FOR EVERY STYLE AND BUDGET
Popular Kitchen Layout & Floor Plan Ideas – Pros & Cons
was last modified:
May 17th, 2022
by
Recommended