Porch support posts play multiple important roles. Other than being embellishments that add to the curb appeal of your home, they also provide structural support to the porch roof and overhang.
While porch supports come in a variety of designs, custom made to suit the architecture of the home itself, most older homes have posts made of hardwood. While these may look great, they are liable to rot and get damaged over time, thanks to the nature of wood and constant exposure to the forces of nature. Here are some tips for repairing and replacing porch support posts.
Repairing porch support posts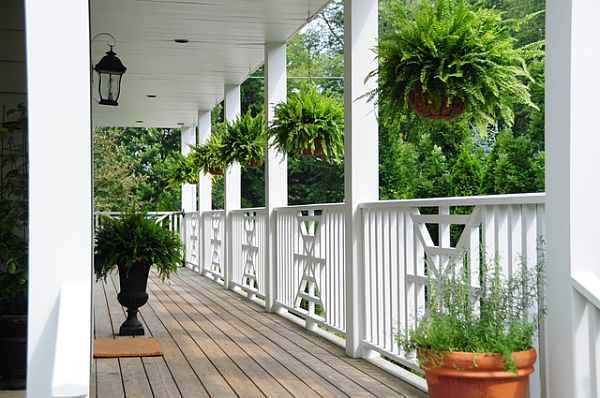 If your support post is not rotten entirely, you may be able to repair it using the instructions below:
Unscrew the rain attached to the rotten post and remove it.
Provide temporary support for the porch roof using a hydraulic jack and a 2×4 post.
Cut the top of the post-free from the overhead beam using a reciprocating saw.
Remove and lay the rotted post across two sawhorses.
Use a circular saw to cut off the rooted portion from the bottom end of the post.
Measure and cut a replacement piece from a cedar 6×6.
Use a reciprocating saw, as well as circular, saw to cut a half-lap scarf joint into the new piece.
Place the new post sections into the old post. Mark and trace the scarf joint.
Cut a mating scarf joint into the old post to fit the new piece into it.
Use a random-orbit sander to smoothen the scarf joints. If any fine-tuning is necessary, do it with a hammer and chisel.
Apply construction adhesive to the scarf joint cut onto the old post. Spread it using a putty knife.
Attach the new piece to the old post. You can fasten it in place using five-inch-long structural screws, which should be driven ¼ inch below the surface using an impact screwdriver.
Trim the new piece flush with the old post.
Fill cracks and screw holes with exterior grade wood putty. Once it dries, sand the post smoothly.
Spray exterior grade primer on the post.
Screw on the base plate onto the bottom of the post and stand it back in place.
Remove the support beams and hydraulic jack.
Secure the repaired post with screws on the top and bottom before painting on a topcoat.
Reattach the handrail.
See your home's investment dashboard
Your equity and how to grow it, plus help with managing maintenance and visibility to neighborhood projects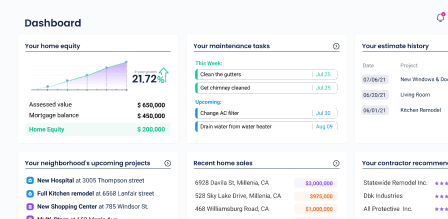 Replacing porch support posts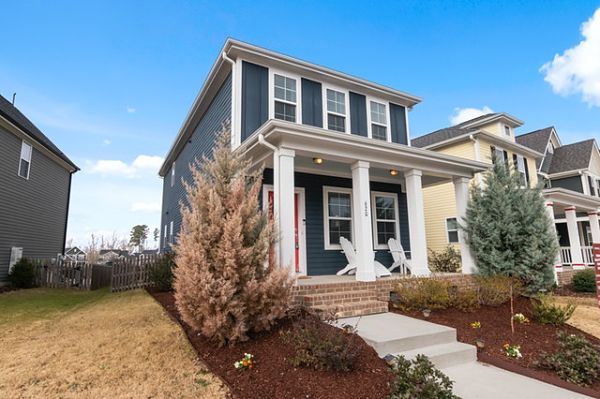 If you find that your old front porch posts are damaged beyond repair, replacing them is your only option. There are a variety of materials that you can choose from while buying replacement posts.
1. Wood
Wood remains the most popular material that porch support posts are made of. The right kind of hardwood is strong enough for the job and is extremely customizable.
However, wood is susceptible to damage due to exposure to weather as well as insect infestations. This makes it difficult to maintain.
2. Treated wood
Treated wood gives you the same look as wooden porch posts, but as a material, is a lot more durable and takes less work to maintain. This makes treated wood the ideal material for porch posts.
3. Vinyl
Vinyl porch columns are a great idea if the material has been used on other parts of your home's exterior as well. Some vinyl posts even have aluminum cores for extra strength.
However, wind, rain, and impact can easily damage vinyl posts. The material is also liable to warp and crack, and therefore, requires constant maintenance.
4. Aluminium
While metal may seem like an ideal choice of material to replace porch posts, the quality of aluminum posts differs depending on the manufacturer. Thinner-grade aluminum is easy to dent and damage. Aluminum posts are also susceptible to rust.
While replacing porch posts can be done as a DIY project, it requires quite a lot of experience and skill, so you're better off leaving it to the professionals. Expect to spend between $316 and $600 per post including installation, depending on the material, size and design.
Read more: Low maintenance front porch landscaping ideas
Pro tips
Structural porch posts are load-bearing in nature, so make sure you provide the roof with structural support while replacing them.
Make sure your structural support is strong enough to support the load your posts were bearing.
Before the project begins, make sure all the required materials are procured, including new posts, post bases, and the necessary tools.
Read more: Lanai porch
Repairing and replacing porch support posts
was last modified:
April 5th, 2022
by
Recommended