How To Prepare For Home Remodeling When Moving
Moving to a new home isn't always about "just" moving. Sometimes, moving comes alongside other processes related to improving your new home, like renovation. After all, what better time to push your home to reveal its full potential than to renovate straight after moving, right? And as overwhelming as this sounds, renovating your home after moving can be turned into a reality. And sometimes, all you need in order to do it is a bit of guidance and preparation. Lucky for us, this article says exactly what you should do to get ready.
Know your plan down to the letter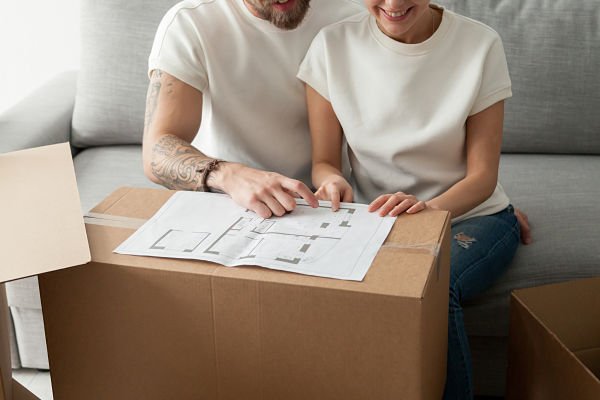 People photo created by yanalya – www.freepik.com
If you're moving to a home you're going to renovate, be sure you're aware of how exactly you want to approach the design process. This means not just knowing what design you want, but exactly how you want to execute it – down to the where and the when. There's a season for everything, even home renovations. When you're going straight to renovation after the move, you've got to know what you want to pull off.
Have a plan with you at all times
What sort of renovations do you want to make? Are you aware of the costs and how you'll pay for your renovations? Are you going to do it, or are you going to hire a team with you? Make sure you're aware of exactly what you want to pull off, so you don't encounter a lot of issues when you finally start renovating.
Read more: Tips on how to merge aesthetics when you move in together
Certain projects can be best done in particular seasons
If you're moving in the spring or fall, it's best to begin with work such as window replacement, exterior painting, and things that deal with exterior design. In the winter, you can focus on interior remodeling work such as flooring or painting. In the summer, you can work with siding, roofing, and other outdoor projects.
Read more: Home Remodeling: Coming In On Time And Under Budget
Figure out exactly what you're planning to DIY
Do-it-yourself is definitely "in" right now, and this is especially the case when you see how accessible certain products and materials can be. This can make it quite easy for anyone with basic handiwork skills to pull off stunning designs. However, not everyone can pull off DIY, and not all DIY projects are possible without the help of professionals, so before your move, it helps to be aware of what you want to do even before your move.
While planning to renovate, plan up to what extent of your home are you planning to renovate. That way, you can contact your moving services NYC (or the services wherever you are) in order to check if they can assist you in moving your DIY materials as well. This saves you the cost of going back and forth to acquire materials for your project.
This helps as you can acquire materials prior to your move, and can just pay your movers extra to have them moved alongside your main stuff. You can also ask for their help to position them in exactly where you'll be conducting your projects as well.
Read more: Home remodel financing options: Best way to finance a home remodel
Downsize and adapt even before you move
An essential component of home renovation lies in how you want your home to appear in the first place. A huge part of this design process has to do with the furnishing and accessories you possess for your home. What's the use of converting to a more modern design if your furniture is all fit for retro, right? This means you've got to assess what furniture you have even before you move, so you can adjust before spending on your move.
This is helpful, as you can decide to throw away or even sell your extra stuff that you're sure won't be needed throughout your home renovation process. Not only does this save space, but you can also potentially give yourself a few extra bucks to spend.
Your move can be less costly if you sell furniture you're sure you won't be losing early on. This implies you can store more materials for fewer boxes and packaging, which can theoretically lessen costs.
Read more: Biggest Moving Mistakes (and How to Avoid Them)
Plan your move according to your renovation schedule
It's best to think of your move as the first step of the renovation process, not as a separate thing. If you fix your furniture before you renovate, you'll end up moving them in the first place. However, if you take advantage of your move and make sure to arrange you arrange your furniture before you even move, you can have a more comfortable time renovating.
When you have movers with you, make sure you get them to move fragile and precious items into your designated "safe zones," away from the various harms of renovation such as falling debris and being accidentally hit.
Make sure your items are also placed in locations that are safe from misplacement or theft, so you can also fix them into your new interior as soon as the renovations are done. Your movers can ensure this is done for you.
Renovation worries? Try our free home remodel cost estimator tool to see how much your project would cost!
Read more: Deep clean home before moving in
Move And Renovate: Possibilities At Your Doorstep
When you plan on moving to your new home, remember to plan ahead and think about potential renovations you think of making to your home. If any of them seem possible in the foreseeable future, you might want to consider actually planning your renovation straight after moving. Aside from the steps above, you can treat this as an extension of your "new home motivation," which is what we can call the motivation we have when moving to a new home. After all, since you're already there for the move, why not go all out and renovate immediately, right?
Read more: How to Pack Valuables When You Are Moving Into a New Home
How To Prepare For Home Remodeling When Moving
was last modified:
August 26th, 2022
by
Recommended