Professional House Staging Guide for a Successful Sale
What does house staging entail? Should you hire professionals? With a little bit of patience and some creativity, you can stage your home for a successful sale without having to hire professionals or making expensive purchases. We'll show you how.
Make an Emotional Connection
Even if buyers have their own furniture, colors, and a specific decor in mind they will picture themselves living in the home you're selling. That's why it's so important to create an atmosphere that reflects their deepest desires. Consider these positive feelings: comfort, happiness, joy, serenity and maybe even a little luxury. Can you bring these emotional elements to your home?
Think about it. How do you feel when your home gets cluttered and messy? Isn't it frustrating? But when everything is put away and cleaned up? You probably feel at peace, energized, and calm. Use emotion to sell your home. And while the structure and usability of your home are important too, they are not what necessarily sells your home.
Start With Making Repairs
We recommend that you start with the inside of your home and work your way out.
But, before you start scrubbing away the bathroom and wiping down the kitchen spotless clean, survey the areas and appliances in your home that need to be repaired so that they don't stand out and turn off buyers.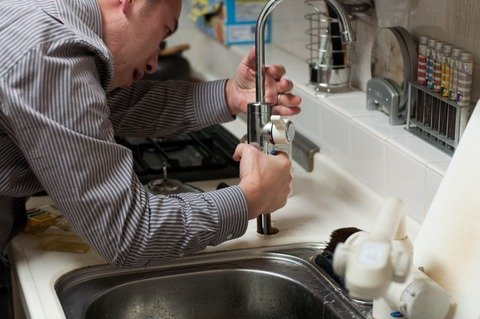 We don't recommend huge renovations that involve taking down walls. You're not renovating your home you are staging it for viewing. Here's a quick checklist of what needs fixing before potential buyers deduct from your original price:
Patching holes and cracks in walls
Fixing broken appliances like ovens and microwaves
Repair leaking pipes and faucets
Clean or replace old carpeting
Replace broken windows
Make repairs to the roof
Foyer
A huge impression is made when the buyers first walk in into the home. Make that hallway unforgettable by showcasing a nice piece of furniture such a simple and elegant console table. It adds multifunctionality to your home. A small lamp on top, fresh cut flowers or an art piece on the wall that sits behind it adds organization and display usefulness. A clean rug that matches your home's decor makes the home warm and inviting.
Home Lighting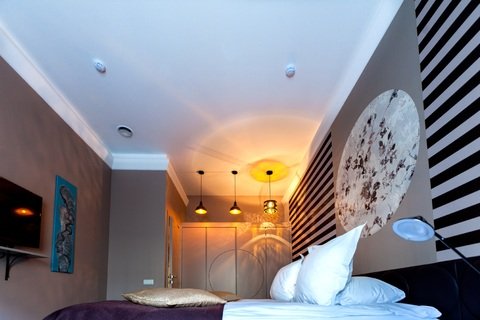 This is very straightforward. To brighten up your home, open the curtains and blinds in all of the rooms to allow the natural light in few minutes before your potential buyers are scheduled to arrive. Make sure all light fixtures are all working properly, and dust them. If they are broken or outdated, replace them.
"Focus on lighting and lighting levels. It's the jewelry of our spaces and affects mood more than anything else." – Interior designer Candy Scott.
Get Rid of Clutter
Again, potential buyers want to get a positive vibe about the place they will buy. A cluttered home will make them feel stressed. And they will notice everything so put any knick knacks, clothes, and personal belongings like toys or books away. Clean out messy drawers and cabinets as buyers will be opening them to examine the space. Make sure you have a place to put bigger items away. People will open bedroom closets so don't put your larger items there. Use an area in the basement or attic that is out of sight if possible.
Put Away Personal Items
While you are decluttering, put away any personal items such as family photos, refrigerator art, and toys. Why? You want to make sure that the time buyers spend in your home there, is spent envisioning themselves in it, rather than thinking about how you and your family live. Small mementos and personal items will only distract from their ability to connect personally and emotionally with your home.
Make Your Home Look Bigger
No matter where you live, you can make your home look bigger by trying a few things. Here are some suggestions:
Paint Your House With Light Colors
If you're thinking about painting, use light colors. When you opt for lighter colors, instead of darker ones, light will reflect in your home giving an illusion of more space. Light colored flooring also makes a home look bigger. So, keep this in mind if you are thinking about replacing your carpeting or floors. Even when you are selecting the grout for your floors, you should choose a light color. A dark grout may add contrast, but it will enclose the space.
Pull Furniture Away From the Wall
When you pull your furniture away from the wall you create the illusion of more space even if it's a just a couple of inches. For example, you can slip a console table to behind your living room sofas and add a nice accent like a plant or big vase on top.
Additional tips:
If you have a small bathtub, design experts recommend using a clear shower curtain.
Use living room furniture like chairs and loveseats that have exposed legs.
Decorate With Simplicity and Elegance
Bathroom
Add some luxury to your bathroom by placing white rolled up towels in a woven basket and put pretty soaps near the sink. Just be careful not to clutter. Adding a small chair and table is a nice touch if you have a lot of space in your bathroom. Doing this will give the bathroom a luxurious, inviting feel.
Coffee Table
Flowers on any coffee table freshens and lightens up the whole room. A big art book on top of your coffee table invites people to sit down and indulge. These small details will make your prospective buyers envision themselves relaxing.
Scrub down Your Kitchen
One of the highlights of a kitchen is its appliances that come with the home. Whether you are selling them or not, make sure they are spotless. Wipe down any films of grease from the stove, make sure the cabinets, fridge, are also wiped down. The goal is to make everything look like new.
Get Rid of Unpleasant Odors
When staging your home for a sale, don't forget to handle any pet odors by keeping pets well groomed, cleaning messes right ways and washing bedding regularly.
Avoid potpourri, strong scented candles or baking when staging your home. A study published in the Journal of Retailing shows that it's the simple scents, such as orange, lemon, basil, vanilla, green tea, pine and cedar that influence people to buy.
Spice Up Your Exterior
The outside of your home will be the buyers first impression. Make sure your lawn is freshly cut, and all of your hedges, plants, and trees are well-maintained. If you don't have any flowers, add some pots on your porch or add flower boxes to your window to liven the outside. You can also power wash the outside of your home to make it look like new. Do you have a pool? Fill it up with water, and make sure it's crystal clear when buyers arrive. Create an outdoor living space in your backyard perhaps on your deck or patio with outdoor furniture.
Get Professional Carpet/Window Cleaning
This point should be fairly obvious. Just as it's important to clean your home when you expect company, it's even more important to clean your home when working on a successful sale. You often don't realize what difference cleaning can make until you do it.
You should get some professionals to clean your carpet and windows. The carpet cleaning will help remove odors and stains and the window cleaning will give your interior an extra shine. Most people don't know that professional window cleaning can actually increase the amount of light that comes through windows. This will give every room a more polished and natural aesthetic.
Conclusion
A home should be a sanctuary, and that is exactly the impression you want to give buyers. By following this advice, your home will be ready for successful sale.
READ MORE: WHAT IS THE BEST TIME TO SELL A HOUSE?
Professional House Staging Guide for a Successful Sale
was last modified:
May 18th, 2022
by
Recommended