A new trend of doorless walk-in shower enclosures have revolutionized the interior décor of modern houses over time. Glass shower enclosures have been an epitome of decorating modern homes to introduce class and elegance. Many designs have been added over the past decade with an effort by designers to suit the growing demand for unique interior décor accessories. Since the glass shower enclosures come in different designs of sizes, patterns and glass types, homeowners find it overwhelming in most cases to select the right model. Some may decide to install shower enclosures with wooden accents, enclosures made of glass entirely or any other design that appeals to the interior décor themes.
The elements of design and interior décor that may influence the choice of the shower enclosure installed in a modern bathroom may include but not limited to the bathroom shelves, vanities, wall mirrors, and wall arts. Folding glass shower door enclosures are suitable for small apartments whereby they are installed in corners to maximize the space available. Also, in large flats, walk-in shower enclosures are more substantial and may include a bathtub, hangers and glass shelves within. The walk-in shower enclosures may not be for you. However, if you are trying this option, this write up may offer details intended to educate your decision.
Planning a full renovation for your bathroom? Try our free bathroom remodel cost estimator, easy and convenient to use!
The Pros of a Doorless Shower
There are designs that incorporate certain features in a house that can be utilized multi-purposely. A walk-in shower area can be used as a walkway during the day and shower space in the evening. This is, however, suitable for small apartments that do not have a lot of space for the installation of a shower enclosure separately. With such a design, the optimal utilization of space is commanded, which is also likable and accessible for many homeowners. However, it is required that the drains for this design be well structured so that water does not spill outside the shower area. Also, if space doubles up a walkway, the floor ought to be kept dry after usage every time.
Instantly estimate the cost of your remodel...
...or take your time to personalize dozens of choices to transform your house into your dream home.
Read more: Small Bathroom Layout Ideas From an Architect
The Bathroom Looks Spacious
Often do bathroom doors block the view of the bathroom space when it is installed on a shower enclosure. However, with the walk-in shower enclosures, the door is not present, which gives a clear view of the bathroom space. This visual appearance without any elements blocking the area makes it bigger and spacious. Interestingly, when a bathroom has tiled or backsplash walls, they look much bigger visually. To enjoy this, the bathroom has to be correctly positioned in a room so that it is viewed directly when one is standing outside the enclosure.
Take a look at these Pros and Cons Between Shower Panels and Tiles
Harmonizes and Supports the Modern Home Interior
Introducing a shower enclosure in a modern bathroom requires one to identify the available space and the type of door that is suitable. Doorless shower enclosures eliminate the need to decide on the kind of door that one needs to include for the shower enclosure to be perfect.
Concerning this, the door-less shower enclosures are more integral to any current home designs. They can either be installed in a small or large apartment without the need to consider the type of door.
Comparing this design to the shower enclosures with doors, the former is more suitable in spaces that are confined and the owners need not stress about the kind of door they should install.

Get the best cost of install interior doors for your project with our estimator.
Doorless Shower Spaces Offer a Global Design that can be Easily Adapted
Door fewer hoer doors do not need the owner to remove part of the bathroom space s it is the case with those with doors. Usually, the only requirement would be to install tiles from the floor to the ceiling level to create an attractive aesthetic for the bathroom. The type of tiles that can be installed on the walls are not limited to any design or color, thus giving the homeowner many unlimited design options.
Do you want to have all your facts straight for your upcoming renovation process? Take a look at our ultimate guide about bathroom remodel.
Reduced Moisture Accumulation in the Bathroom
Glass shower doors accumulate moisture that can result in the growth of molds and lichen with time if not properly cleaned regularly. The absence of an entry does not only introduce elegance but also reduces the level of moisture accumulation in the bathroom. For instance, when taking a cold shower in an enclosed shower, the moisture accumulation is high, resulting in unattractive aesthetic for the entire bathroom. In most cases, one is required to clean a large surface area, including the door of the enclosure shower when there is a door. This is eliminated when the door is absent.
Create a Spa in Your Own Home
Luxurious bathrooms can be designed in modern dwellings by introducing door-less shower enclosures. Usually, a bathtub among other spa accessories can be added in a bathroom to create a comfortable space where you can windup your day in the evening. This is a feature that any homeowner would wish to have in their modern homes so that they can be more comfortable in their own space. Ideally, it is common for homeowners to ensure they buy bathtubs and spa accessories that are stylish and luxurious so that they can perfectly fit in the walk-in shower enclosures for more comfort.
Bathtub to Shower Conversion: 8 Questions To Cover.
Better Opportunity to Choose Any Type of Showerhead
Showerheads come in different designs and models and when installed in the bathroom, they can create an elegantly looking space. Since space lacks a door, the view is unobstructed and selecting a stylish shower head is not an option. You have to ensure your bathroom enclosure looks attractive and modernized by adding a unique showerhead. Also, the showerhead should be coupled with other accessories to accentuate the theme of the bathroom better.
Cons of a Doorless Shower
Lack of Privacy
Privacy in a home that has many people is essential. The kind of shower doors that are included for shower enclosures are mostly designed to provide some privacy to the users. This would consist of pattern glass, frosted glass, among others. Without a door in the walk-in shower enclosure, the level of confidentiality is reduced. This type of shower is, therefore, suitable for bedrooms and spaces with more privacy.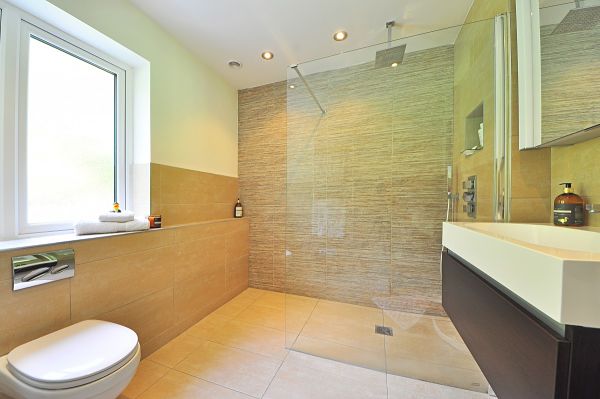 Inconvenient during Cold Temperatures
An open bathroom will always allow cold air from outside to reach to where you are. This is a con for having a spacious shower enclosure in a modern home. When enjoying the bathtub, you may experience the cold air from outside, which is uncomfortable. You need to have a more comfortable space when taking a shower which is filled with warmth and comfort.

Planning for interior door installation? Get the best estimate with us.
More Expensive
It may appear like the door-less shower enclosures are cheaper to the absence of a door. However, due to the complexity of the design, the initial costs and costs of installation are higher than that of a standard shower enclosure.
Are you wondering where you can get all the designs of shower enclosures? To keep up with the latest trends and to enjoy the advantages of these new walk-in shower enclosures, Fab Glass and Mirror is a company that offers a wide array of products including shower enclosures. Their experts help you understand the different types of shower enclosures that would be suitable for your home. Also, the company guarantees durable products with quality.
How to Choose Between a Tub and Shower? Let's find out!
Pros and Cons of Doorless Walk-in Showers
was last modified:
August 24th, 2022
by
Recommended