If you're one of those fortunate few blessed to have beautiful panoramic vistas to gaze at from your yard or balcony or want uninterrupted views from your infinity swimming pool, a glass fence is just what the doctor ordered. While you may have seen glass fences and enclosures before, we're going to answer some frequently asked questions about glass fences, so you can decide if you ought to invest in one yourself.
Are glass fence systems durable?
We know what you're thinking. Glass breaks easily, correct? Well, contrary to popular belief, tempered glass fences are among the strongest infills in the modern fencing industry.
Tempered glass is not only durable by itself, it also strengthens the railing supports as well.
Are glass fences easy to install?
Most glass fencing systems are custom cut to customer specifications and come with easy-to-use railing support hardware. Most of the time, they are installed in 4' sections, making the installation process easier than cable railing systems.
Are they worth the investment?
No other fencing system in the world will give you the curb appeal and unfettered views that glass fencing systems do. In fact, this is the only railing system in the world that gives complete visibility through the infills.
Glass pool fences are an investment that adds to the value of our home, so it is definitely an investment worth thinking about.
How many types of glass fencing systems are there?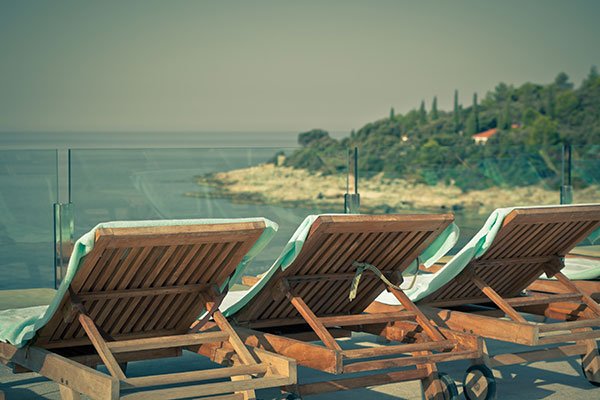 Broadly speaking there are two types of glass fencing systems: frameless and framed systems.
Framed systems are what come to mind first when glass fencing is mentioned. These are glass fences set in between posts.
Frameless glass fences do not have visible posts but feature minimal hardware at the bottom.
You have a couple of options to choose from, irrespective of whether you choose framed or frameless fences.
Post to post framed systems
This is a framed system with posts in between glass panes and a handrail. This is the most commonly used type of glass fencing, which is why it comes with a variety of metal options, such as aluminum and stainless steel, for posts and designs. Most contractors are well versed in installing this railing system.
In this system, the glass is mounted in between two upright posts, with a handrail on top of the glass, The post and handrail system is by far the strongest glass fencing system in the market.
Barrier glass system
In this system, the glass is mounted in between posts but does not feature a handrail on top. Instead, the glass is mounted such that it is raised above the posts. A variety of choices for mounting styles and post finishes.
This style of framed glass fencing is best suited for balconies and patios.
Similarly, there are a couple of options in frameless glass fencing that you could choose from as well.
Base rail system
The base rail system uses a single shoe running along the entire length of the fencing that holds the glass fence panels in place, The fact that each panel is mounted into the same structure makes this a strong and reliable fencing option for both residential and commercial applications.
This system works great for stairs with angled walls as well. The fact that the glass panels have constant support from the bottom makes this the strongest frameless glass fencing system. The placement of the glass is such that enough drainage space is also provided.
Surface glass fence talons
This system provides the best line of sight and is the lowest-profile surface-mounted glass railing. The system uses talons made from flash anodized and powder-coated aluminum that can withstand coastal conditions and be used for internal applications. This system is also easy to install, making them a favorite.
How much do glass fence projects cost?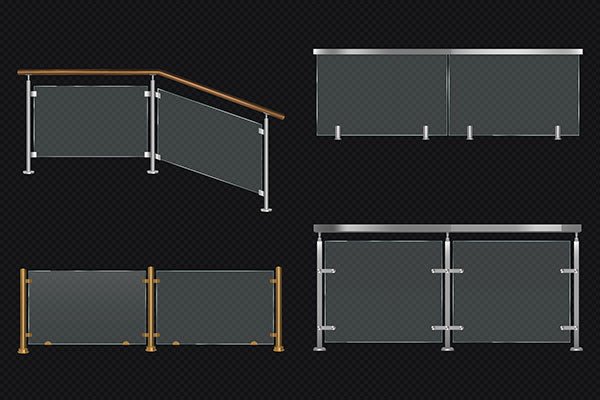 Overall glass fence prices vary depending on factors such as the support materials, the support system, and the glass panel type you choose to use. However, as an indicator, expect to spend between $140 and $290 per linear foot.
How can I maintain my glass fence?
Most of the materials used in a glass railing system are extremely durable, so hardware structural maintenance is minimal. As for the glass panels themselves, you can simply wipe them down periodically with Windex and a cloth, or a solution of vinegar and water.
If you live close to the coast, spray down the glass regularly with a hose to stop salt from building up.
Make sure you don't use any abrasive substances on the glass though. While it may be durable, it will still scratch and get damaged.
Frequently asked questions about glass fences
was last modified:
October 11th, 2022
by
Recommended