A Complete Guide on Cleaning and Maintaining Rain Gutters
Never underestimate your rain gutters! They not only protect your landscaping, plantings, flowerbeds, walls, roof, and siding but also prevent damage to your house's foundation.
When your rain gutters fill with pine needles, leaves, and debris, it causes clogs — resulting in water entering under the roof and saturating the very foundation of your home. Also, if you're not too careful in winters, your clogged gutters may lead to ice dams.
They may pull away from the roof as they become heavy, thus preventing proper rainwater drainage, and spoiling your house's appearance. Not to forget, breed pests and insects.
Therefore, it's important to clean out the gutters ever so often. Experts recommend inspecting and cleaning them twice a year — once in spring and then in fall. Basically, to get rid of fallen seedpods and flower petals in spring and dried leaves in autumn.
And, once the gutters are nicely cleaned up, maintaining them is also part of the spring cleaning plan or your fall checklist. You definitely don't want those unsightly clogged gutters that may lead to water damage in your walls and roof in the future.
Yes, yes, we know that it's a dirty and hateful job with wet leaves, bugs, decaying smells, and climbing high ladders — but it needs to be done.
Hiring a professional gutter cleaner to clear out your rain gutters and downspouts is a good idea if you're unable to do so yourself. Or, if your roof is higher than a single story. These cleaners will have the necessary tools to do the work, and also tall ladders for safety. Most of them can also make necessary simple repairs.
Regardless of whether you choose to do it yourself or hire help, these are some basic steps that need to be followed.
Lay a plastic tarp or drop cloth on your lawn. It's helpful to have a bucket for collecting the debris.

Get a sturdy, extendable ladder and place it on a firm, level base (you can use standoff stabilizers to keep the ladder from damaging the gutter).

Scoop out loose debris with a garden trowel or a gutter scoop — working away from the drain outlet. A gutter scoop usually costs $25 in hardware stores.

You can use a plumber's auger or snake to free and pull out the debris from the bottom.

If there's encrusted dirt, use a stiff scrub brush to remove it.

Clear all the obstructions in drain pipes.

You may also use a leaf blower.

Wash out the gutters with a high-pressure hose, working toward the drain outlet.

Avoid splattering any mud over your house

.

Flush your gutters and downspouts with a regular garden hose.

And, you have clean rain gutters!
Some Rain Gutter Cleaning Precautions
Always wear rubber gloves, safety goggles, and a dust mask to protect yourself from sharp metal, sheet metal screws, and debris.

DO NOT climb your roof in wet, icy, or windy weather.

Wear non-slip, reliable shoes.

Don't ever lean over the edge.

Never work near power lines.
How to Maintain Rain Gutters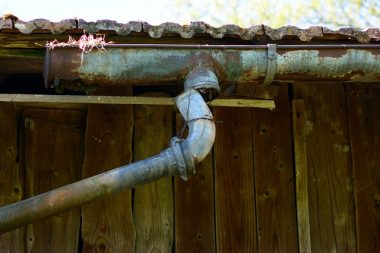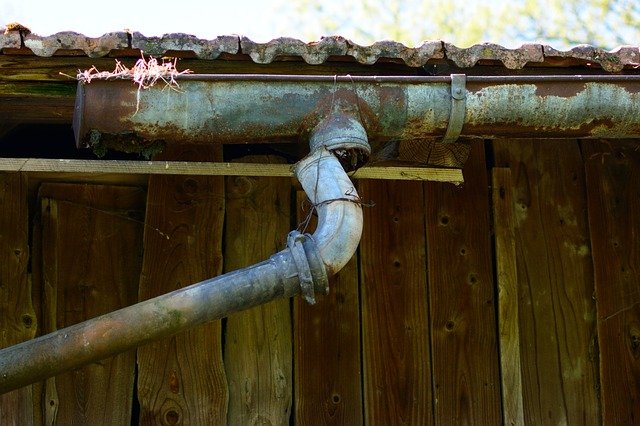 Regularly check your downspouts for leaks, rusting, rotting, or flaking.

Get all the damage repaired as soon as possible.

Set a twice-a-year cleaning schedule and stick to it.

Remove stubborn dirt with a stiff brush.

Do remember to flush gutters with a stream of water from a hose. It will clear material lodged in the eavestroughs and downspouts.

Invest in quality gutter guards and leaf-catchers.

Adjust the slopes of your gutters to move water toward the downspouts at a rate of 1/4 inch for every 10 feet.

Add downspout extenders or plastic splash blocks to expel the water away from your house.

You may want to have your downspouts run into a dry well if you live in a region with abundant rainfall. Do check your local building codes before installing a well.
Keeping the above maintenance steps in mind, you will have cleaner rain gutters and a happy home throughout the year.
How Much Does Gutter Installation Cost?
If you've moved into a new house and are contemplating gutter installation, you are making a wise decision. They add their bit in making your home clean, strong, and healthy.
Gutter cost is calculated in linear foot and ranges from $3 to $25 per linear foot. Of course, this amount depends on the material used — which can be plastic, aluminum, steel, vinyl, or copper. For 200 feet of gutter, you can expect to pay approximately $800, or higher.
Planning a home remodeling? Use our free home renovation estimator to have a fair idea of the total expenditure of your project.
What other places need cleaning around your house? Take a look at our guide on The Dirtiest Places In Your Home That Need Cleaning
Conclusion
Most homeowners do realize the importance of keeping their gutters clean but shy away when it comes to maintenance. The truth is, it's not so difficult. The rule of thumb is to stay on top of the task and prevent any water damage because of it. You can save hundreds of dollars.
Timely inspection, cleaning, and maintenance of your gutter system is crucial. Keep a fixed spring and fall schedule for it and protect your siding, windows, doors, and roof. In fact, your house's very foundation.
Read more: Types of gutter guards
A Complete Guide on Cleaning and Maintaining Rain Gutters
was last modified:
May 27th, 2022
by
Recommended