Red Entry Door Ideas For Your Home
Red is energizing. It radiates a strong, powerful energy and motivates us to take action. It evokes a pioneering spirit and promotes ambition and determination. Choosing  a red door for your entrance will certainly make a bold statement.  (You can't overdo it, though, or your house could end up looking like it dropped out of a cartoon.) 
So, are up for channeling all the power of red? Here are a few red entry door ideas that will make you rethink neutrals.
When you have the strong personality type to choose a red door, why not go to the limit? Instead of using a classical door, you can pick one with a special theme. 
Read more: How colors affect your mood
Or you could take a walk on the romantic side and complement your dashing red entry door with a stunning array of red roses. In this case, the red roses only increase the charm of the entrance.
Red is definitely an eye-catcher. So you do have to be careful not to overdo it. No matter if it's a getaway cabin in the middle of the woods
Or your kitchen pantry…
Red has the power to hypnotize and seduce, and you won't be looking away anytime soon. It will bring to life monotonous neutral palettes with a BANG! Specially if you choose a highly glossy finish.
MORE: Use Our Remodeling Calculator and Find Out in Minutes How Much Your Entry Door Installation Will Cost
Red Paint Colors:
There's more to the red magic than catches the eye. It is such a powerful color that it's capable of raising blood pressure. It is often used in restaurants and dining rooms because it stimulates the appetite.
Here are the connotations of some tones of red:
Light red represents joy, sexuality, passion, sensitivity, and love.

Pink red signifies love and friendship and carries the feminine qualities and passiveness.

Dark red is associated with vigor, willpower, rage, courage, malice, and wrath.

Brownish red suggests stability and denotes masculine qualities.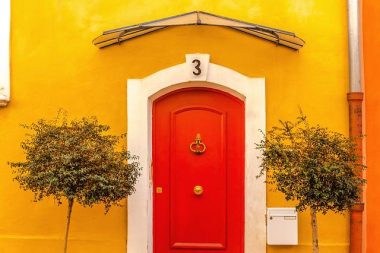 Here is a list of 6 red paint colors by Benjamin Moore. Before making a final decision, it's always a good idea to buy a sample and put some paint up in the room to see how it looks at different times of the day.
How To Paint Your Door Red:
Modern Masters makes a paint specially designed for front doors, called "Front Door Paint".  There's actually a Front Door Paint app (for iPhone) that you can download to test out their colors. 
Get the job done right with these tools:
Paint

Primer

Rubber roller

Tape

Sanding block

Small sponge brush

Vaseline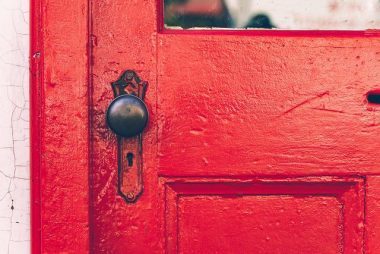 Step 1: Sand, clean and prep the door with tape.  Don't forget to cover your hardware (or take it off so that you can paint underneath it; but watch out with antiques, you never have any assurances that things will go back together properly after you disassemble them).
You can use an electric sheet sander for better results. Then use a sponge sanding blocks to get into the more detailed areas. 
After the sanding is done, wipe down the entire door with a warm, slightly soapy rag and let dry for few minutes.
Step 2: Paint door with 1-2 coats of primer. If the door is metal, use 2 coats. If it is a porous wooden door, use also 2 coats, as it will absorb a lot of the paint.
Step 3: Allow primer to dry completely (leave it overnight if possible).
Step 4: Begin painting. Use the end of the roller or the small sponge to get into all the nooks and crannies. Be sure you let the paint dry completely between coats.
You're now ready to paint the town RED! Or better yet, go paint your front door. It is the entrance to your personal world, so you better make a statement out of it!
Read more: How much money cost a damage front door?
Red Entry Door Ideas For Your Home
was last modified:
April 20th, 2022
by
Recommended