Remodeling Ideas and tips for a quick house sale
Most homeowners who have their houses for sale may experience a long wait before selling their home at a price they would agree to. Here are some remodeling Ideas and tips that can help you with a quick house sale.
Most of our tips below are partial remodels which are more affordable and still effective in making your home look more appealing. You don't have to make everything brand new, remember that, all you have to do is make your home as presentable as possible while saving cash to maximize your returns.
Improve the Exterior of Your Home
Making your home look stunning before potential home buyers step in your home will create a long-lasting good impression. This is why it's equally important to work on both the interior and exterior of your home. Below are things to consider when improving your home's exterior:
Clean up and trim your landscape

Add affordable but appealing plants to your front yard

De-clutter your exterior to make it look larger and neater

Fix cement cracks in sidewalks

Plant flowers to help bring a positive appeal to your home

Replace your door or paint it and replace your doorknob (if needed)

Install new house numbers and mailboxes to improve your home's appeal
With these quick and affordable fixes to your exterior, you'll surely create a long-lasting and good first impression which in turn helps in a quick house sale
Paint Your Interior
A fresh coat of paint makes your home look newer, well-maintained, and more attractive — whether a potential buyer knows you recently painted your walls or not. Not to mention that you can easily cover cracks, leaks, stains, and signs of settling. By the way, if you spot any big cracks on your walls, using joint compound to repair it may be a good idea.
But which color of paint should you choose? Every person has different tastes and styles. So instead of going for your style, whether it's a loud color or not, the best decision would be to play it safe by using neutral colors. There are a couple of neutral colors to choose from, some of them are:
Grey-green

Brown

Green-brown

Beige
But picking the color white isn't a bad option too. White brings out the freshness of your walls and makes your home look cleaner too. White also looks great with contrasting elements such as a dark trim, wooden floor, etc. Make sure to pick the right paint colors for the right areas in your home!
Clean or Replace Flooring
Poorly-maintained or old-looking flooring may not be attractive to potential home buyers. Remember, your home's flooring is one of the two things (your walls being the other) that are highly noticeable once a potential home buyer steps inside your home.
Below are some tips depending on the type of flooring you have:
Carpet is prone to dirt, stains, and signs of aging. Having carpet flooring that looks dirty may be a major turn-off to anyone that sees them. We recommend using a carpet cleaner to thoroughly clean your carpet flooring and making it look its best.
But if you think your carpet is hopeless, consider replacing it since carpet flooring is one of the most affordable types available these days. When picking carpet flooring colors, it's a good idea to pick neutral colors again since, as we've mentioned above, every person has his or her own tastes.
Bamboo or timber flooring actually looks better over time. All you have to do is clean it to look presentable to potential home buyers. But you may also want to consider refinishing your floor to give it a fresh and attractive look. Trust us, this will make your home more aesthetically pleasing!
It's pretty easy to clean tile flooring. All you need is tile cleaner and a little effort to remove dirt and grime. But the hard part is actually replacing chipped or broken tiles and cleaning or replacing the grout. You can do both yourself but if you're having a hard time, ask a contractor to help you out!
Vinyl or laminate basically last long and they're durable. Probably the easiest to maintain of all flooring types, all you need to do is clean it and make it presentable. Well, that's the best you can do unless you plan to replace the entire flooring.
Read more: Scheduling exterior house cleaning
Remodel Your Kitchen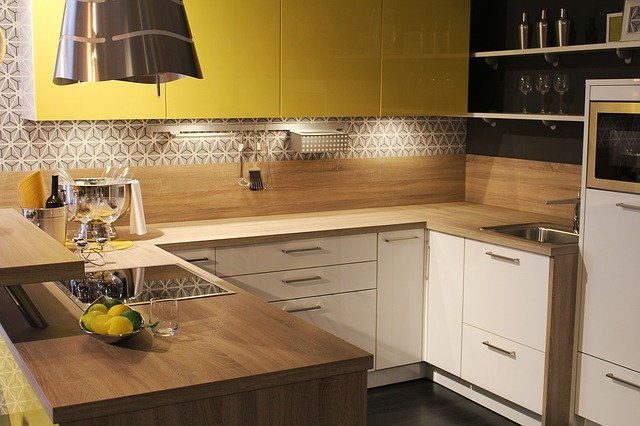 Pixabay
Every potential home buyer dreams of a beautiful yet productive kitchen. In fact, it's actually recommended to prioritize in renovating your kitchen. Just don't go making it into a big renovation project since you're planning to sell your home. Keep in mind that your kitchen needs to look clean and hygienic — seeing molds or cockroaches in your kitchen will be a major turn off!
Stainless Steel Appliances
Stainless steel appliances have been proven to be a factor that makes houses for sale sell faster. If you have stainless steel appliances, that's pretty good news! But if you plan to buy stainless steel appliances to sell your home faster, your best option would be buying second-hand ones through Craigslist or other online classifieds in your area.
Installing new kitchen cabinets can definitely make your kitchen more attractive but it may not be the cost-effective choice if you're planning to sell your home. You can resurface your cabinets, which is way cheaper than replacing them with new ones. Painting your kitchen cabinets, on the other hand, makes it look newer and cleaner. More proof that paint is a cheap yet effective home improvement!
Replace Old Sinks and Faucets
Replacing old sinks and faucets is an affordable way to make your kitchen look more appealing. Not only will your kitchen look newer and cleaner, it'll have a massive appeal to potential home buyers.
Remodel Your Bathroom
Remodeling your bathroom will make it look clean and hygienic too. Some improvements you can make are already mentioned above such as painting your walls, replacing sinks and faucets, cleaning or replacing tiles etc. If your bathroom looks dirty and needs a bit of effort on remodeling, don't hesitate to replace or resurface your toilet, bathtub, and even install new lighting for overall appeal.
If you're looking for contractors to help you remodel your home, Kukun can help you find the best contractors available through our directory of professionals. Make sure to check it out!
Read more: Professional House Staging Guide For A Successful Sale
Remodeling Ideas and tips for a quick house sale
was last modified:
May 1st, 2022
by
Recommended