Process for removing a wall between kitchen and living room
Modern homes are all about clean lines and open spaces, which is why the concept of an open kitchen and dining area has found a lot of takers. While enclosed kitchens can often feel small, poorly ventilated, and outdated, open kitchens make homes look larger as well as better lit and better ventilated. If you live in an older home with an enclosed kitchen and feel the need for a modern kitchen, plan on removing the wall between your kitchen and living room during your next kitchen renovation as a first step to designing your open kitchen. Here's a quick look at the process.
Examine the wall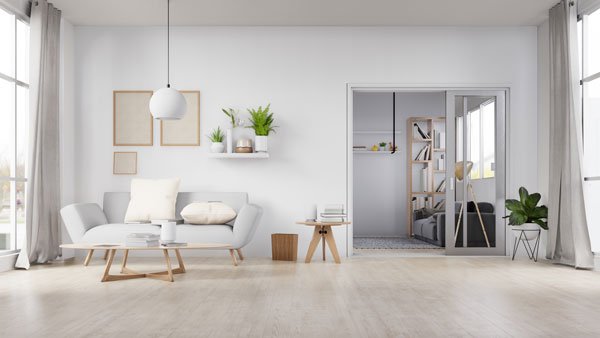 Before tearing down any walls, it is important to first find out if the wall in question is a load-bearing wall or not. Load-bearing walls provide crucial structural support to building elements above and below them. Removing a load-bearing wall without planning for a support structure in its place may cause the roof to collapse or for the floor to sag. Once the wall has been removed, you will need to replace it with a beam to maintain the structural integrity of the building.
Removing a load-bearing wall isn't very expensive. It should cost you between $300 and $1000 if you do it yourself. However, if you're not careful, you could permanently damage the structural integrity of your home. It may be prudent to consult a structural engineer before you begin.
Also factor in the added cost of shifting HVAC, plumbing, and electrical systems.
Here's how you can determine if a wall is a load-bearing wall or not.
Use a stud finder to find a stud around one foot from the doorway.
From the very top of the wall, remove a small piece of drywall centered over the stud,
If you find a single plate, it means the wall doesn't provide any support and can be broken down with no damage to the structural integrity of the building.
Two horizontal 2x4s on top of the stud are indicative of the wall being a load-bearing wall. Most cities require that you obtain a permit before tearing down a load-bearing wall.
Move electrical and plumbing
Plan on shifting switches to a different wall before you begin demolition.
If you're getting a new kitchen island, you may need to install receptacles.
While water and vent pipes can be moved without too much trouble, you may need to hire a plumber to deal with moving your drain pipes.
Provide structural support
You will need to build support for the wall before you tear it down. Begin by using a 2×4 for the bottom plate and a 4×4 for the top plate. For a tight fit, install a 4×4 at each end, and one at an interval of every three feet.
Removing the wall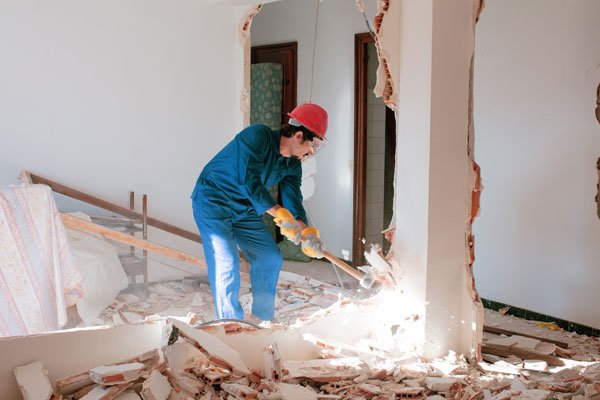 Use a utility knife to make cuts along the ceiling joints and in the corners.
Use a three-pound hammer to punch holes in the drywall in a horizontal line from one end of the wall to the other.
Pull all the drywall off from both sides of the wall using both your hands.
Cut the studs at the top and bottom using a reciprocating saw and remove them.
Remove the top and bottom plates from the wall.
Installing a beam
Make sure you get your local building department's approval before you begin construction.
Your building department code will specify how many studs you need to support a beam, but in most cases, three 2×4 studs at each end ought to suffice.
Make sure the beams are tight against the rafters and joists it supports to avoid a saggy floor or roof.
Nail three 2x4s at each end.
While installing support at each end, ask helpers to hold the beam in place against the joists or rafters.
Finishing touches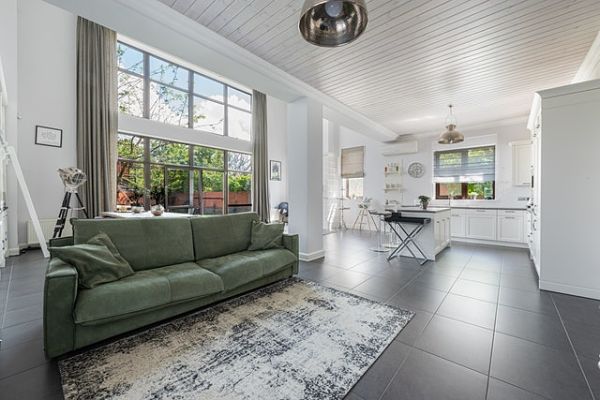 If you're installing a support structure and beam, cover it with drywall.
If you did not, cover the gaps in the ceiling and walls.
Finish the drywall with tape and compound as you would with any drywall project.
Read more: Concrete block retaining wall
Why the investment is worth It
If you're planning a kitchen remodeling project, removing the wall between your kitchen and dining room is an investment worth making. Here are some reasons why.
The open space will make your kitchen and dining room look larger and more sophisticated.
When you create an open concept kitchen, you have access to more natural sunlight as well as better ventilation.
You will have easier access to the rest of your home, enabling you to spend more time with your family and to entertain guests.
Most importantly, an open floor plan is what a lot of home buyers look for. So if you plan on selling your home in the future, your new kitchen is likely to get you a higher market rate.
Planning to expand or remodel your kitchen? Click here to get an accurate estimate based on your requirements.
Read more: When is the best time to remodel a kitchen?
Process for removing a wall between kitchen and living room
was last modified:
October 11th, 2022
by
Recommended