Essential Colonial Interior Design Elements
When you think of design elements that define the words traditional, opulent and regal, colonial influences are probably the first thing that pops into your mind, and rightfully so. Large halls, ornate stairways, imposing roofs with chimneys and large, lined up windows defined colonial home design. The interiors of these homes stood out as much as the outdoors did. So if you want to add a touch of the same luxury our nation's early settlers enjoyed to your home, look no further. Here's an introduction to essential colonial interior design elements that you could incorporate into your own home.
What Defines a Colonial Home?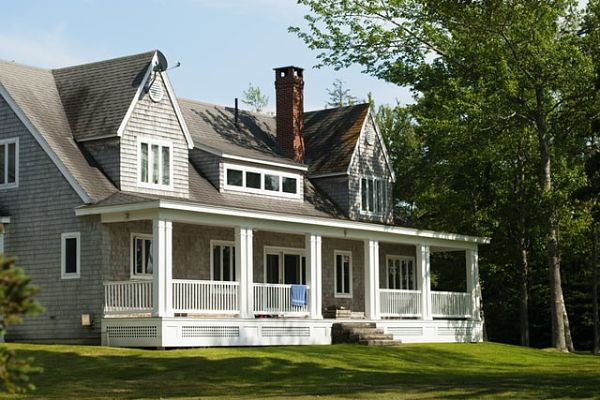 If you live in our Southern states or along the Eastern Seaboard, chances are that you've already seen a fair amount of colonial homes. But what actually defines a colonial home?
Well, colonial architecture, as the name suggests, draws heavily from the architectural influences early settlers brought from their countries with them. Notably, there are British, Dutch, French and Spanish influences in the ways these homes were designed. However, there are some features that define the design style.
All colonial homes have large floor plans, and are at least two or more stories high.
Symmetry is an integral part of the colonial style of architecture, with squares or rectangles being the base of home layouts.
Ornate doors in the center of the building leading indoors, with multiple windows on either side and above the doors are another common feature. In keeping with symmetry, the number of windows on either side of the door are always the same.
Stairs play an important role in colonial architecture, with homes often featuring one or two ornate stairways leading to the upper stories from the center of the house.
Depending on the region, colonial homes feature external walls of either wood or stone and bricks. Roofs are generally steep and gabled.
Chimneys are another prominent feature, with most homes sporting either one large chimney in the center of the roof, or two on either sides of the roof.
Colonial homes normally feature the kitchen, living room, family room and dining room on the first floor, with the bedrooms on the floors above. Again, in keeping with symmetry, a popular floor layout is one room deep and three rooms wide.
Colonial Home Interiors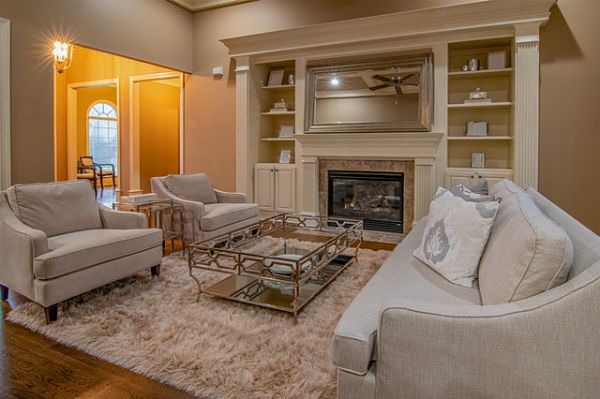 You have to remember that early settlers were a hardy lot, so early colonial interiors were basic, rustic and simple. Over the years, this evolved into what we see today: lavish, plush and regal interior design.
When it comes to incorporating elements of colonial design into modern interior design, there are two schools of thought.
1. Early American Design
This style features comfortable wooden furniture and generous use of the colors ivory and grey, be it on furniture, drapes, or more.
The use of rugs, embroidered quilts and covers as well as incorporating the use of fabrics like cotton, wool and linen as covers is a key element.
Popular furniture that is a part of this style includes trestle tables, ladder back chairs and traditional blanket chests, all reminiscent of rustic farm living.
2. Traditional Colonial Design
This design style is actually older that the early American style, and has a lot more influences drawn from Europe.
While this style of interior decorating may use more simple, straight lines, it is a lot more opulent in flavor.
Recreating the Look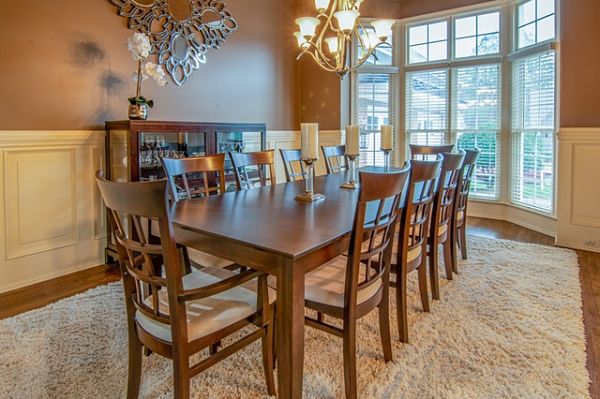 Let's take a quick look at how you can up the class quotient in your home decor by incorporating elements of colonial interior design.
The Color Palette
Essentially, the color palette from the colonial era has very sombre choices. Bright colors do not feature much in it.
Popular colors include whites, greys, indigo blue, barn red, tallow ochre, shades of green and woody browns.
Quilts and Rugs
Early American colonial design used quilts as a decorative element on walls as well as for keeping warm. This is a great inclusion to any room even now, especially during the colder months of the year.
Add to the warm, fuzzy feeling by throwing quilted cushions and pillows into the mix.
DIY rag rugs are another great way to add some colonial flavor to living rooms. If you don't feel up to knitting one yourself, store-bought options work just as well, so long as you stick to the color scheme.
Floors and Walls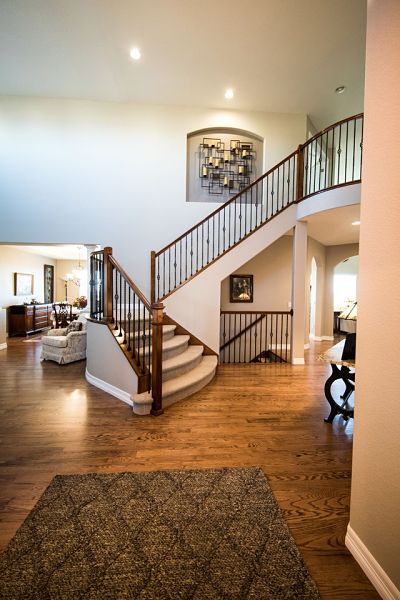 Hardwood floors, especially dark woods, are the way to go for replicating colonial interiors.
Walnut, cherry and mahogany are all great choices for the floor. Hand-stitched embroidered carpets, preferably featuring fall hues and floral prints will make a great addition to the floor.
Walls can be painted or covered with floral wallpapers, again, keeping in mind the color palette.
Murals of fruits and flowers are another characteristic of colonial walls.
Crown moldings on the ceilings and dado rails along the walls are also key elements of colonial design.
The Use of Metal
Pewter was a popular metal during the colonial era. Kitchenware like plates, cups and spoons were often made of pewter.
Display some pewter ware prominently in your dining area to give it a colonial touch. Copper pots and wrought iron candelabras will also fit into the theme really well.
Living Room Decor
Like everything else, wood plays an all important role in colonial design decor as well.
Ladderback chairs and trestle tables are the look you want, preferably handmade for even more authenticity.
Lamps, chandeliers and candles were the choices for lighting. You can buy wrought iron lamp replicas that house bulbs to emulate the feeling of a colonial living room.
Bedroom Decor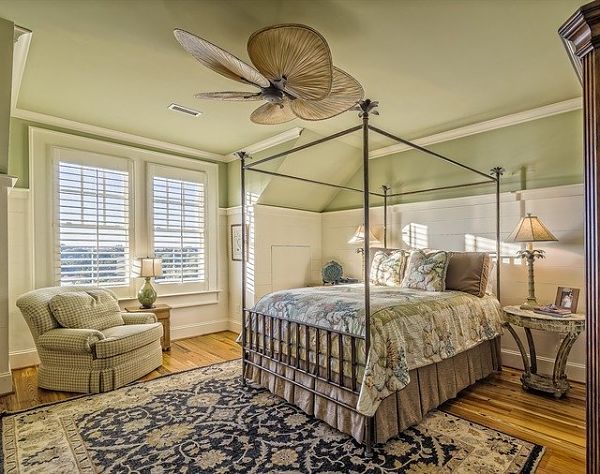 Four poster beds are often the centerpiece of a colonial bedroom. Accessorizing should be minimal and well planned.
Colonial bedside lamps, handmade quilts, rag rugs and wicker baskets are some of the accessories you can consider for your bedroom.
Strategically placed pitchers of fresh seasonal flowers can add a much needed touch of color to the room.
Read more: Pet friendly interior tips
Essential Colonial Interior Design Elements
was last modified:
August 8th, 2022
by
Recommended