Contractor Quotes for Dummies
Information is power. There's no shortcut. We're being harsh, but it's a universal truth. When embarking on your remodeling journey — be it a bathroom renovation, a kitchen improvement, or a bedroom remodel — this is information you NEED to know. It's not really for dummies, but rather to keep you from being someone's dummy. So read on my friend, read on.
The first step towards building your dream project is not quite as poetic as a Pinterest board. There's interviews and paperwork and research to be done. You need to compare and understand contractor's quotes for your project, and that's not always an easy task. However, when you properly prepare for what's ahead, you're securing yourself a positive and exciting outcome. (That's another universal truth right there!)
So let's get started:
Back To Basics: What Is A Construction Bid?
According to our friends over at WiseGeek: "Before a construction job begins, whether it is a small job on a residence or a very large job on a commercial building, it goes out to bid. This means that contractors have the opportunity to review the job and give an estimate of what they would charge to complete the work." Easy enough. You're probably following along just fine.
Except…
Not All Construction Bids Are Created Equal
Ah… There's always a catch. ALWAYS (Universal truth #3.) It ultimately depends on the type of work that is out for bid. A kitchen remodel is not the same as building a football stadium. Although some renovation victims (who did NOT use our tools), will certainly vouch on the contrary.
Once you have decided you want to renovate your kitchen, and not the Yankee Stadium, then by all means be very specific in the work you want done. You see, this determines the type of material, subcontractors, tasks and scope. Your contractor will need to fulfill the job by orchestrating all the right events in the right order. One mishap and you're off the train and will be late to your destination… It also determines how many working elves will be needed to make your personal North Pole a happening spot. And more importantly, how many happy hours they will miss in order to deliver it on time.
Expert Advice: Be grateful. People resent missing their happy places, building someone else's dream. (Let's stop counting universal truths now.)
So…
What's The 'BID' Deal?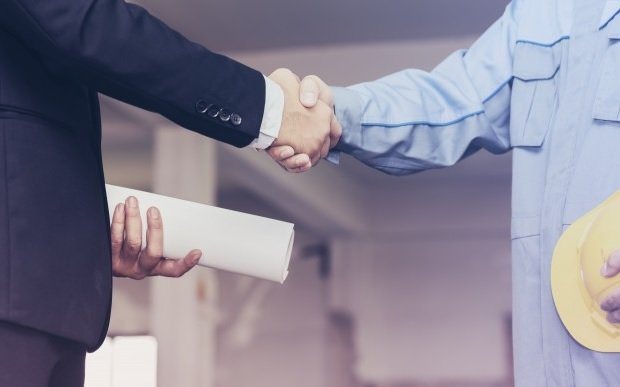 Business card photo created by Waewkidja – www.freepik.com
In theory everything is pink balloons and smiles until you have to compare different bids. (Let's start bursting bubbles now.)
As you may have guessed, you need multiple bids to compare them. (Brilliant!) You have to meet or find a contractor that's willing to take on your project and have him draw a proposal. You need to be specific enough, so that each contractor gets exactly what you're talking about, and sends a proposal for the exact same things. Or else, you're comparing apples with strawberries. And frankly, you're thinking about bananas and kiwis. You are misunderstood and alone. (And your contractors are pissed because they hate wasting their time.)
Say whaaaat?
You know how this works, everyone's dated. And at the beginning, everyone looks top notch. And everyone says nice things about your chosen vision. And then, when things turn ugly, strangely everyone remembers crazy stories and you feel you were the only one out of the loop. (Expert Advice: Don't trust reviews, they're misleading). This is scaringly similar.
In the long run though, only a few remain married. You know what their secret is? COMMUNICATION. And if you don't do it right, you'll end up heartbroken, mad, broke and saying you didn't sign up for this S**T. So you really need to get this down. For everyone's sake.
A Little 'BID' Scared?
Now that you get what the big deal is about bids, chances are you're a little 'bid' scared. We understand. If you choose to do your bidding old school, keep in mind that being specific and maintaining clear communication will steer you away from a shipwreck. (Contractors are not a jolly crew, but we assure you, if you do this, they'll be happy campers.)
If you're really committed to your project, may we elegantly suggest using our bidding system. We organize and bid out your project with qualified professionals.
We compare the bids for you so you're certain you're getting your banana kiwi combo. No confusion. No misunderstandings. No tears. No heartbreaks.
And we send you deadline reminders to your phone so you can control your project and prevent delays.
Seriously, we rock.
Read more: How avoid foreclosure bid rigging
Contractor Quotes for Dummies
was last modified:
May 1st, 2022
by
Recommended