A renter's guide to the best neighborhoods in Chicago
Chicago is one of our country's most vibrant cities. It has a vibrant art and entertainment scene, a veritable smorgasbord of cultures, great schools, parks, and a huge variety of cuisines to offer. It is no wonder then, that Chicago is a global favorite for people looking to relocate.
However, deciding which neighborhoods are best suited to your lifestyle can be a daunting choice, considering the sheer size of the city. With over 77 neighborhoods, each with its own cultural and often ethnically diverse communities, renters who are new to the city can be overwhelmed. Here's a renter's guide to the best neighborhoods in Chicago to help narrow down your choices.
Family-centric neighborhoods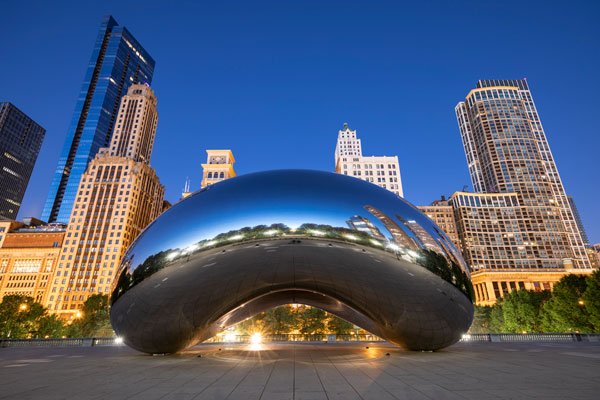 While most of Chicago is family-friendly, some neighborhoods are better suited for a family with children.
Neighborhoods like Morgan Park, Beverly, and Bridgeport on the city's south side have a friendly and welcoming Midwestern vibe to them. With a healthy mix of white and blue-collared residents, these stroller-friendly neighborhoods exude a strong sense of community belonging. They also feature strong public schools.
Roger's Park and Edgewater are perfect for those looking at living away from the hustle and bustle of the city. Located on the banks of Lake Michigan on the north side of the city, these neighborhoods feature quiet beaches and tree-lined streets.
Their proximity to Loyola University ensures you have a wide range of cuisines and coffee shops to choose from. They feature a vibrant nightlife and entertainment scene as well.
Edgewater and Roger's Park are among the ten least violent neighborhoods in Chicago and feature a healthy mix of African American, Hispanic and Asian communities. You also have access to multiple private faith-based schools and public schools to choose from.
Other family-friendly neighborhoods on the north side of the city include Roscoe Village, Lincoln Square, and Andersonville.
Entertainment and nightlife centric neighborhoods
When it comes to entertainment and nightlife, Chicago has something for everyone. Whether you want to listen to contemporary jazz, alternative rock, or some classic Chicago Blues, you're bound to find a club to indulge you. Fans of the art scene, theater, stand-up comedy, and improv won't be disappointed either. Dance the night away to the latest releases in one of the trendy nightclubs if that's your poison.
Lakeview is made up of different neighborhoods like Boysville and Wrigleyville. Wrigleyville is where you find the young, fresh out of college crowd partying day and night, especially when the Cubs are playing. Boystown experiences the best Pride Parades.
West Lakeview offers you a wide range of famous restaurants and boutiques, such as the Argentinian Steakhouse and Crosby's Kitchen, and Coalfire pizza. You can also soak in some independent cinema all days of the week at the historic Music Box Theater.
The River North area has some of the city's best nightclubs as well as art galleries. This is where you will find Chicago's party animals letting their hair down.
Outdoor activities centric neighborhoods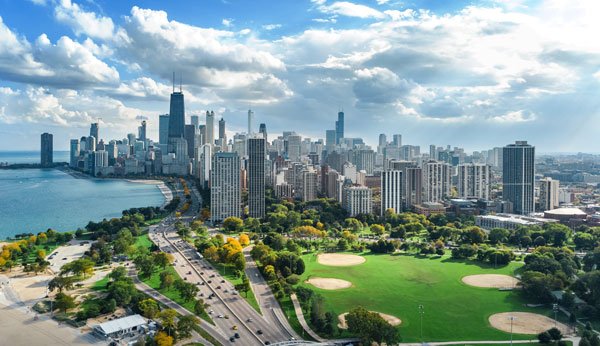 When we said Chicago has something for everyone, we weren't exaggerating. If enjoying the great outdoors is what you're about, Chicago has you covered. The city has over 570 parks spread over 7,600 acres of land. Here are two neighborhoods with an abundance of parkland and greenery.
Hyde Park, on the south side of the city, is where the University of Chicago, the Museum of Science and Industry, and Frank Lloyd Wright's famous Robie House call home. This culturally diverse neighborhood has both apartments and mansions amongst its tree-lined roads. Its jewel though is the 500 acre Jackson Park. Hyde Park also features some of the city's finest restaurants, including one of Barack Obama's favorite breakfast spots, the Valois Restaurant.
Chicago's largest and most sought-after park is Lincoln Park. Spread over a sprawling 1,208 acres, this park has its own conservatory and zoo! Living in the vicinity of Lincoln Park are Chicago's well-to-do communities. Thanks to its proximity to downtown and Lake Michigan, rents here aren't cheap. The neighborhood features a running and trekking trail, a large density of restaurants that showcase the varied cultures that make Chicago unique, and a host of other attractions.
Read more: The best neighborhoods in Portland
Neighborhoods in and around downtown
If you want to live close to downtown Chicago, here are the neighborhoods you ought to consider.
Downtown Chicago, or the Loop, as it is fondly called, this Central Chicago neighborhood is home to offices, businesses, and the financial district. It is also becoming a hotspot for renters who want to live close to their workplaces, and for students studying in one of the many several universities nearby. Easy access to public transportation is another factor for this neighborhood's popularity.
Most of the housing around here is designed for one or two people, so this isn't the ideal neighborhood for a family with kids. As a result, there aren't any public schools in the vicinity either.
Printer's Park and South Loop feature expensive high-rise residences, with luxuries like in-house spas, fitness centers, private dog parks, and terrace gardens. They also feature accessibility to public transport. These upmarket neighborhoods do have a handful of public schools, but with a lot of families moving in over the last few years, a lot of private schools are also opening up.
West Loop has been gaining popularity as an up-and-coming neighborhood over the past few years when builders started converting warehouses into condos. This neighborhood features the famous Randolph Street or Restaurant Row. This is an active neighborhood with a lot of activities to offer. Stay abreast with what's going on becoming a member of the neighborsofwestloop.com online community, or the True West Loop Facebook group. Like other similar neighborhoods, West Loop does have some public schools, with new private schools cropping up. The regular features of the house are deluxe.
The River North and Gold Coast neighborhoods are just north of downtown. They feature townhouses, high rises, and single dweller apartments.
Read more: Should you rent out your home on airbnb?
Streeterville
In the same vicinity, Streeterville features mostly high-rise dwellings, including the legendary 875 N Michigan Avenue, a 100 story building featuring condos, office spaces, restaurants, and more. Streeterville also is home to showrooms of the best brands in the world, such as Salvatore Ferragamo and Burberry, and Michelin Star restaurants on a 13 block stretch called the Magnificent Mile. This traditionally used to be a neighborhood for older people, but with young families and individuals making their presence felt, the neighborhood is adapting to these changes.
Read more: Traditional neighborhood development
A renter's guide to the best neighborhoods in Chicago
was last modified:
January 24th, 2023
by
Recommended