How to Choose the Right Patio Door for Your Home?
When it comes to giving the rear of your house a renovated feel, patio doors can do wonders. These doors come in handy in providing a garden view with ample natural light to the indoors. With the added benefit of security and convenient access, patio doors are very popular in most American homes.
Traditionally, patio doors were exclusively sliding in nature. However, you will now find bi-folding and French doors labeled as patio doors in the market. The choice of the door heavily depends on your design preference, budget, and size of the opening in question. This article will help you pick the right patio door and give you an idea about the costs involved.
French doors
Perfect for smaller openings, French patio doors open outwards. This is very similar to a set of double doors and usually have a top or side lighting. uPVC French style doors are an extremely popular choice in the US. However, you will also be able to choose Aluminium French doors if you want to.
The greatest advantage of this door type is the high level of security. If you choose to go with this alternative, make sure you pick the ones that have passed the PAS024 security testing. The starting price of French doors is around $500 and can go up to $4000. Basic doors with clad or wood construction start at $300 just for the French door with additional labor costs. These are fashioned out of whitewood or clad vinyl.
Architectural doors that are made for curved moldings and transoms can cost $4,000 for pre-designed doors and up to $10,000 for custom models. The most popular material for French doors is fiberglass.
Check out this article for a more comprehensive study on the cost of french doors.
Sliding doors
This is a great option for houses that have a space crunch outside. The sliding glass patio door runs on a horizontal track, saving a lot of space around the door. You can choose from a single track to up to three tracks for the door. Another huge advantage of having sliding doors is the smooth operation and the fact that these doors cannot be blown closed by the wind. You can add a multi-point lock system that will significantly boost the overall security system.
Sliding doors start around $600 apiece. Vinyl or aluminum sliding doors can cost you anywhere between $1200 and $2500. The final price will heavily depend on the design and size of the door in question.
Check out this article if you want to know more about sliding glass door prices.
Read more: Sliding door maintenance tips
Bifolding doors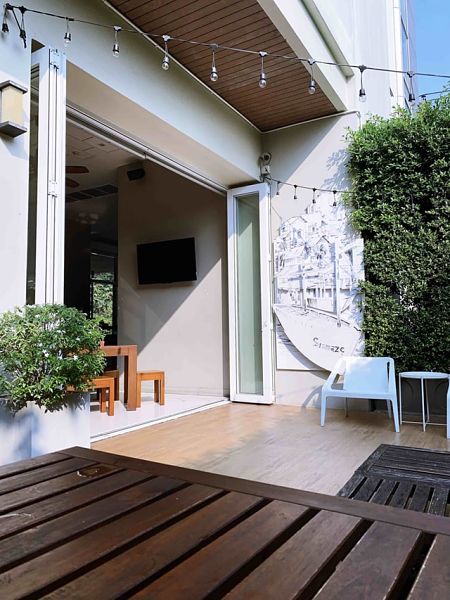 Photo by Matthew LeJune on Unsplash CC0
Bi-folding doors are slightly costlier than the other alternatives. If the opening is more than 8.9 feet and you do not have any outside space limitations, a bi-folding door is the one to go for. This door will allow you to open up the house completely. A normal bi-folding door starts around $1200 apiece. Bifolding doors are usually made of either timber or aluminum or uPVC. Timber and aluminum bi-folding doors can cost you between $1700 and $3000. A uPVC can cost you between $1400 and $2800.
What is the most energy-efficient patio door?
Sliding doors can be made extremely energy efficient by using insulated frames and a glass pack. While French doors and bi-folding doors offer more ventilation, sliding doors are more energy and space-efficient.
Is security a must for you? What about a Storm Door? Check our complete guide on types, costs, pros and cons.
What is the best patio door?
There is no straight answer to this question. As you have already learned, each patio door type has its own set of pros and cons. It is completely a personal choice to pick the one that suits you best. You will need to consider the space available, design of the house and the budget to be able to make the right choice.
Read more: 7 Tips to Design a Perfect Outdoor Patio for Your Home
How to Choose the Right Patio Door for Your Home?
was last modified:
May 30th, 2022
by
Recommended