A roof inspection is an important part of owning a home. This simple but crucial examination determines the integrity and structure of your house's roof. It analyses its wear and tear, lifespan, and whether it needs replacement or not.
In this article, we'll discuss everything there's to know about roof inspections. From important reasons as to why such a home improvement is necessary to how the analysis is done and its overall cost — this is your one-stop guide. So, let's begin.
A roof inspection helps to identify any potential roofing problem. And, after a thorough roof examination, you can find solutions for the problems that need fixing, determine the longevity, check the condition of your roof, and help keep it in good shape.
It's always a good idea to get frequent roof inspections in order to head off problems before they become too big to handle, or too expensive to repair.
How often should you schedule a roof inspection?
Your roof helps to protect your home from the harsh elements of nature — acting as the first line of defense against issues such as wind or precipitation. Therefore, it's important that you get it checked before it deteriorates or develops problems that require urgent roofing repair.
The National Roofing Contractors Association (NRCA) advises that a roof should be inspected twice a year — once in the fall and once in the spring.
Of course, roofing guidelines may differ. For instance, some roofing companies believe that you should get your roof inspected every other year.
There are some obvious factors that dictate how frequent a roof inspection should be. For example, if there are apparent signs of leaks, including water stains or mold growth, you must schedule an inspection as soon as possible. Furthermore, if the area you live in has experienced heavy snowfall or hailstorm during the winter or a hurricane — a roof examination is essential in order to check for the damage caused.
Read more: New roof & roof repair financing
Roof inspection vs home inspection
It's sufficient to say that a roof inspection is a more thorough way to check your roof for any signs of damage. A home inspection, on the other hand, will include your roof analysis but may not actually involve the inspector climbing onto your roof to give it a closer look. They may end up missing some crucial difficult-to-spot issues.
Often, it's difficult to determine the condition of the roof underlayment or deck from afar — without lifting a few shingles or tiles to take a peek.
While a home inspection is an important service when it comes to buying any new property, you can't rely solely on it for the maintenance of your roof. A home inspector may be able to tell you if your roof is viable or needs to be replaced. But, they may not be able to tell what sort of repair it needs, or how many more years your roof will last.
Further info? How about an Expert's Advice on Roof Leak Repair?
What does a professional roof inspection entail?
It's best to hire a roofing professional or licensed roofing company to conduct a thorough roof inspection. This is especially crucial if you're planning a total roof replacement.
Sometimes (if your roof has been damaged by hailstones or wind-blown debris during a storm) an insurance agent looks for strike marks to determine if the roof should be replaced.
A professional inspection involves looking for roof leaks, unusual wear and tear, growth of mold and mildew, and improper shingle installation. Such an inspection is easier to understand through the following facets:
Structural inspection
An expert roofer will check the condition of the soffit, fascia, and gutter system in addition to looking out for uneven roof planes and signs of sagging. They will examine the masonry chimneys for cracks, crumbling grout, or any other structural damage.
And speaking of chimneys, if you are planning a cleaning soon, take a look at our comprehensive guide on chimney cleaning.
An examination of the attic vents is also part of this procedure as improper venting can lead to heat and moisture buildup. This can reduce your roof's life considerably and may even increase the risk of ice dams at the roof's edge.
Read more: Snow and ice damage to roofs: prevention, insurance and more
Material inspection
A roof inspector is trained to examine different types of roofs and roofing materials to spot anything amiss. They will examine any material that seems out of place, damaged, or missing. For instance, if there are loose or curling shingles, water stains, moss, rusting, or missing flashing or fasteners. They will also check the rubber boots and seals around vent pipes. If there are gaps or any kind of deterioration — they will point it out.
For instance, a shingle aggregate at the bottom of gutter downspouts is a sure-shot sign that your roof needs total replacement.
Interior inspection
This is where the roof inspector will look for any signs of damage to the ceiling, attic, or interior walls. These could be water stains, mold, rot, or presence of wet walls.
Or, they may use thermal imaging or infrared inspection technology to check for moisture and weak spots in the walls.
Workmanship inspection
If there are basic problems in the workmanship of your roof, chances are, they could increase the risks of leaks or other damage in the near future.
For instance, an incorrect flashing around roof penetrations needs to be reported and fixed. These could include faulty vent pipes, skylights, or chimneys.
What is a roofing analysis?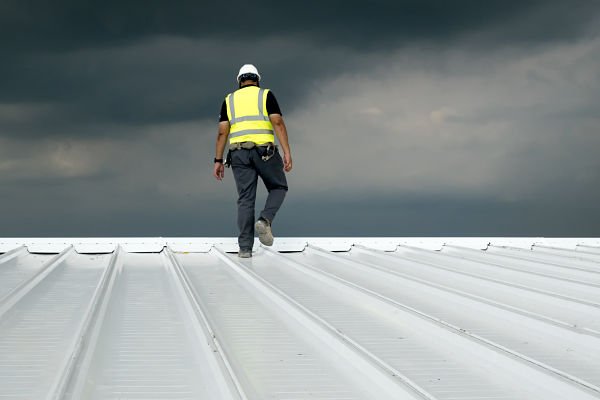 After a roof inspection, the inspector will give you a detailed report regarding the condition of your roof. And whether any repair work is required or not to keep it in good shape. If repairs are necessary, we advise you to schedule them as soon as possible.
This report is often essential when you're contemplating buying a house or making an insurance claim.
How much does a roof inspection cost?
On average, a roof inspection (of a 1,500 sq.ft. roof) costs approximately $250 to $800. This cost can vary depending upon the size of your roof, roofing material (inspecting a slate roof is expensive), the steepness of the pitch, the roof's condition, and your zip code. Your overall costs will be higher if there are more layers of shingles, multiple skylights, or protrusions on the roof.
Read more: Important tips on how to estimate roof cost
Other enhancement and improvement costs
There are often some extra costs that get added along the way. For example, an infrared inspection comes at an additional cost of around $200 to $250. This technology spots moisture below the surface using heat. Also, if the inspector advises a total roof replacement, you should be prepared to shell out a substantial amount of money. It costs upwards of $6,000 for a 1,500 sq.ft. roof. If you're buying a new home, you must consider a complete home inspection too. It will cost you anything between $500 and $700. A simple roof cleaning will cost you between $250 to $300.
How to prevent roof damage?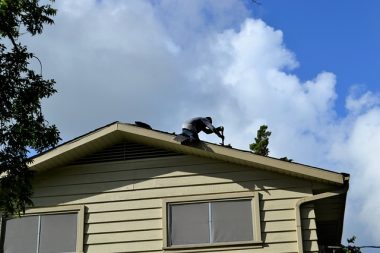 Once you've got your roof inspected and repaired, it's a good idea to take some proactive measures to prevent serious roof damage in the future. Here are some tips that you can follow:
Survey your roof regularly.

Do not walk on your roof to check for damage.

Look for curling, broken, or missing shingles or flashing.

Keep an eye on water stains or leaks in your attic or ceiling.

Consider the lifespan of your roof before paying for expensive repairs.

If you notice moss, first try to clean it off using a long-handled brush and cleansers meant to kill it.

Do not use a pressure washer, it could damage the roof shingles.

Be vigilant.
Conclusion
Timely roof inspections can give you and your insurance company peace of mind. You want to be secure in the knowledge that your roof is protecting you from the elements while you sleep.
Furthermore, no homeowner wants a damaged roof that calls for expensive repair work or worse a roof that's beyond repair!
Getting a roof inspection means discovering potential problems, and preventing major damage down the road.
From Reasons to Cost: Your Complete Guide on Roof Inspection
was last modified:
September 28th, 2022
by
Recommended