A roof is like the crown of your home — giving it a complete and beautiful appearance. And, it protects your house by keeping elements such as snow, wind, rain, or hail out. Therefore, it's imperative that you keep your roof in tip-top shape. So, how much does a roof replacement cost a homeowner?
This article is a complete guide on everything you'd ever want to know about warning signs of any potential roof damage or danger, roof replacement cost, and its maintenance.
Remember that a sturdy and safe roof above your head is very important if you want to have a warm, cozy, and leak-free home. Moreover, a great-looking roof is a crucial part of your home's value, curb appeal, and proper function.
If you notice the roof shingles breaking down, cracking, curling, or developing other issues such as leaks, wood rot, molds, and mildews — your roof is getting older and beginning to deteriorate. (We will talk about such warning signs towards the end of this article.)
Keep in mind that a roof can typically last from 15 to 50 years — depending on its material. (We will talk about the life span too!)
So, if it's time to get yourself a new roof, read on.
When it comes to roof replacement, we all want to get the best possible deal. One, because it's a major renovation project and two because we are spending our hard earned money after all.
Planning a home renovation? Try our free home remodel cost estimator; it's easy and convenient to use!
How much does a roof replacement cost?
The typical range of a roof replacement is between $5,200 to $15,000. The average cost of a new roof is around $7,700. Do note that this amount is for an average house size in America, i.e., roughly 2,000 square feet.
The average price of a roof replacement in terms of square footage runs to about $260 to $700 per roofing square depending on the roofing material used.
For example, an asphalt shingle repair might cost you as low as $350 and $500 per square while a tile or metal roof will cost you approximately $800 per square.
Keep in mind that roofers charge you per roofing square. One roofing square is 10-by-10-foot or 100 square feet.
Your costs may vary depending on your geographic location, the type of roof and shingles you choose, roof size, materials, the complexity of the work, the pitch of your roof, and the labor cost in your area.
While there are many different types of roofs, the most common one is an asphalt shingle roof. The average cost of these shingles on a 1,500 square foot roof is around $6,800. Or, $4.50 per square foot.
For realistic installation rates, it's best to always get quotes from at least three to four roofing professionals so that you get an accurate range (within the margin of $2,000 to $3,000).
Looking for a licensed professional? Let Kukun help you hire the best.
Hiring a roof inspector costs $100 to $300 and can really help you in making important decisions. If you don't need a complete roof replacement but just minor repairs or construction work, a qualified handyman will be enough for you.
Read more: How to Find a Roof Leak Like a Pro?
What is the average cost to tear off and replace a roof?
The removal of an old, dilapidated roof may cost you $1 to $5 per square foot approximately. That translates to $1,000 to $1,500. Add to that the cost of hiring a roofing contractor, which may run from $40 to $80 per hour.
Also, depending on what sort of repair or reinforcement your roof requires, you can expect to pay an extra $1,000 to $10,000.
The hardest part of a roof replacement, whether you're a contractor or a DIYer, is indeed removing the old shingles. While you can save around $1,000 if you choose to do it yourself, we strongly recommend hiring professionals. They will be able to do the job safely and efficiently — saving you all the hassles.
Read more: Important tips on how to estimate roof cost
What is the total cost to reroof a house?
The total cost to reroof a house with new shingles runs to about $4,700 – $15,690. This amount includes old roof removal, new roofing materials, and professional installation. The roofing material alone ranges from $3,245 to $10,800 depending on its quality and the size of your roof.
For example, the total cost for a roof and gutter replacement comes to about $9,540 for a 1,500 square foot house.
Removing the old shingles will cost you between $1,460 and $4,890. Or, $125 to $500 per roofing square. Your total roof replacement cost also depends on the level of difficulty in removing and disposing of the existing roof.
Furthermore, after removing your old roof, if the pros find structural issues in the rafters, you can expect to pay an additional $1,000 to $10,000.
How long does it take to put on a new roof?
Replacing a roof of an average-sized, single-family home will only take a few days to complete. Usually, a full roof replacement can be done under a week as long as there's no requirement for any major repairs, and the weather conditions are conducive for the home improvement project.
What are the most important roof replacement cost factors?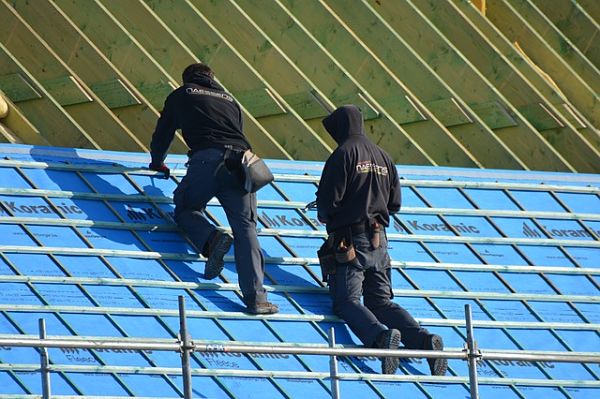 As mentioned earlier, the total cost of replacing your roof depends on a lot of factors. Let's explore some of the most important deciding factors.
1. Type of roof
There are different types of roofs in terms of shapes and sizes which make a house stand out from the next one. They have different associated costs as well.
| Type of roof | Cost |
| --- | --- |
| Flat | $6000 |
| Gable | $6750 |
| A-frame | $9000 |
| Hipped | $9000 |
| Butterfly | $9000 |
| Mansard | $10,000 |

2. Roofing material cost
In addition to different shapes and styles, roofs are available in a variety of materials. Your particular choice will have a huge impact on the total cost of your roof installation. Moreover, some heavy roofs may require reinforcement of the deck while others may need special labor — costing you extra bucks.
Roofing materials alone cost anywhere from $100 to $1,000 per square, depending on the kind you choose. The following are some of your options:
Material
Cost
Advantages
Asphalt
$6,750

Many choices available
Easy installation
Lifespan: 15-18 years

Architectural Shingles
$10,000

May resist impact and UV rays
Durable
Lifespan: 24-30 years

Composite
$7000

Strong
Durable
Lifespan: 35-50 years

Clay Tiles
$20,000-$35,000

Durable
Available in various shapes and styles

Standing Seam
$6,700

Durable, lightweight, contemporary-looking
Lifespan: 30-45 years

PVC
$7,000

Longer lasting
Lifespan: 15-20 years

Bitumen
$6000

Inexpensive
Easy installation on flat roofs
Lifespan: 10-16 years

Metal Tiles
$15,000-$28,000

Long-lasting
Can mimic other tiles and materials
Lifespan: 30-45 years

Slate
$15,000-$20,000

Durable
Looks beautiful
Lifespan: upwards of 100 years

TPO
$7,000

Easy to install
Reflects UV rays
Lifespan: 15-20 years

EPDM Rubber
$8,000 to $14,000

Easy to install
Not expensive
Lifespan: 10-16 years

Wood Shingles
$14,000 to $25,000

Traditionally beautiful
Lifespan: up to 30 years

Concrete Tiles
$20,000 to $40,000

Sturdy
Lifespan: 35 to 50 years
3. Labor Cost
Apart from the expenditure on material and style of your roof, labor also plays a big role in your total costs.
Generally, labor for such roofing projects ranges from $150 to $300 per square or $1.50 to $3 per square foot.
Please note that the costs of your labor can vary depending on the material, pitch, and shape of the roof. The more difficult the task, the more you should be prepared to pay.
For instance, slate roofs, wood shake roofs, and tile roofs are difficult to install. Roofs including very steep pitches, curves, or angles often require more and sometimes special material. Also, reroofing takes more time.
In most roof renovations, labor cost accounts for about 60% of the total cost. For instance, if you have a 1,500 square foot roof covered in asphalt shingles, the labor will be roughly $4,000. The shingles, felt underlayment, fasteners, and adhesives typically make up the remaining 40%.
Read more: Roof Leak Detection: Complete Lowdown by an Expert
4. Other enhancements costs
Gutter cleaning
If you don't want your blocked gutters to force water beneath your shingles — thereby deteriorating them and causing leaks — you need to get them cleaned once or twice in a year. Cleaning will cost you around $150.
Flashing replacement
Sometimes the flashing surrounding your chimney or skylight may be damaged. The cost to replace flashing can vary from $100 to $400, depending on the complexity of repair work.
Framing repair
If the frame of your roof needs repair, you will have to shell out $300 to $800. This generally happens when you are switching to a heavier shingle. For instance, a slate, tile, or metal roof may require reinforcement of the frame.
Roof inspection
In case you are buying a house and need to know the actual condition of its roof, a roof inspection is a must. It gives you a clear idea of whether or not your roof will need replacement in the near future. A typical inspection costs approximately $450.
Soffit repair
Your roof's soffit (covering of the underside of your roof) provides ventilation for the attic and lends your house a finished look. If you see any water damage to your roof, the soffit may be damaged.
The cost of a new soffit depends on the material you choose. It could range from aluminum, wood to vinyl and fiber cement. On average, the cost is around $20 per linear foot installed, or around $800.
5. Additional costs
A new roof may require a permit. Permits cost around

$430

on average.

Costs and tariffs of licensed and insured roofers depend on the region. Your costs may be higher or lower than the national average, depending on your location.

If you are on a tight budget, instead of asking your contractor to procure materials for you, you can save more money by buying them yourself.

It's best to get your roof replaced during good weather. Delays (or the need to remove snow from the roof) could increase your costs.

Proper roof maintenance can help you delay or prevent the need for a roof replacement.
Signs that tell you that you need a new roof
A damaged roof is a nightmare for homeowners. Therefore, it's important to check your roof at least twice a year to look for any signs of damage or potential danger. If you are vigilant enough, you may find damages early. It can save you a lot of trouble and a lot of money in the long run.
Here are a few warning signs that tell you that your old roof needs to go:
Your roof is more than 20 years old or your roofing material has lived past its lifespan.

The roof is sagging (this could happen due to frequent exposure to moisture, faulty roofing materials, and installation that are improper).

You notice water damage on your ceiling (the tiniest of watermarks and mold could mean a water leakage, or that your roof has a crack).

The shingles are curling, cupping, clawing, or cracking. All are signs of weathering and indicate potential leaks.

You have a weak roof with missing or damaged tiles. This is potentially dangerous. Your roof could cave in on you – so act quickly.

If you spot mold and moss growing outside your roof.

You find granules in the gutter — it could be a sign that your shingles are deteriorating.

You can see sunlight from your attic. The light coming in from your roof indicates cracks and holes in your roof – a situation that should be treated as soon as possible.
Steps to control roof damage
Once you have realized that your roof actually needs replacing. You go ahead and renovate it. But, how do you ensure that your new roof will last you well?
While roofs can simply age and lose some of their integrity through time, most of the damage done to your roof will be caused by external factors such as rain, wind, tree limbs, inadequate attic insulation, moss, excessive moisture, etc.
You can prevent some of this damage with your timely inspections and repairs. Here are some ways to save yourself from emergency roof repairs:
Repair or replace damaged sections immediately so water does not infiltrate.

Cut down dead tree limbs around your house.

Keep your roof cool with proper attic ventilation.

Install attic insulation — preventing ice dams.

Timely remove snow and ice from your roof.

Remove any moss immediately to avoid trapped moisture.

Clean your gutters regularly.
Does homeowners insurance cover roof replacement?
Most homeowners insurance policies cover roof replacement, provided the roof damage is due to an act of nature or a sudden accidental event. It won't pay to replace or repair a roof that has deteriorated due to neglect or general wear-and-tear.
Conclusion
We hope our complete guide on roof renovation — right from roof replacement cost to warning signs, and how to avoid roof damage — helps you in your remodeling. If you plan it properly, you may even successfully lower your home renovation cost.
Remember that your house's roof is a big investment. But, if installed correctly, it can yield one of the biggest returns on your investment or ROI. Experts believe that a new roof yields more than 80% of its original cost upon a house resale.
A house with a good, well-restored roof will have a greater chance of a quick and profitable sale. So if your roof needs a replacement, go for the home improvement at the earliest without a doubt.
Roof Replacement Cost and Signs That Tell You Need a New Roof
was last modified:
May 26th, 2022
by
Recommended