Changing things at home can be hard work. Let's imagine that you are choosing the paint for your new living room, but now you have a question: which finishing will be the best for the wall? Satin or flat? here is our take on satin vs flat paint.
Before making up your mind, it is best to research which paint suits your tastes and needs, whether you like a glossy touch to your decorations or a matte touch.
When we talk about satin vs. flat pain, it is essential to understand the meaning and differences between the two of them. Satin paint has a glossy finish that can reflect light, while flat paints tend to be opaque and less eye-catching.
There is a lot of information to summarize before making the final big decision. Do not rush. Let's continue investigating these paints' differences and pros and cons.
Satin paint vs. flat paint: the meaning of reflectivity and opacity?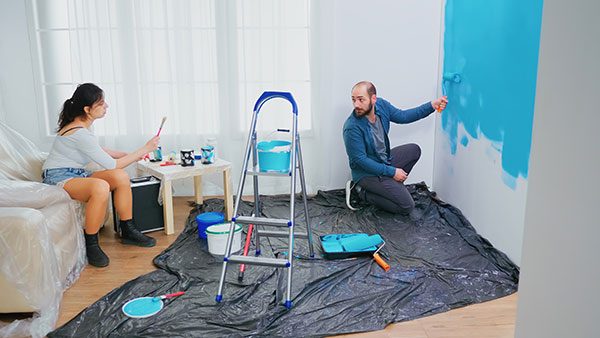 Before describing each painting, we must know concepts that will help us understand better satin and matte paint.
Reflectivity is the ability of an object to reflect light. When talking about reflectivity, we can think of mirrors, steel, and gold, but the paint can also shine.
Satin paint has a high gloss when light reflects off the wall, much like the gloss of an eggshell. While the opacity indicates the ability of the object to let the light pass through or reflect it, something that does not happen with matte paint, leaving a flat and simple finish.
Both are great ideas, but depending on the place you want to paint and your budget, you may be more inclined to choose one. Let's take a closer look at the description of each painting beyond opacity and reflectivity.
What is satin paint?
The satin paint has a luminous finish that gives a particular shine to the room, dining room, or any place you apply the paint. It is effortless to clean, unlike matte paint, so it is recommended to use it in high-traffic areas such as hallways, family rooms, and children's rooms or places with humidity, such as kitchens and bathrooms. So, cleaning won't be a headache if stains appear and won't be damaged as quickly by ambient moisture.
The disadvantages of satin paint are its low coverage and difficulty retouching over time. It is not recommended on walls with imperfections or unevenness because their luminosity makes them more noticeable. Its application is complicated because it has a fast-drying time, so for the finish to be perfect, you must act fast or hire a professional to achieve the desired finish.
What is flat or matte paint?
Matte paint, unlike satin paint, has little or no reflectivity. When applied, it gives the sensation of uniformity and smoothness. Its coverage is excellent and contains a higher amount of pigment compared to satin paint. It is easier to apply, and because of its high coverage, you will need less paint, saving you a little more money.
However, it is difficult to clean, and some of the paint will probably fall off when trying to scrub it with water. It also requires touch-ups from time to time because it tends to crack or peel. You can use it outdoor
Satin vs. flat paint: pros and cons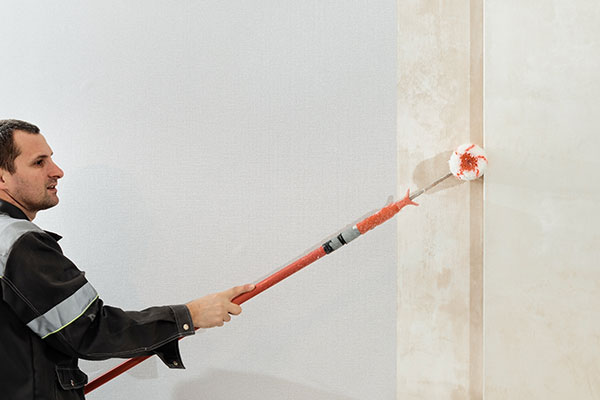 In summary, what are the pros and cons of each paint? This will help you to see your best option:
Satin paint
Pros:
It is much more resistant, even to humidity, so touch-ups will not be necessary for a long time.
It is excellent for busy areas such as the living room because it is easy to clean, and the paint does not peel easily.
Thanks to its high gloss, it reflects light better, making it perfect for small, dark spaces.
Cons:
It is much more expensive per gallon than flat paint.
It isn't easy to apply due to its fast drying. If you do not act quickly, the application will not be uniform.
Enhances imperfections and unevenness on the wall.
Flat Paint
Pros:
High coverage and easy to apply. Highly pigmented.
Easy to retouch if needed in the future.
A gallon of paint is much more affordable than a gallon of satin paint.
It hides any imperfections in the wall very well.
Cons:
Flat paint is not moisture-resistant. It is not recommended for use in kitchens or bathrooms.
Difficult to clean, may peel off when using water. Not scratch resistant.
Because of its low brightness, it makes rooms look smaller.
If you still need clarification about choosing the right paint for your wall, remember to consider durability, reflectivity, coverage, finish, maintenance, and cost.
Satin vs flat paint: How to choose the best option?
was last modified:
May 4th, 2023
by
Recommended