Important Scaffolding Safety Tips and Tricks
We all know how working on scaffolds can be really dangerous sometimes. You may take proper scaffolding safety precautions, but things can get out of hand if they're not maintained as they're supposed to be. If they are taken care of, the work is safe – as safe as any other construction work. After all, you make your life and work easier by using the scaffolding. Here are some important scaffolding safety tricks and tips to keep you safe.
Types of Scaffolds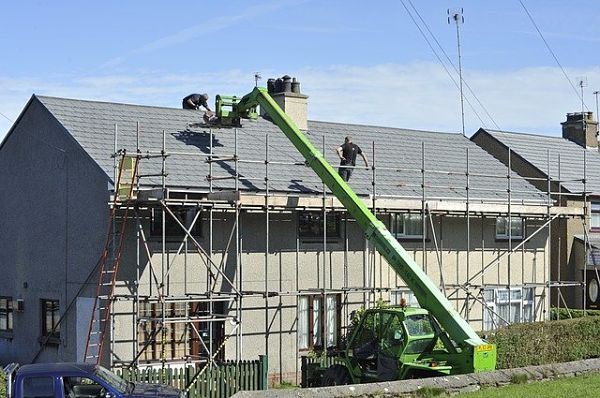 While all of know that scaffolds are a work platform commonly used in the construction business, it is important to be capable of identifying existing scaffolding on a construction site.
There are three main types of scaffolds that are used. They are:
1. Supported Scaffolding
This is the most commonly used type of scaffolding. It is built from the ground up and uses the support of both the ground and the building. The materials used to build supported scaffolding vary from metal tubes and couplers to bamboo, depending on which part of the world you are in.
This style of scaffolding gained popularity due to the fact that it is easy to erect, dismantle, and transport. You can build it up floor by floor while constructing and take it down just as easily.
2. Mobile Scaffolding
This style of scaffolding is similar to supported scaffolding and is seen in larger projects. Unlike supported scaffolding, these are built on casters and are free-standing.
Mobile scaffolding is also known as rolling scaffolding, for obvious reasons.
3. Suspended Scaffolding
This is the type of scaffolding that is ideally used for multi-story constructions, like skyscrapers. This is characterized by the scaffold platform being suspended from the roof using an automated pulley system, allowing the construction worker to move safely from floor to floor.
Have you ever seen a window cleaner cleaning windows on a skyscraper? Suspended scaffolding is what allows them to be able to do their jobs easily.
Common Scaffolding Hazards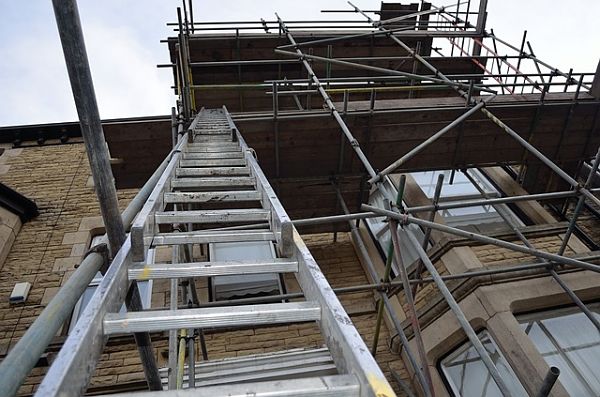 Identifying existing and predictable hazards on a construction site, especially those related to scaffolds, is of paramount importance to ensure the safety of those working onsite, Let's take a quick look at some of the most common scaffolding hazards.
1. Falls
A majority of the falls from scaffolds are in some way or the other related to guardrails. It could be because of improper guardrail installation, guardrails not being present or lack of safety gear like personal fall arrest systems.
2. Debris
Being struck by falling objects like construction debris is another common scaffolding hazard. While helmets and safety boots are used on all sites, more stringent measures are needed to prevent injuries caused by falling debris.
The use of netting and toe boards to prevent debris from falling from scaffolds is one such measure that can be implemented. Another measure is to set up barricades directly underneath and around the scaffolding to prevent anyone from walking within range of falling construction waste.
3. Scaffolding Collapse
Nothing can be more mortifying than scaffolding collapsing from a height with a person on it. The most common cause for this to happen is the improper installation of the scaffolding.
Preventive Measures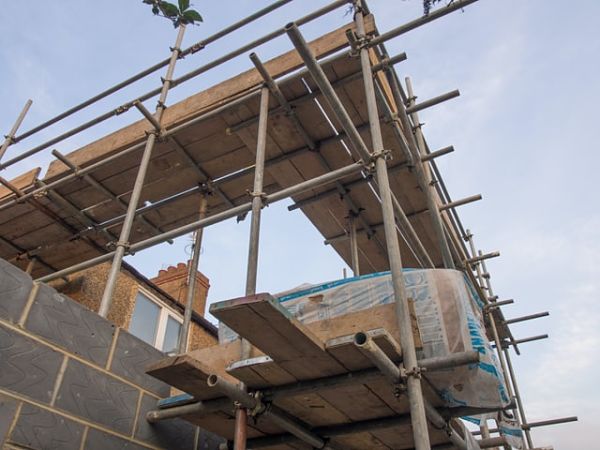 The risks that come with these hazards can be countered with certain prompt corrective measures to eliminate the chances of them happening.
1. Proper Training
The safety regulations ask for all the workers to be properly trained when working on a scaffold – this is mandatory even if you're working near it. Either way, you need to understand the scaffold entirely – how it's made and operated. You'll need to learn how to get on or get off of the scaffold, what to do in case of emergency situations, and how to prevent falls. Everyone that works in a scaffold needs to be safe at all times.
Read more: What does contractors insurance cover
2. Preparedness
Before starting to use it, a qualified person ought to inspect the scaffold. The base needs to be secured and adjusted so that it's okay for any lean in the building. The planks and the guardrail needs to be installed safely and you need to keep an eye on the elevation changes, weather conditions, and wires.
3. Licensed Professionals
Occupational Safety And Health Administration (OSHA for short) stated that rogue employers represent the biggest risk when working on scaffolding. They are not licensed to work there, but that doesn't stop them. They don't go through the proper channels to become licensed. Instead, they come with a pick-up truck, they gather some workers and building material that's not really inspected. Those workers are in danger – but not only, as the future occupants of the building are at risk, too. This is why it is important that all construction workers are licensed professionals, and work under the supervision of a competent person.
Read more: How to find out if my contractor is licensed
4. Understanding Load Capacity
There are some mistakes made sometimes during the design stages of scaffolding, and one of them is not thinking about all the different types of load – the ones that the material will be under in the construction and setup. You need to keep everyone involved safe, so what you need to do is not to overload the scaffolding with lots of workers thinking that you'll save time. The same goes for equipment. Also, there's nothing that can push against the guardrails.
5. Securing the Platform
Scaffolding is made to be attached to a building. The bracing sometimes is not properly secured – so the scaffold movement can dislodge an end, a thing that will lead to reduced stability of the scaffold. You should know that there are some types of brace retention on scaffolds. They need to work freely while dismantling and during the assembly. You'll also need to be able to lock if you want to prevent the brace from dislodging. The parts that are supplied must not be replaced by the manufacturer, by using nails.
6. Guardrail Safety
A construction company should take into consideration any scaffolding that's over 10 feet high to have guardrails on the three sides, facing away from the building. The side that faces the building can still be in danger, so you need to have them there, too. The guardrails are not a replacement that can take the place of the fall protection gear. They cannot be worn all the time while working on the scaffold.
7. Constant Maintenance and Inspection
The structures of the rolling scaffolding need to be properly maintained constantly, and they also need to be inspected for them to retain their structural safety. You need to get someone who knows what they're doing and inspect the structure to make sure that is safe and the boards are still intact. If you don't check them constantly, the workers can be all in danger.
Click here to hire construction professionals to help with your home remodeling needs.
Important Scaffolding Safety Tips and Tricks
was last modified:
August 13th, 2021
by
Recommended