Estimate
Estimate the cost of your project
Estimate
Walls with dark paint colors can be scary. No one wants their home to look like a cave, feel small, or depress visitors. However, with a little finesse and know-how, you can create a chic, quirky, luxurious, or warm space that features sleek dark walls. These seven living rooms will prove that there's no need to be afraid of the dark … at least when it comes to the wall color.
1. Simple, Warm, and Understated
This stunningly simple living room features a neutral color palette, with wood accents and light wood floors that help create a warm atmosphere. The furnishings echoe the hue of the wall, forming a cohesive look. The lights shine bright against their dark background.
2. A Background for Bright Colors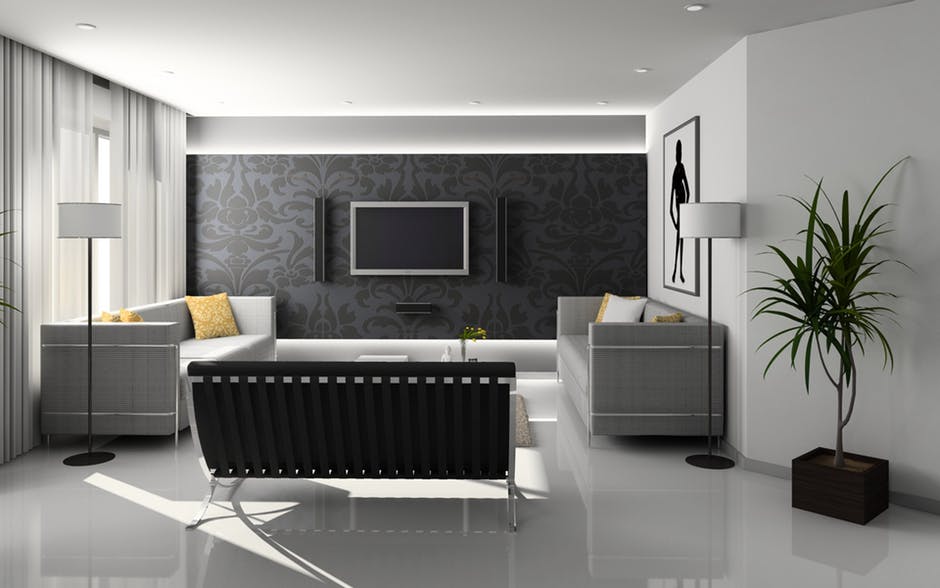 Pexels
The dark grey-and-black finish on these living room walls provides the perfect backdrop for bright pops of color. The mirror stands out against this rich background, and the accessories echo the colors of the wall. The wood finish on the cabinet provides a touch of warmth to the space, and the vintage-inspired chairs and bright rug are extra eye-catching next to the dark wall.
3. The Dark Feature Wall
This living room takes the idea of an accent wall to a whole new level. A map and photographs add a unique touch, while the stark white coffee table adds a nice contrast to the black wall. Grey tones and wood floors and accents make the space feel warm and cohesive.
4. Lush and Luxe with Touches of Gold
This living room technically has white walls — but with all the black in this space, you hardly notice. The glossy black trim emphasizes the architectural elements of this room, and the bookcase done in the same hue claims a good deal of wall space, making the room feel dark and luxurious. Add in the black flooring, plush dark sofa, and touches of gold, and this room becomes the epitome of livable luxury.
TIP: Use our Real-Time Remodeling Calculator and Find Out in Minutes How Much Your Living Room Remodel Will Cost.
5. Show Off Your Room's Best Features
This room plays with patterns and keeps it all together by using a black, white, wood and gold color scheme, but what really stands out is the fireplace. The dark wall enables the stunning white hearth to really pop. Glimmer and shine stand out against walls with dark paint colors, as seen with this glitzy gold mirror.
6. Muted and Modern
This chic living space plays up its dark walls by echoing the grey color in the furniture. Punches of white play a nice contrast to the grey wall color and the overall neutral color scheme makes this space feel clean and modern. The wood flooring keeps this space from feeling too cold or sterile.
7. Dark and Textured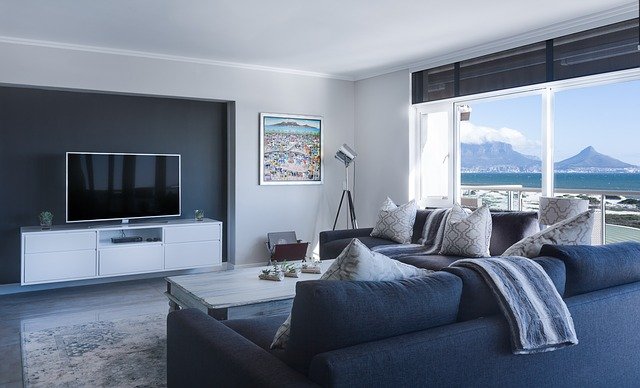 Photo by Pixabay
This textured dark wall serves as a beautiful focal point of this room and provides the perfect backdrop for the light of the floor lamps. Coordinating furniture with your wall with dark paint colors can add a chic and sophisticated touch to your space.
MORE: Modern Interior Wall Trends That Will Make You Rethink Your White Walls
7 Living Rooms that Proved Dark Paint Colors are the Best
was last modified:
December 14th, 2020
by
Thank you for reading!
We would love to stay in touch with:
- New renovation articles

- Related discounts

- Contractor referrals
Recommended for you