Bathroom renovations can be quite a handful, especially if you're taking a keen personal interest in the design, construction, and accessorizing of the bathroom. It gives you an insight into the little things, and why certain components work better than others. Shower drains are one of those components. The type of shower drain you install will depend on the way your bathroom floor slopes, the type of shower you're getting, the type of flooring, and the style statement you plan on making.  Here's a quick look at shower drain types and which one you should buy.
Types of Drains
Shower drains can be classified based on two things: the design type and the number of components needed to assemble it.
Number of Components
1. Single Piece Drains
These are the simplest types of drains and are commonly found in bathrooms that have tiled shower bases over concrete floors.
2. Three Piece Drain
Three-piece drains can be used as a shower drain or a floor drain. These are best used when an underlying shower pan has to fit a tiled floor, effectively protecting the wooden subfloor from rot, mold, and mildew.
As the name suggests, three-piece drains have three parts. The top part is screwed into the middle portion. This is in turn screwed into the third portion consisting of the shower base and drain pipe socket.
While installing a shower drain can be a DIY activity if it's a single piece drain, we'd advise you to let an experienced plumber handle the installation of a three-piece drain.
3. Multi Piece Drain
As the name suggests, these are the most complex drains but are found in the simplest of shower stalls, such as one-piece stalls or those with pre-molded bases. The drain has a tightening nut, a rubber gasket, a threaded drain body, a flange, a compression gasket, a locking ring, and a strainer.
Types of Designs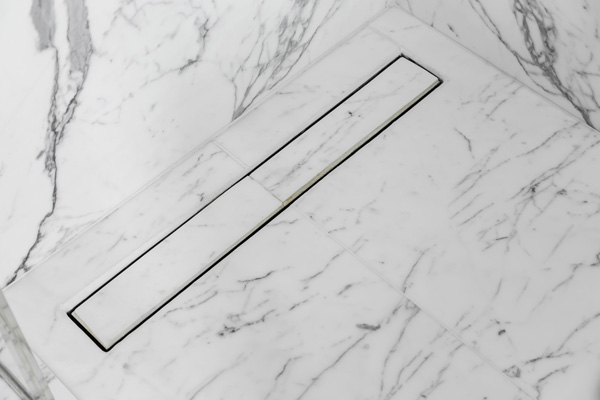 There are two main types of shower drain designs, namely, point drains and linear drains. Both of these are equally efficient when it comes to draining water. Your choice between the two of them will be based on aesthetics and budget.
1. Point Drains
These are the kind of shower drains that are used most often and are also the more affordable option. Point drains are almost always found in the center of a shower stall with the water draining towards it from all sides.
Point drains are most commonly found with either square drain grates or circular ones. If you have a tiled shower floor, we'd suggest you choose the square drain grate. It will save you the trouble of having to make circular cuts in your bathroom flooring while installing the drain.
2. Linear Drains
Linear shower drains, as the name suggests, are long and narrow drains. Linear drains are most often found along a wall in shower stalls, which implies that the floor of the shower stall ought to gently and evenly slope towards the drain.
Linear drains have been gaining popularity over the last few years, largely because they add a modern and contemporary touch to the bathroom design. You can buy them in varying lengths and a wide range of designs.
Pros and Cons: Which One to Choose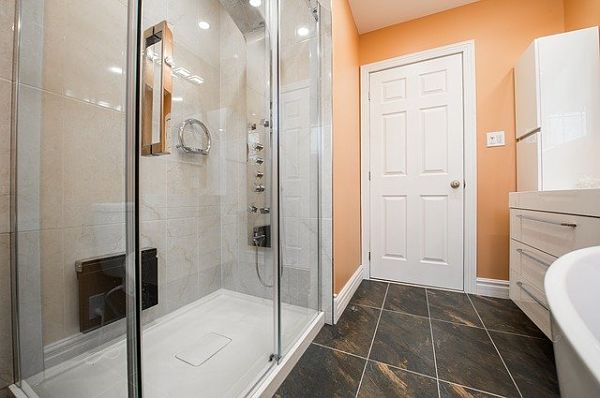 Considering the growing popularity of linear drains, we thought we'd compare them with point drains to help you make a choice.
1. Design
Linear drains are a lot more elegant than point drains.
Grated linear drains are made of metals like stainless steel, and feature a variety of designs and colors.
Tile finish linear drains mimic the tiling on the shower floor, and blend in seamlessly with the rest of the bathroom.
2. Tile Usage
Point drains are best suited for shower areas with smaller tiles, ideally no bigger than 4" by 4".
Linear drains, on the other hand, allow for the usage of large format tiles.
Point drains also require a multi-directional gradient for the water to drain effectively, considering their size and placement.
Linear drains require a unidirectional gradient. This makes it easier to install.
3. Maintenance
Most linear drains come with an easily accessible debris basket that collects hair and other disposable materials. This feature makes linear drains better than point drains when it comes to maintenance.
4. Cost
Point drains are a lot more affordable than linear drains.
While a point drain can be bought for as little as $50, expect to spend anywhere from $200 to $1,000 on linear drains.
It All Boils Down to Choice
Eventually, what it comes down to is convenience and choice when it comes to buying a drain for your shower. How much are you looking at spending? Are you relaying your entire bathroom floor or just renovating in parts? Is it style or just function that you're looking for?
Well, you know now what your choices are. 
Shower Drain Types and Which One You Should Buy
was last modified:
November 11th, 2022
by
Recommended