A shower is a key player in your bathroom remodel. In fact, upgrading the shower or its fixtures is an easy way to give your bathroom a facelift and boost your resale value or return on investment (ROI). So, if you're contemplating taking the remodeling plunge and wondering how much does a shower installation cost, we have this article for you.
Since upgrading a shower is a lot to do with modern designs and new technology, it's best if the complicated project is left to licensed professionals. An expert will know if the bathroom remodeling is up to the local code.
A professional shower installation cost would range between $1,400 and $6,200 with an average cost of $3,700. Of course, this amount varies according to a lot of factors. For instance, the extent of the remodeling work, type of shower fixtures, labor costs, etc.
Here, we will explore some of the factors that impact pricing in detail.
Shower Installation Cost Factors
Showers come in many shapes and sizes depending on the style of your bathroom, available space, and the features you desire.
Usually, showers are of two basic types: shower/tub combinations and stand-alone showers.
While a small bathroom might benefit from a regular shower as it takes up less space while being fully functional, a tub and shower combination is more appealing to potential buyers. It offers them the luxury of a bath as well as the convenience of a quick shower.
Shower/Tub
The average cost of a shower-tub combination is $400 to $600. The installation will be another $1,000 or more. The cost to install will depend on the complexity of work, whether it connects to existing plumbing or will require a new one, the location of the bathroom, your zip code, etc.
FYI: If you're on a budget, use a bathtub liner for easy remodel. It fits neatly over your existing tub and can dramatically change its appearance. It costs around $150 to $250. The surrounding walls will cost you another $120 with labor costs approximately $300.
Stand-Alone Showers
Stand-alone showers appeal more to young, on-the-go couples. A basic shower stall will be around $400 with shower installation cost in the range of $300 to $400.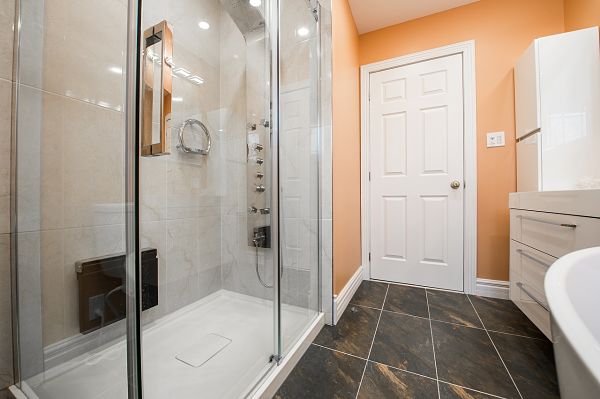 Whether you want a shower door or a curtain, it's totally your personal preference. While curtains create a cozy look and work well in small spaces, they do require replacement ever so often. Shower doors, on the other hand, have clean lines and make the bathroom look smart.
Shower doors have varying costs depending on the brand name, type, and finish. For instance, a typical sliding glass shower door will be anything between $100 to $300 and its installation $200 to $300. High-end frameless doors can go as high as $5,000 when installed.
Here are a few shower door styles for your bathroom:
Framed doors

: The lightweight metallic frames slide on tracks and come in a variety of finishes. They are an inexpensive option and are readily available. However, the tracks may collect water and therefore need periodic cleaning.

Cost: $200.
Frame doors

: Although these doors are expensive, they lend a clean look to the bathroom.

Cost: $900.
Spray panel doors

: These doors are fixed and cannot move. But, they make a bathroom look more open and stylish.

Cost: $100.
Sliding doors

: The convenient doors are readily available. Plus, they are easy to install. They do however block part of the shower.

Cost: $300

.

French doors

: These stylish doors give better access to the bathroom. However, they are expensive and increase your

renovation costs

considerably.

Cost: $900

.

Decorative glass doors (frosted, wave, bubble, or tinted)

: Such shower doors look absolutely great. But, due to their surface designs, they are difficult to clean and maintain.

Cost: $50/square feet extra

.
If you do not have a shower door and are not using a wet room, then installing a shower screen is also a good idea to contain the water. For example, you can have folding shower screens. These accordion-like panels are fixed to the wall and pull across the shower. They typically cost around $400-$700.
Are you thinking in replacing your shower? Take a look at our list of important considerations for a shower replacement
Shower Pan Tiling and Slabs
When it comes to decorating your shower pans, there are affordable and attractive tiling options available. Their appeal lies in their variety — each easily fitting into any style of bathroom. These finishes come in many colors and designs. You may even combine them to create stunning patterns. Let's explore some popular choices for a bathroom.
Finish
Cost
Pros
Cons
Porcelain tiles
$10/square foot

Versatile option
Stain-resistant
Water-resistant

May stain due to grout lines
Ceramic tiles
$5/square foot

Mostly water-resistant
Versatile

Require sealing
Grout may stain

Ceramic tiles
$5/square foot

Mostly water-resistant
Versatile

Require sealing
Grout may stain

Stone tiles
$20/square foot

Look beautiful
Come in varied styles

Require sealing
May stain or pit in water

Stone tiles
$20/square foot

Look beautiful
Come in varied styles

Require sealing
May stain or pit in water

Glass tiles
$20/square foot

Water-resistant
Easy to clean

Difficult installation
Expensive
May stain

Solid surface slabs
$100/square foot

Perfect for custom shower stalls
Make the bathroom easily accessible

Expensive
Seams can pop due to heat

Stone slabs
$100/square foot

Look beautiful
Variety of options available

Expensive
May stain
Require sealing
Other considerations
You can also customize your shower pan. A custom pan is built by a plumber on site. Usually, it's made of metal sheeting, concrete, or waterproofing materials. The labor cost will be $45 to $65 an hour. And, the material cost will be upward of $50 — depending on how luxurious it is.
If you're replacing an existing pan with a 36×36 inch shower pan, it may cost you at least $700 and may go as high as $1,500.
FYI: Since shower pans slope to the drain, the tiles must be able to accommodate that slope without cracking. Therefore, they must be 2 inches or smaller.
The shower mixing valve you choose for your shower influences the total cost as well. In the US, there are two basic types of shower mixing valves. They are:
Pressure balancing valves
This one-handle pressure-balancing valve works by sensing changes in water pressure from the hot to cold lines. It swings to close off the line with more pressure — keeping the two systems balanced. It gives less control over your shower. But if that's not a concern, this system will be an inexpensive option– both to purchase and install.
It will cost you around $150 — $400 for the whole set and trim. Installing it takes about two hours at the rate of $45 — $65 an hour.
Thermostatic valves
These valves use separate handles for water volume and water temperature. You can set the shower temperature to an exact degree while using the other valve to control the flow. Also, you can have multiple water sources — working simultaneously. More expensive to purchase and install, it costs around $400 — $1,200. Installation takes three to four hours at the rate of $45 to $65 per hour.
Installation and Labor Cost
It's now getting clearer as to why shower installation costs and labor costs vary widely. The kind of shower you choose has a huge impact on the work it requires.
A prefab acrylic shower stall, for instance, is easily installed in about three to four hours while a custom tile shower or slab surface will cost up to $2,000. This kind of complicated project costs more because it can take two to three days to complete — increasing the labor costs.
Want to explore more about your shower tiles? Take a look at our guide on how to choose the right shower wall tiles for your bathroom
Fixtures and Other Cost Factors
If you want a modern, luxurious shower, you have to give it a good amount of TLC. Be ready to accommodate additional cost factors that influence your final shower remodeling cost.
Let's see some basic fixtures that you need in your updated shower:
Shower pan:

$100

(prefabricated ones will cost

$500 to $700

).

Showerhead:

$20 to $500

(for more advanced and eco-friendly designs).

Faucets:

$20 to $300

(depends on the finishing and material used).

Shower inserts:

$50 to $500.

Replacing shower liner:

$2,500.
Replacing or repairing the bathroom fan by a pro: $200

.

Bathtub cost:

$1,000

.

Bathtub with jets:

$800 to $10,000, or more

.

Full-body showers:

$250 to $4,000

.

Customizable shelving:

$12 to $100

(based on type).
Of course, when it comes to your bathroom remodeling, you can add or subtract features and fixtures as per your convenience. The sky is the limit here!
Conclusion
Remodeling a shower, along with upgrading existing fixtures, is an easy way to add functionality to your bathroom. The process can be as simple as replacing a showerhead or as complex as changing the entire floor plan of your existing bathroom space.
Whether you make your shower a convenient place for a quick clean-up or a luxury retreat — it's your choice. More often than not, your budget and tastes dictate your renovation.
The bottom line is: a shower is a good investment for your home. So, hire a professional and plan your shower installation cost well in advance to make the process easy, quick, and worthwhile. Happy renovating!
How Much Does a Shower Installation Cost?
was last modified:
May 27th, 2022
by
Recommended