Bathroom renovations can be an expensive affair, and homeowners often look for ways to reduce costs. One of the most effective ways you could reduce costs is to choose shower wall panels over traditional ceramic tiles. This buyer's guide to shower wall panels will introduce you to the different types of shower panels, the materials they are made of, and how they compare to ceramic bathroom tiles.
What are shower wall panels?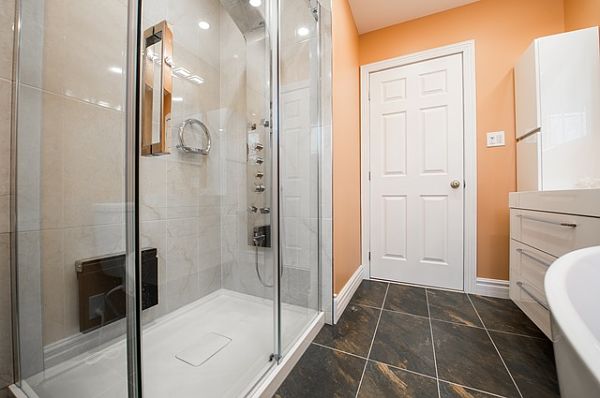 Shower wall panels are interlocking waterproof sheets that come in a variety of materials and finishes. While shower wall panels were originally introduced as a means to secure showerheads and hide plumbing pipes, they have now become a much more important part of bathroom renovation.
Modern shower wall panels are used to give the walls around your shower and your tub walls a sophisticated finish and are quickly gaining popularity as an alternative to waterproof ceramic tiles.
Some shower wall panels can even be mounted on tiles that were installed earlier just as long as the tiles are level.
Instantly estimate the cost of your remodel...
...or take your time to personalize dozens of choices to transform your house into your dream home.
What are shower wall panels made of?
While shower wall panels are made of a variety of materials, we'd advise you to buy panels made of PVC backed composite, high-pressure laminate with MDF cores, acrylic, or high-grade fiber.
Shower wall panels are available in a variety of custom sizes as well, so you can cover the top and side trim, corner shelves, back wall trim, and everything on the wall surrounding your shower all the way to the ground.
What are some popular finishes?
Here are some of the popular finishes that shower wall panels come in. However, keep in mind the color palette and design elements that you have incorporated in the rest of your bathroom while making a choice. You wouldn't want only your bathing area to stick out.
1. Natural stone finish
Shower wall panels that mimic natural stone finishes such as granite, marble, and stone tiles are an all-time favorite. While these panels may replicate the look of natural stone, they are a lot easier to maintain and clean, as well as install.
2. Gloss finish
Gloss finish shower wall panels are best suited for those who want a shiny looking shower area. You can choose gloss finish shower wall panels in a variety of colors, so rest assured that there is no dearth of choices.
3. Subway tile finish
The subway tile finish gives shower wall panels a polished tile look, replete with faux grout lines. This is ideal for those who want the classic tiles shower area look and feel.
4. Wavy tile finish
The wavy tile finish comes in tiles similar to the subway tile finish, with the same kind of faux grout lines. The only difference is that wavy finish, which you can have running either horizontally or vertically along the walls in your shower area.
5. Matte finish
Those who want a more somber looking shower area can choose matte finish shower wall panels. Available in a wide range of colors, the matte finish is achieved by lightly sanding the panels and finishing them with a coat of permanent sealant.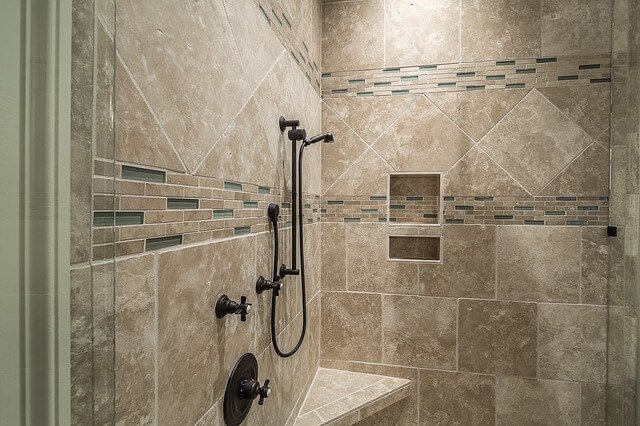 Pro-tip
Most off-the-shelf shower wall panels are easy to install and come with installation instructions, trims, and a sealant when you buy them. This saves you money on labor.
Are shower wall panels better than tiles?
Well, let's look at some of the pros and cons of both.
Shower wall panels come in larger sizes than traditional

bathroom tiles

. That means a few panels could cover the same area as a few hundred tiles.

Shower panels are easy to stick over any solid surface and do not require grouting. This makes it easier to install than traditional ceramic tiles.

Tiled walls take effort to clean, thanks to the grouting involved. In comparison, shower wall panels can be easily cleaned using an antiseptic spray and a cloth.

The average cost of a shower wall panel kit is between $1,000 to $1,800. A medium-sized shower stall would cost at least $2,000 to cover in ceramic tiles. This makes shower wall panels more affordable.

Shower wall panels have a shelf life of approximately 15 years. A professionally tiled shower wall will last a lot longer.
While shower panel walls work for modern, contemporary designs, traditional-looking bathrooms will look a lot more elegant with ceramic tiles.
What are you going to choose?
Well, there you have it. We've given you the low-down on what to expect if you're in the market for shower wall panels. Choose what works best for you based on the design of your bathroom, the kind of fixtures you're going to install and your budget.
A Buyer's Guide to The Best Shower Wall Panels
was last modified:
May 19th, 2022
by
Recommended