Sliding glass doors aka bypass or gliding doors open up your living space with their practical (read beautiful) design. They let in plenty of natural light and offer easy access to your yard, patio, or deck. Thinking of installing sliding doors? This article will help you learn about the potential sliding glass door prices involved and the factors that impact the total cost.
Interestingly, this type of door has derived from the traditional Japanese sliding panels known as Shoji and Fusuma. The look is almost the same, the only difference being that while in Asia these panels are used as interior pieces, in the West, sliding glass doors are typically exterior gliding patio doors.
Fortunately, due to advancements in the field of technology, these sliding glass doors are no longer a source of energy loss and a weak point for security as they were in the olden times. Most modern sliding glass doors are stronger and well-insulated.
However, glass is glass at the end of the day. It may crack, break, degrade, or start leaking. If your sliding glass door is becoming drafty, leaks, or doesn't latch securely — it's time to replace it.
Cost of sliding glass doors
Most sliding glass door prices range from about $300 to $4,000 — averaging at $1,700. If you're buying a basic 6 feet wide sliding glass door on a simple frame, it will cost you around $300. An 8-foot sliding glass door price will range from $700 to $1,000.
You also have the option of installing pre-hung doors ($1,000 to $4,000).

Your interior door installation is important. Get the best estimate with us.
Of course, there are various factors, including the size of the door, your zip code, etc that affect the total cost to replace or install a sliding door.
Also, if you're opting for expensive options — such as fiberglass French patio doors, impact-resistant glass, low-E coated screens, in-built blinds, triple-pane glass, or high energy efficiency glass — it will increase the door cost significantly.
In case you're thinking of hiring a professional fitter (which you should!) to complete the job, be prepared to pay around $2,500. This amount includes tools, equipment, supplies, and labor costs.
Instantly estimate the cost of your remodel...
...or take your time to personalize dozens of choices to transform your house into your dream home.
Let's explore some of the most important factors that impact sliding glass doors prices:
Factors that affect the cost to replace sliding glass doors
Door frame materials
Homeowners can choose from the following material options for their sliding doors:
Wood: Nothing matches the natural beauty of real wood. However, you need to treat the wood for it to be resistant to rot and insects. You can always choose between stained or painted sliding doors to match your home décor.
Clad wood: Here's a durable door option with natural wood inside and metal outside. And, it's available in many colors to suit your requirements and tastes.
Vinyl: A vinyl frame door is durable, easy to maintain, and comes in many styles and colors.
Aluminum: An aluminum door is lightweight yet strong. It might lose heat in locations with extreme temperature changes but is popular in mild climates.
What about composite doors? Take a look at our comprehensive guide on Composite Door Prices
Add-on features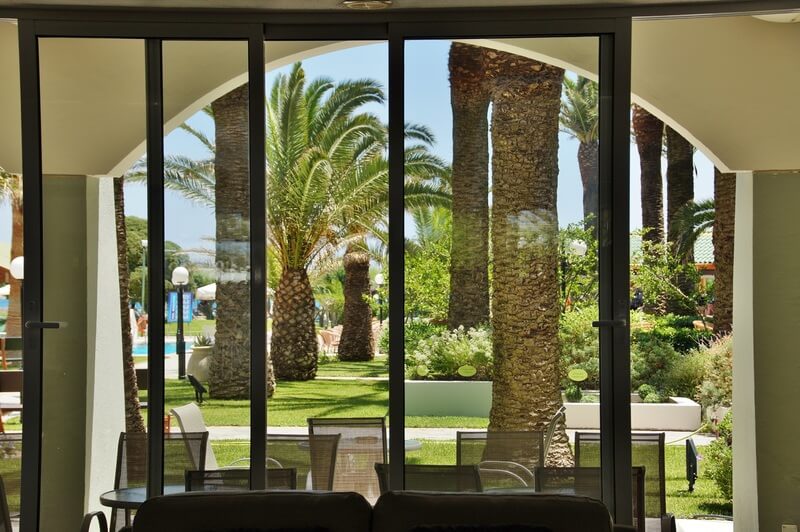 Any extra feature you add to your door is bound to increase the sliding glass door prices. These may be related to:
Style: You can choose anywhere from 2 to 4 panels. Or, decide if you want a door that opens left-handed or right-handed from the outside. Also, a French door style (or any other expensive choice) will add significantly to the cost.
Glass: You can have impact-resistant (designed to withstand hurricane-force winds), high energy efficiency, UV protection, textured, or tempered glass. The number of panes you choose for insulation will also increase your total cost.
Grids: If you want to mimic the look of a multi-paned glass door, you can use grids. Choose the style that complements the rest of your house.
Pet panel: Integrating a pet panel — giving your pets easy access to the outdoors — onto your sliding door can increase its cost considerably.
Get the best estimate to install interior doors with our estimator tool.
Types of lock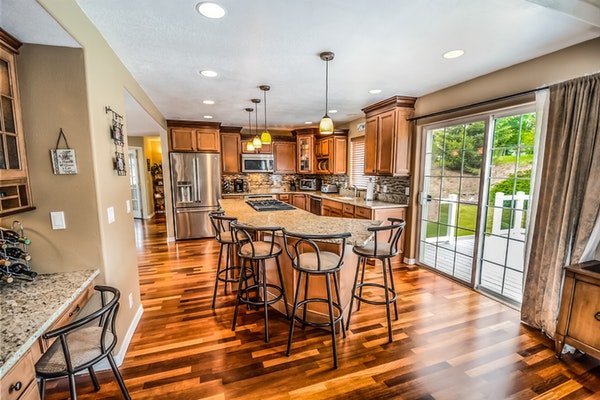 In the earlier times, the locks of sliding doors were the weak points. All they needed was a strong jiggling of the door to snap open. Thankfully, modern locks are much more secure. If you need added security when you are away, go for auxiliary locks.
While a basic sliding glass door lock costs $10, its price can range from $40 to more. These include foot locks, deadbolts (installing at floor level), and telescoping security bars.
Type of screen doors
Most screen doors, especially patio doors, come in two types of door systems: sliding and retractable doors. While sliding patio doors cost approximately $130, retractable ones cost around $340. The latter work like sideways Venetian blinds.
Whether it's a DIY project or a professional job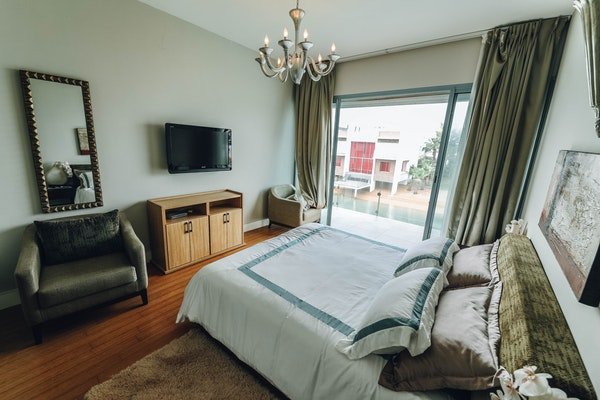 Even though installing or replacing sliding doors can be a DIY by a handy homeowner and can save up to $300, we recommend hiring a contractor to do it for you.
Especially if you are replacing the old door with a larger one — requiring a structural alteration to a load-bearing wall.
Thinking about interior door replacement? Find the best cost for your replacement.
Planning a renovation for your house? Try our free home remodel cost estimator; it's easy and convenient to use!
Installing sliding glass doors require a large hole in your wall and can affect the structural integrity of your house. Your local codes will most likely require a permit and a contractor.
Moreover, the actual process involves a lot of effort. Just removing the old door can be tedious. First, you have to remove the interior trim, then lift the movable pane out, and remove anything else that's holding the stationary panel in.
Once you remove the panels, you need to take out the exterior trim, the door jamb, and finally the door frame. In the end, you need to clean out the old screws, nails, or debris left behind before installing a new door. Pre-Hung door installation is still easier.
A professional with experience will alter load-bearing walls carefully — keeping a note of the location of vents and electrical wiring.
Labor costs
Labor costs average around $65 to $85 per hour. A typical sliding door installation or replacement will take approximately seven hours. Removal and disposal of an old patio door typically cost $100 to $150.
Plan your interior doors replacement properly with our estimator tool.
Permit fees
Since a sliding door installation or replacement might mean changing the structure of your house, a permit will be required in all probability. This step is to ensure that the required amount of ventilation is maintained and there are no safety issues. Be prepared to factor in the permit fees as well in the total sliding glass door installation project costs.
The manufacturer and model
Sliding glass door prices will depend on the length of the warranty offered by a manufacturer, specific model, and/or components of the door.
For instance, if a ThermaStar by Pella costs around $345, a model with built-in blinds will be about $770. The Andersen 400 Series Frenchwood will range from $1,500 to $4,000. You get the drift, right?
FYI: Most warranties vary between 10 and 20 years.
Conclusion
We hope these factors will help you better understand your sliding glass door prices and aid you in your remodeling project. Remember to install or replace a sliding glass door in good weather. As the old door is removed, there'll be a time when the opening is exposed to the elements. So, until the new door is in place, you don't want to be inconvenienced.
Read more: Sliding door maintenance tips
Sliding Glass Doors Prices, Cost Factors, and Types
was last modified:
August 30th, 2022
by
Recommended