Small Backyard Pool Ideas to Beat the Heat
Nothing captures the essence of hot summer days quite like lounging in a private swimming pool while sipping on a cold one. But that needs a large backyard with a lot of private space, right? Well, not necessarily. Here are some great options for small backyard pools to beat the heat this summer.
1. How small is a small pool?
You don't really need an extremely large backyard to be able to build yourself a pool. Any pool ten square feet or smaller in size is considered a small pool. A depth of around three feet is perfect to soak and float in, while a depth of at least four to five feet is needed for your pool to qualify as a lap pool. If you're looking for a swimming pool that you can both exercise and lounge about in, the smallest size you ought to look at is around 600 square feet.
2. Small pools for small yards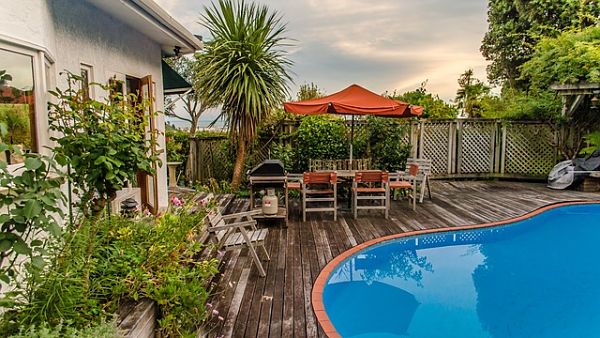 Having a small yard does not mean you cannot go ahead and install an inground pool. And depending on your budget, you can choose from a whole host of designs.
While small pools built out of fiberglass are cheaper to maintain, they are limited to pre-molded designs.
On the other hand, concrete and vinyl liner pools give you the freedom of shapes.
Of course, your pool maintenance costs will vary, depending on the size of the pool, if you have installed automated pool cleaning systems or not and the landscaping around the pool area. However, concrete pools are generally the most expensive to maintain seasonally.
A lot of holiday homes tend to choose fiberglass pools because of the relative ease in maintenance.
Does a Swimming Pool Add Value to Your House? Let's find out!
3. The right pool design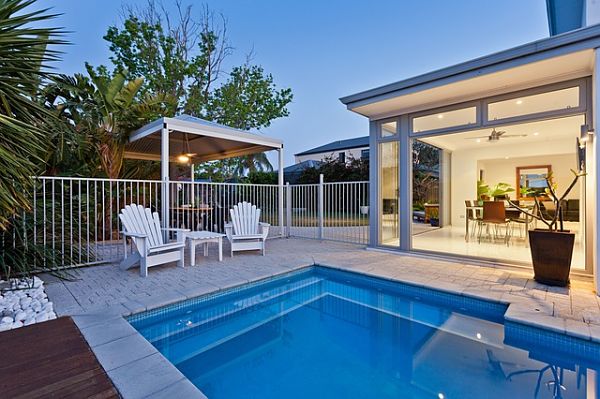 While choosing your pool design, keep in mind that choosing linear shapes allows you to have more water space. However, freeform pool designs allow for better aesthetics, such as waterfalls and rock pools, while giving you more patio space as well.
The additional patio space is why freeform pools are more popular for small yards, since the unconventional design allows for deck space for a couple of lounge chairs, a small table with chairs, or an outdoor bar and kitchen area. 
Another thing to keep in mind while choosing your backyard pool design is what you intend to use it for.
Read more: Salt Water Pool vs Chlorine Pool: A Complete Review
For example, if you live in a state that has good outdoor weather throughout most of the year, you could choose a spa spool (spool being what small pools are called). Spa spools can be used to cool off in the summer months, while the inbuilt heater can turn it into a large hot tub in the winter months.
If all you want to do in wade around and chill out, a plunge pool is perfect to serve your purpose.
Want to exercise? No problem. Create current in your spool by adding a powerful pump, and you have a lap pool.
You can even get custom seating and almost submerged countertops in your pool for you to lounge in sipping on cocktails while your steak gets cooked on your patio barbecue.
Read more: Pool inside house
4. Bells and whistles
There's a seemingly unending number of accessories for you to choose from once you have your pool set up. We're not talking about the regular poolside umbrellas, lounge chairs and towel racks.
For example, choose if you want to play pool volleyball, pool basketball, or even pool beer pong.
Illuminate your pool with the right kind of pool lights to make your evenings mesmerizing.
Make pool time with the kids more exciting by adding a pool slide.
Buy inflatable floating lounge chairs for you to relax in while getting a tan in your pool. Want to listen to music in your pool? Buy yourself floating speakers.
You can add exotic fountains and fire pits to make your backyard pool even more exquisite.
And for the ultimate pool hack, add swim-up bar stools and a pool bar to your backyard pool.
5. To swim or not to swim
We now know that it's possible to have a pool built to suit our individual needs even if our backyards aren't too big. However, like all things luxurious, pools cost a pretty penny.
Small fiberglass pools could put you down around $18,000, while concrete pools can go all the way up to $60,000, depending on how large a pool you want.
Read more: A Comprehensive Cost Guide on Above Ground Pool Prices
The average cost to get your backyard an inground pool is around $35,000.
So while it's not cheap to add a pool to your home, the addition will only help increase the value of your property, making it anything but a bad investment. Plus swimming pool design builds are a great way to improve the aesthetic value of your home's outdoor space.
But let's be honest here. Having your own private pool will make sure your family and you never see summer the same way again, and that alone makes having a pool worth it.
Want an estimate on your next home improvement plan? Click here for a quote from our free cost estimator.
Read more: Pool Renovations – A Comprehensive Guide
Small Backyard Pool Ideas to Beat the Heat
was last modified:
August 26th, 2022
by
Recommended