16 Small Bathroom Decorating Ideas to Woo You
Your bathroom may be small in size but don't let the limited square footage affect its style quotient. Strategize with clever small bathroom decorating ideas and add personality to this room.
You don't want to walk into a dated bathroom and feel miserable. Act now! Decorate your small bathroom in a manner worthy of the pages of a fashion magazine. Give a few key design-or-decor changes to the small bathroom and uplift the vibe of your bathroom in a snap. If your bathroom is important to you, you must use your creativity and create the most inviting space.
We think your bathroom deserves to be beautiful. After all, this is where you start and end your days. We have 16 fresh small bathroom decorating ideas that are fit for every style and budget.
So, let's begin renovating and redecorating your washroom with these practical and beautiful tips and tricks that won't even make a huge dent into your bathroom renovation cost.
1. Brighten up bathroom space with a wallpaper
This is the easiest way to decorate your small bathroom and make it look cheerful and interesting. Get a wallpaper in your favorite hue and brighten up the small space. Wallcoverings can indeed make a big impact, and that too at an affordable price. We love how the powder blue wall complements the white bathroom vanity. Chic!
2. Make your vanity the focal point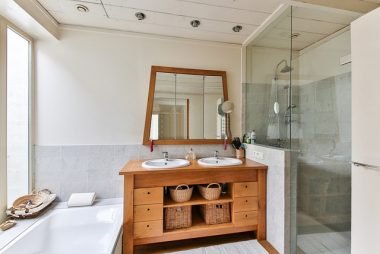 This bathroom may be small but it's very organized — thanks to the classy wooden vanity. Housing two sinks and a good amount of storage space, the piece of furniture easily becomes a focal point in the otherwise simple bathroom. It has both a bathtub as well a shower. However, you can always choose between the two if you have limited space.
Take a look at these Farmhouse Bathroom Ideas For Your Next Remodel
3. Give your bathroom a unique look with indirect lighting
A trend that's increasingly growing in popularity is indirect lighting. Besides generating a feeling of greater space, indirect light also offers a pleasant atmosphere by softly highlighting the area where it is located. We like how the mirror exudes the faded light — producing a lovely effect with bright, non-localized illumination.
Do you have a small ensuite bathroom? If that is the case you can review this guide on how to design a small ensuite bathroom.
4. Add drama with an over-the-top shower curtain
Who says, a small bathroom has to be boring? You can decorate it with a beautiful shower curtain and let it ooze style. Treat your shower curtain as a piece of art and let it do all the talking. Opt for an ostentatious one to enliven the space or a simple one — the choice is yours. If you love drama and have a flamboyant taste, go for such a frilly shower curtain. Avoid prints though!
Take a look at these factors to consider during a Half Bath Remodel
5. Clear floor space with a pedestal sink
Here's a bathroom design that's simple and practical. The customized console sink comes with a steel rack that's perfect to store your towels. We also love the no-fuss round bathroom mirror that, interestingly, complements the black and white mosaic flooring. The bathroom gives off a very clean vibe. A rule of thumb while decorating a small bathroom — keep only what you need. No reason to add excess.
How to Choose Your Bathroom Door? Let's find out!
6. Illuminate the small space with track lighting
Lighting — both artificial and natural light — is important in a bathroom, especially a small one. A window in a bathroom is a great idea. Another way of illuminating your bathroom is through bright lights. We like how the track lights brighten up each and every corner.
7. Grow your own exotic wall-mounted garden
A veneer bathroom is as unique as it can get. It has its very own wall-mounted indoor garden! The linear shelves house plants that grow perfectly well in humid areas such as a bathroom. These combined with the woody look gives the washroom an exotic vibe. We like.
Read more: Stylish Ideas for the Perfect Spa Bathroom
8. Think different with a colorful backsplash
A vibrant backsplash of subway tiles is a good small bathroom decorating idea. It beautifully accentuates the wall that conveniently houses two mirrors and small sinks. A perfect choice for a guest bathroom (or even a half bathroom or a powder room) next to your living room.
9. Go for a two-tone paint job in pastel colors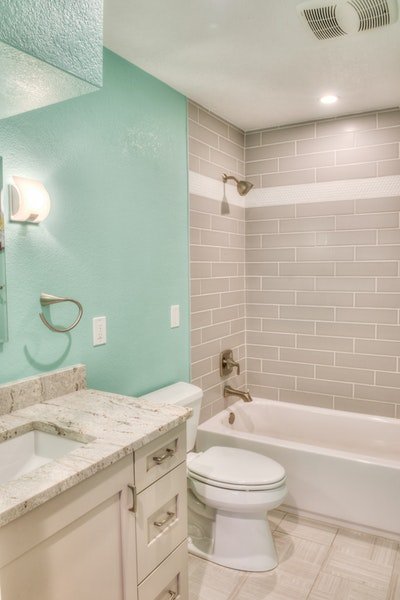 We like the combination of pale green and beige. You can always choose your favorite ones. Pastels will make your bathroom appear larger and more open. Here, the two subtle colors visually divide the small room into two parts. The bath area with its subway tiles looks neat while the vanity with a marble countertop lends an elegant touch.
Read more: Bathroom Countertops: 8 Top Materials to Consider
10. Invest in unique light fixtures
First and foremost, see if you can open up the bathroom space with a large window. It will make the room airier and bigger. However, if your renovation doesn't involve structural changes, the other alternative is to replace your outdated lighting fixtures with new ones. Fortunately, there's a great variety of affordable lighting fixtures available on the market. The more unique, the better. These round pendant lights look absolutely amazing. We know you'll agree too.
11. Install a simple clear-glass shower cubicle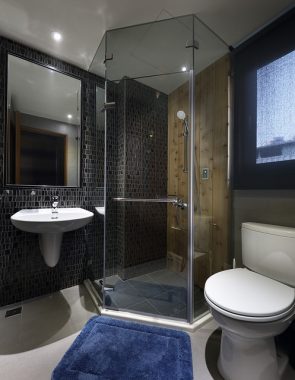 Here's a bathroom design that most homeowners swear by. A clear glass shower cubicle that is customized to accommodate the angled corners of your bathroom. Since it has see-through glass, it doesn't block the bathroom visually. What's more, it demarcates the bathing area from the rest of the bathroom. This also ensures that it stays dry and clean. Throw in a vibrant foot mat and your bathroom is ready to woo the guests.
12. Keep it simple
Sometimes, the simplest of decor ideas turn out to be the best. We like how the designer has installed a no-fuss mirror with a matching shower panel. The minimalistic basin and storage underneath it look quite classy. For the ultimate space utilization, organize your bath towels by rolling instead of folding.
13. Bring in wall paintings for a personalized space
A beautiful piece of art transforms a small space and creates a focal point. Two in this case. The long, small bathroom looks complete because of the wall adornments. Simple yet stylish.
14. Give a vintage vibe with laces and accessories with old-world charm
The best part about decorating a bathroom is that you can let all your creative juices flow. This vintage bathroom with its claw-foot tub and lacey curtains spell class with a capital C. Do notice the simple hooks holding unused rolled towels. A simple stool doubles as a table or towel holder.
Read more: A Quick Look at Crown Molding in Bathrooms
15. Use lightweight wicker baskets for storage
Storage is a major issue in small bathrooms. But if you plan it well, your bathroom will be able to store a lot of useful articles. Opt for wall-mounted wicker baskets that help organize the room besides taking up zero floor space. And, they are eco-friendly too.
16. Create a cozy setting with potted plants
We love incorporating plant life in the bathroom (as you could gather from idea no eight!) Nothing enlivens a space like plants do. You can create cozy nooks that will make the room as welcoming as possible. Everything about this bathroom, including the wooden medicine cabinet and tile flooring, is pleasing to the eye and offers a comfortable feel.
Conclusion
If you think it's almost impossible to make a beautiful statement in a small bathroom, think again! In fact, small bathrooms present the perfect opportunity to experiment with design and decor, go bold, and express your creativity.
We hope these small bathroom decorating ideas will inspire you to add style and appeal to your snug bathroom. Create a space that's practical, attractive, and efficient.
Read more: Small bathroom layout ideas
16 Small Bathroom Decorating Ideas to Woo You
was last modified:
September 28th, 2022
by
Recommended