Small Home Gym Ideas to Create an Effective Fitness Room
Are you one of those people who enjoy working out, but hate going to crowded gyms? You need a home gym. Building a gym in your house is a worthwhile project and can save you from paying for an expensive gym membership. All you need are some great small home gym ideas, a little bit of creativity, some extra space, and the right gym equipment — and your gym will be ready, right in your home!
With a home gym, you won't even have an excuse to skip your workout. Moreover, you can control its cleanliness, choose your favorite music while you sweat it out, workout even at odd hours. And, the best part is, there'll be no one waiting in the line for the treadmill!
Many homeowners shy away from building a gym in their house as they're not sure how much it will cost and how much workout space they require. But, they needn't worry. The cost to build a home gym ranges from $1000 to $3000 on average. Of course, the total cost would depend on the kind of gear you would add.
Planning for home gym? Get the best estimate with us.
A home gym need not be an extravagant one. You can use small home gym ideas to create the most perfect private gym. It's not absolutely essential to spend a bomb on expensive machinery or complex exercise equipment.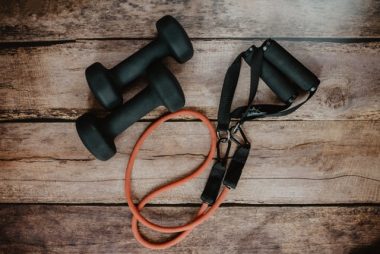 Photo by Kelly Sikkema on Unsplash CC0
Want to make your gym look good, but on a small scale? You can start with simple kettlebells, a pair of gymnastics rings, a yoga mat, a few dumbbells, jump ropes, free weights, perhaps some wall-mounted resistance bands, and an adjustable bench — and you're set!
Did we forget to mention a good sound system and a full-size mirror to motivate you?
You can always prioritize and eliminate items on your budget by keeping your training goals in mind.
As far as space is concerned, you needn't worry if you don't have a spare room for a home gym. You can make use of your attic, garage, outdoor shed, or your backyard for a functional gym. What's more, you can even utilize a nook in your living room or family room to create a small workout zone. You will require approximately 10 x 6 ft. space for the most effective workouts.
So, now that we've set all your apprehensions to rest, let us give you eight small home gym ideas that will make you fall in love with your personal fitness room!
1. Create a workout nook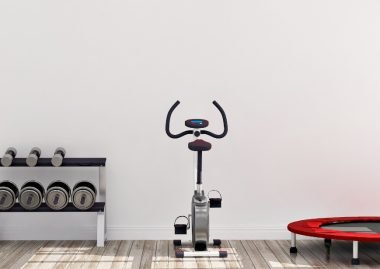 Photo by Freepik
So, what if you do not have a bonus room for a home gym? You can use a clever gym idea to create a tiny nook. Here's a simple idea of demarcating your fitness area from the rest of the room. The first step is to give the zone a different flooring and visually make it stand out. Then, align the gym equipment against a wall. Do give preference to a white wall color for it will make your gym appear more spacious and neater. Make sure the space has access to a window to allow in the fresh air.
2. Get some basic mean machines
If you don't mind investing a bit more in your home gym, consider buying the three most basic gym machines — a treadmill, a stationary bike, and a chest press. They will take care of all your cardio exercises.
Paint the walls with eye-pleasing light colors and add a cork flooring for maximum comfort. You could opt for a ceiling fan with in-built light to save you from cluttering the room further with light fixtures. Let a full-sized window stream in natural light.
3. Use a part of your bedroom
Do you have a small apartment where a separate home gym is just not possible? Don't worry, your bedroom can be a good spot too. Simply reposition your bedroom furniture and clear out a large enough corner for a basic home gym.
Install a multipurpose gym unit that lets you enhance your fitness while you look out of the window for some beautiful motivation. The wallpapered walls and ceiling add that extra charm and positive energy that's a plus in an exercise room.
4. Utilize a tiny room
With the right gym gear, you can convert the tiniest of spaces into a mini gym. We like the simple way in which the gym essentials including pull up bars, gym balls, kettlebells, etc have been placed.
The interlocking rubber mat offers the most comfortable base for your feet. It's a cost-effective way of working out without taking up too much room.
Read more: How to build a tiny house
5. Use a part of your basement
Basements are a great place to set up your home gym. If you do not want to use the entire space, just use a part of it. But make sure that it has ample lighting. There's nothing worse than a dingy workout room to sweat it out in.
Looking for options on basement flooring? take a look at our guide on 10 types of basement flooring options to choose from. We talk about rubber flooring options too!
Read more: What is the average cost to finish a basement
6. Convert your utility room into a workout zone
Here's a simple small home gym idea that utilizes a utility room to create a minimalist gym. The wooden floor and the wall art seem to add glamour to the otherwise ordinary small space. Keep the workout equipment to a minimum with a bench and dumbbells that are ideal for your body-weight ab workouts. In such an area with limited square footage, it's a good idea to add wall-mounted storage to keep things organized.
Read more: Small home gym ideas by expert architect
7. Make your garage a mini home gym
The garage remains one of the most popular places to set up a gym. Since it's on the ground floor, moving heavy gym equipment is not an issue and you get ample garage lighting too.
Simply add a convenient flooring (rubber tiles are the best!) and arrange the gym gear in the way that it doesn't interfere with the workings of your garage.
Take a look at these essential steps to get your garage storage organized!
8. Create your personal gym wherever you go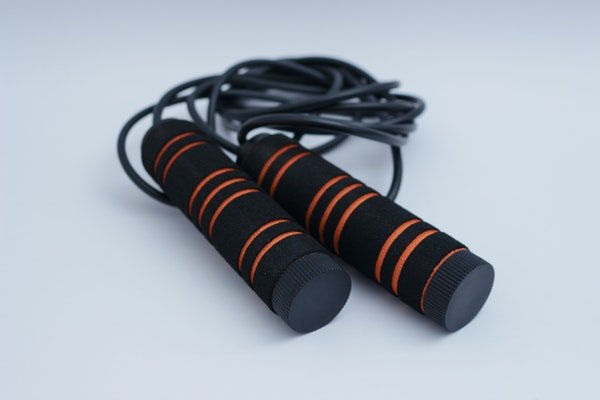 In case you live in a small apartment and cannot accommodate a treadmill or the other mean machines, you needn't despair. We understand that a treadmill, despite its advantages, is large and quite expensive.
If you're serious about working out, nothing should stop you from achieving your fitness targets. An incredibly simple alternative is the old-fashioned jump rope. Think about it. It doesn't require any storage room and it allows you to control the intensity of your cardio workout. If you make the rope a part of your daily regimen, you will benefit physically and you can take your "gym" wherever you go!
Your home gym equipment is important. Get the best estimate with us.
Last words
We hope these small home gym ideas will help you plan your home gym design in the best possible way. The right home gym will help you achieve your maximum workout benefit while offering you a convenient place to sweat it out.
Remember, if you are planning a renovation for your house, you can try our free remodel cost estimator; it's easy and convenient to use!
Small Home Gym Ideas to Create an Effective Fitness Room
was last modified:
October 11th, 2022
by
Recommended