All of us dream of a spacious kitchen with a massive skylight and large windows — letting in tons of natural light. A beautiful kitchen layout that's stylish as well as efficient. In reality, though, most of us have to make do with a small kitchen. Never you mind! It doesn't have to be so bad! Having limited square footage is not such a liability. All you need are the right small kitchen remodel ideas and some smart space-saving solutions.
If you plan your kitchen remodeling well, it really won't matter what size your space is. A small, well-designed kitchen can have its own advantages. 
Such a kitchen feels more manageable and is ergonomically better with an efficient kitchen work triangle. Also, small kitchens are cheaper in terms of remodeling work and provide space for other areas of your house including living rooms, a home office, and bedrooms. 
Planning a renovation for your kitchen? Try our free kitchen remodel cost estimator; it's easy and convenient to use!
Whether you have a galley kitchen or an L-shaped small cooking space, we have some great kitchen designs and ideas that will help you create a delectable kitchen, just the way you like it. Read on for 17 amazing small kitchen remodel ideas for your home. 
1. Think different with a unique backsplash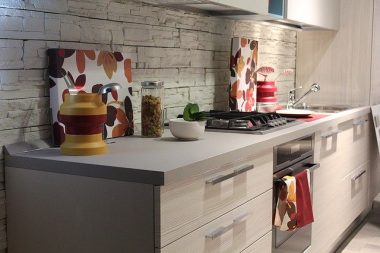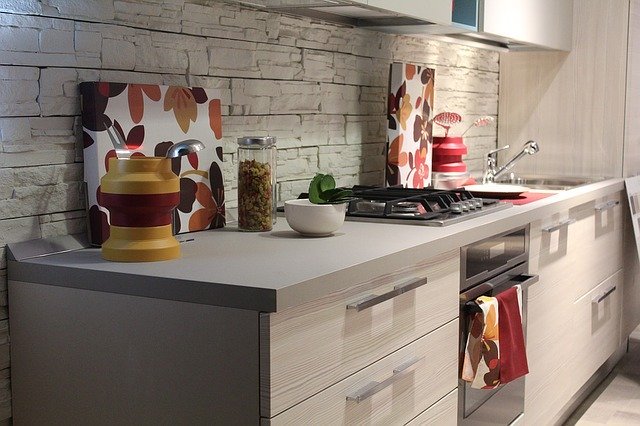 Image by Stefano Ferrario from Pixabay CC0
A beautiful kitchen backsplash is enough to add a unique dimension to your modest kitchen. It naturally draws the attention to the space above the range hood — making the work surface look super-stylish. From eye-catching backsplash tile stickers, rustic brick backsplash to clean subway tile backsplash — every style will inject personality into your kitchen design scheme.
2. Bring in good lighting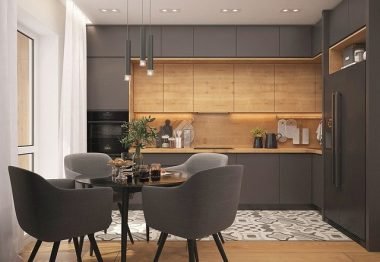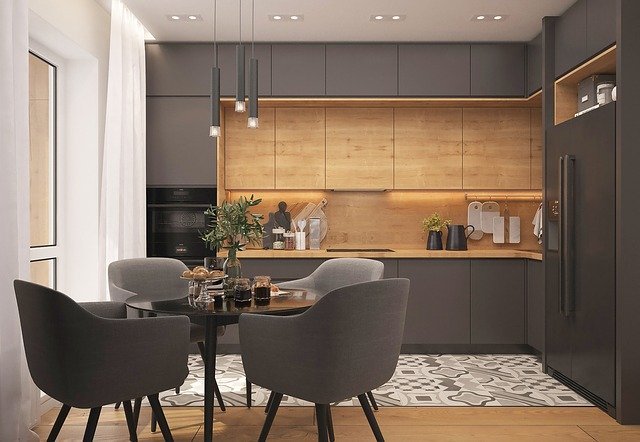 Image by Виктория Бородинова from Pixabay CC0
Good kitchen lighting makes for a great small kitchen remodel. You can consider hanging pendant lights that bathe your eating area or incandescent lighting underneath the upper cabinets. As the latter shines down on your kitchen countertops, it will give your work area greater visual interest and a bright look. 
And, when you've got an amazing piece of statement lighting, chances are, no one's going to notice how big or small your kitchen is. 
3. Add in open shelving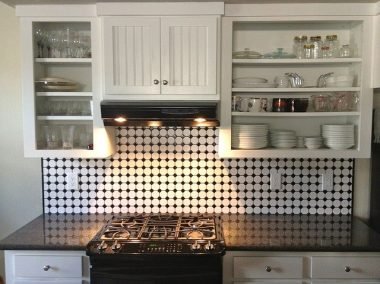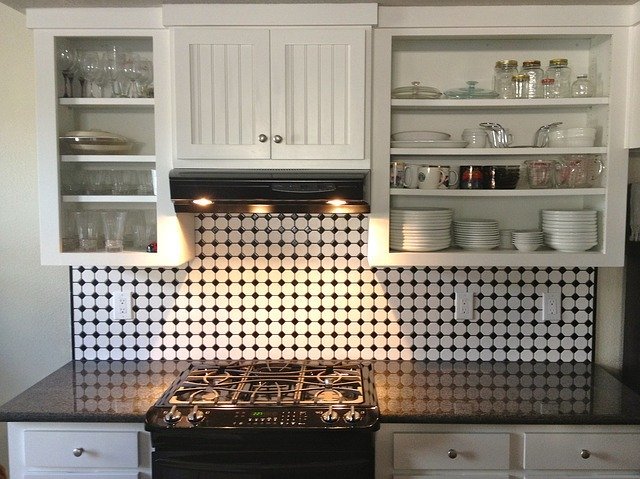 Image by ginsburgconstruction from Pixabay CC0
Trading the top cupboards of your kitchen for open storage will visually expand your kitchen space. Not only will the area look more spacious, but it's also a great way to show off your favorite dishes or shiny pots and pans. 
4. Make your kitchen a part of an open layout
Tiny kitchens tend to feel claustrophobic with overhead cabinets towering over your head in tight spaces. So, you need to incorporate it as a part of an open layout. Remove the wall between the kitchen and the dining room and make the entire home feel more open. Your small kitchen will stop looking so small.
5. Brighten up your cabinetry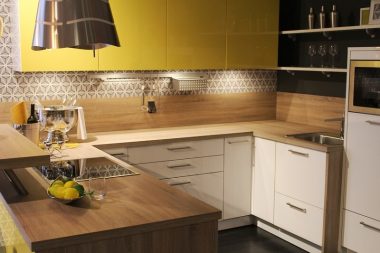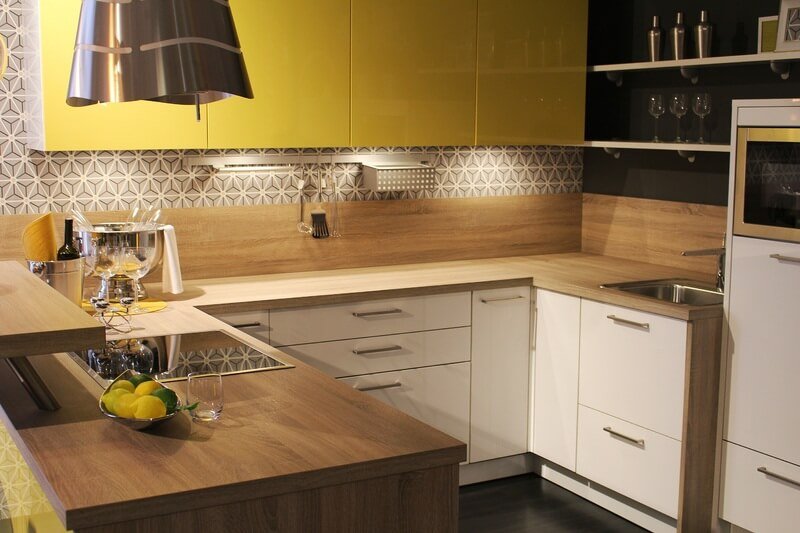 Photo by Pxhere CC0
Don't be shy to experiment with colors in a smallish kitchen. In fact, bold colorations can be very effective in smaller kitchens. The color of your cabinets can change the atmosphere of your kitchen and its perceived size. Bright colors, with good doses of white, reflect light well — drawing the eyes upward and making the room appear taller.
You can add vibrancy even in your kitchen walls, appliances, counters, and furniture. 
6. Go for the classic all-white decor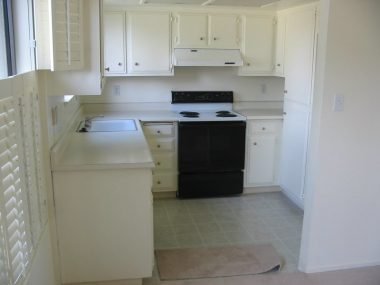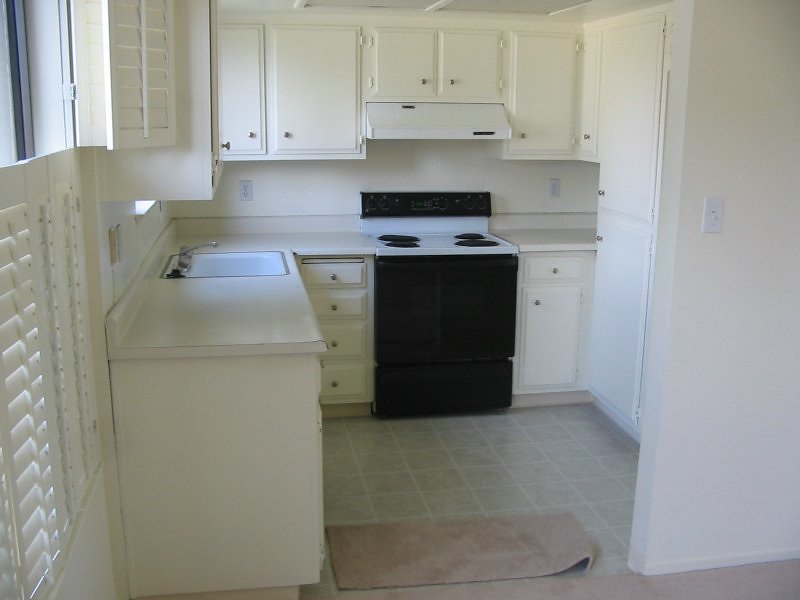 small kitchen, by bradleypjohnson on flickr [CC BY 2.0]
An all-white kitchen is timeless. From the cabinetry to white marble countertops — keeping things white will brighten up a small space. Your kitchen will exude a fresh look and will reflect the ambient light well.
7. Use your kitchen ceiling to hang your utensils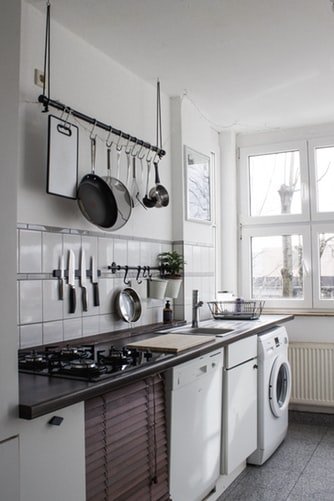 Photo by Dinh Ng. on Unsplash CC0
Want to free up your counter space in the kitchen? Move things up. We love this arrangement whereby the kitchen ceiling does all the storage work for you. Your chopping boards, magnetic knives, pots, and pans are lined up on hooks — giving your cooking area a clean look.
8. Go for a compact kitchen island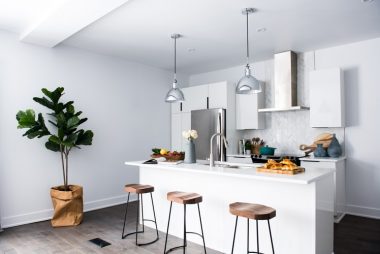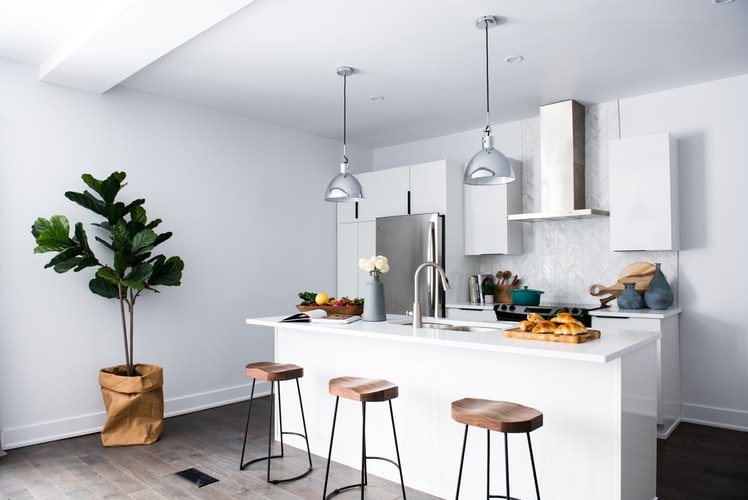 Photo by Christian Mackie on Unsplash CC0
Adding a compact kitchen island gives your kitchen a completely new vibe. Aside from that, you get extra storage space as well as counter space. Add in some simple stools and you can transform the space into a cozy breakfast nook. We love the stainless steel appliances and sleek pendant lights!
9. Bring in a floor-to-ceiling window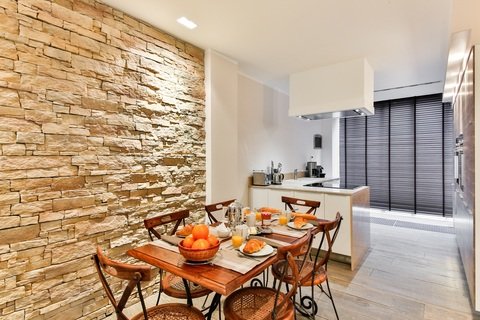 Photo by Pxhere CC0
A window in your kitchen is a boon. Period. The larger the window, the more breathable your kitchen will be. It expands the room — making it brighter, airier, and roomier. Keep it open and let in the sunshine. At night, you can always use blinds for privacy. And, it helps that the kitchen opens effortlessly into the dining area. So, even your guests can enjoy the bright and sunny kitchen.
10. Refresh your kitchen floor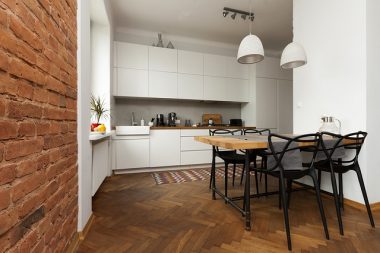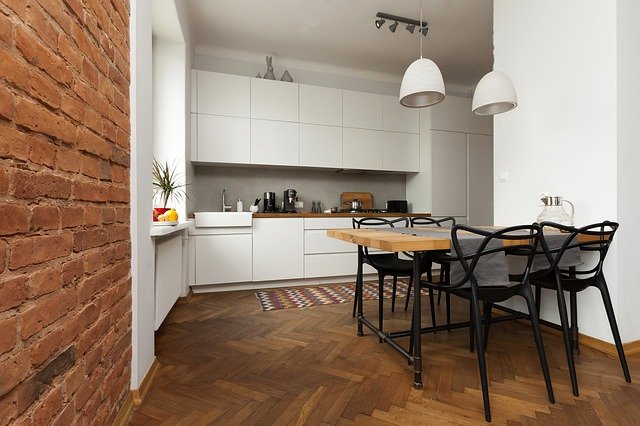 Image by Kamil Cyprian from Pixabay CC0
The right kind of flooring in a petite kitchen is hugely important. Whether you choose, hardwood, linoleum, or mosaic — an eye-catching kitchen floor is sure to visually open up a small space. And, make it look prettier! So, if you want to try a sure-shot small kitchen remodel, changing its flooring will give it the perfect makeover.
Take a look at these durable flooring materials for your modern kitchen
11. Add in extra wall-mounted storage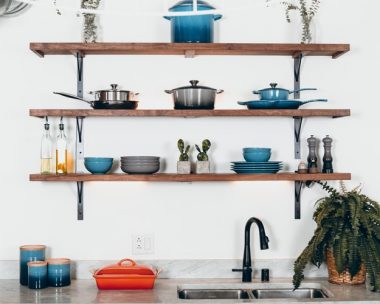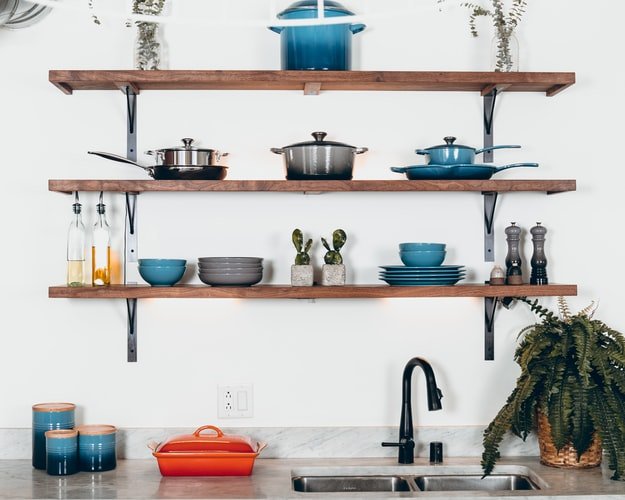 Photo by Dane Deaner on Unsplash CC0
When it comes to kitchen storage, more is always less. Consider adding wall-mounted wooden racks over your kitchen sink. You can use the shelving for displaying your pots, crockery, oils, spice holders, or even some indoor plants. We advise you to arrange the bowls and mugs by color so everything feels cohesive.
12. Keep all the appliances on one side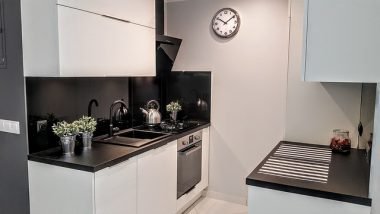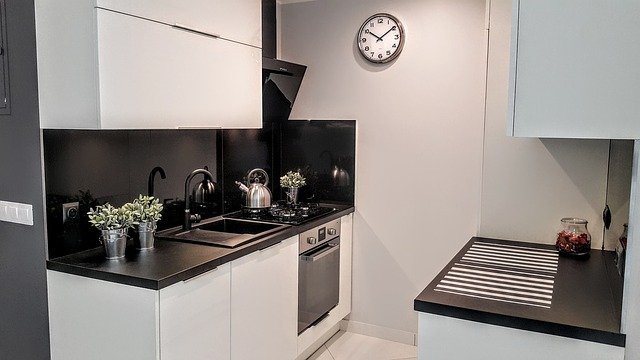 Image by renthouse from Pixabay CC0
A small kitchen does not permit a lot of movement. The simplest solution to counter this problem is to keep all the appliances and your sink on one side. That way, your working will be more efficient, and you won't be running around with a pan of boiling water or a sharp knife in your hand.
13. Create a focal point with an accent wall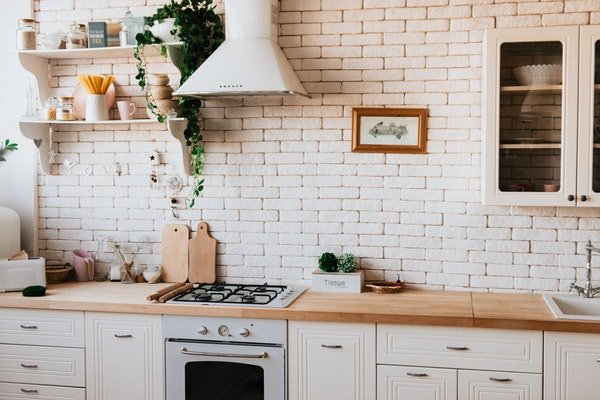 Photo by Dmitry Zvolskiy from Pexels CC0
An accent wall in your kitchen is a lovely way to give your smallish space a complete makeover. We love the white brick wall that beautifully complements the rest of the kitchen decor. The wood countertop and butcher block go well with this rustic setting.
14. Get innovative storage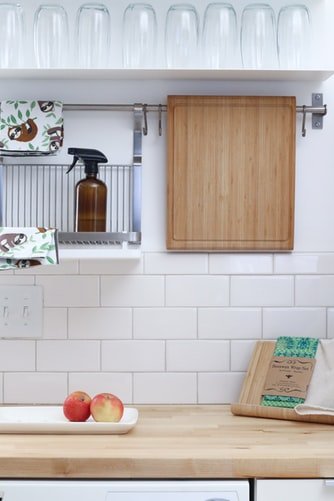 Photo by Good Soul Shop on Unsplash CC0
Space-saving storage solutions are easily available on the market these days. Just pick up smart ones to go with the vibe of your kitchen. This DIY storage is easy to install and remove. Place it strategically to hold items that otherwise may clutter your prep counter.
15. Add a pop of color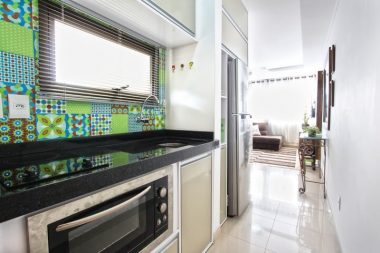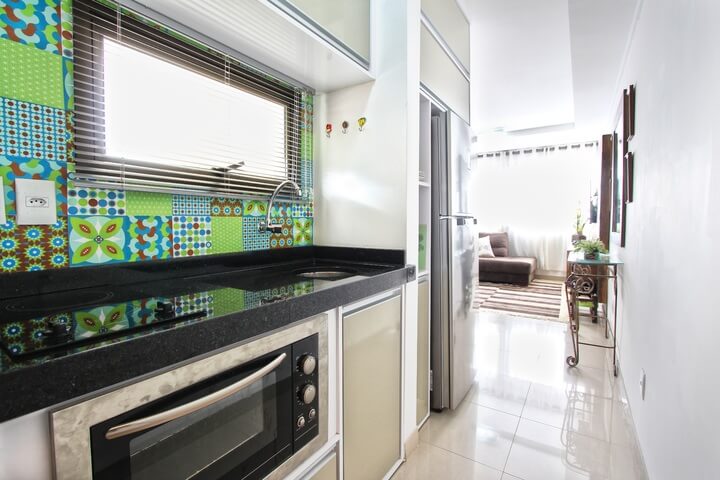 Photo by Pxhere CC0
A pop of color here and there is sure to make your kitchen look inviting. This eclectic kitchen wall is a good way to add warmth to your small galley-style kitchen.
16. Do away with unnecessary hardware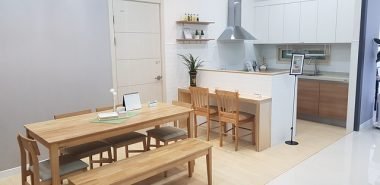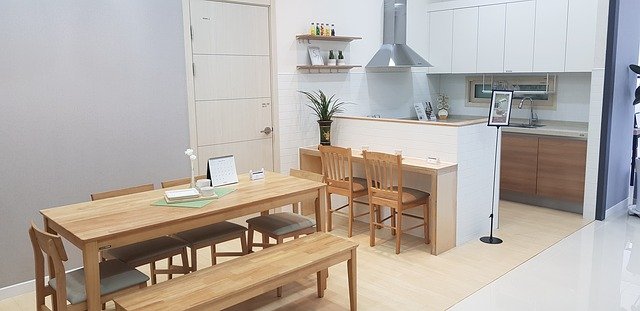 Image by 이동원 lee from Pixabay CC0
When you're dealing with limited square footage in the kitchen, the best small kitchen remodeling you can think of — is to do away with the frills. Simple and sleek cabinetry, for instance, will look better without the hindrance-causing hardwares.
17. Keep it minimal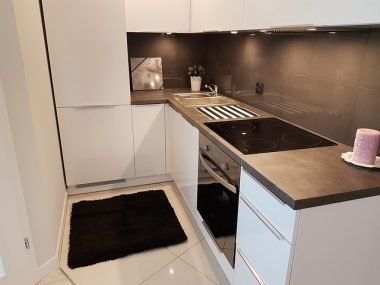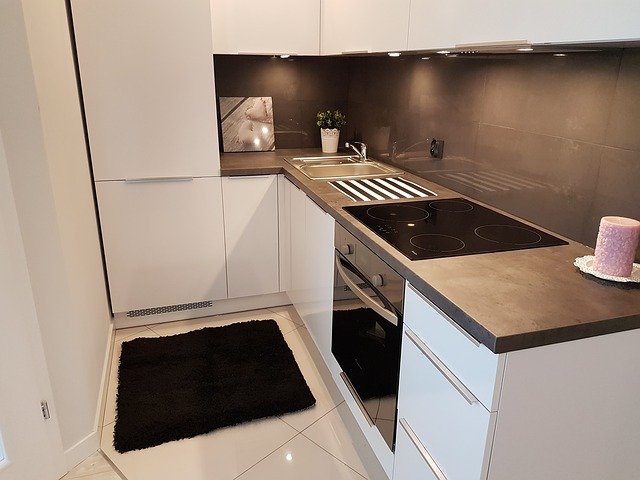 Image by renthouse from Pixabay CC0
The oldest trick in the trade is to keep things simple. Pare down your kitchen items to the bare minimum and you'll be surprised at how much space you actually have.
Conclusion
Never underestimate a small space. Savvy remodeling ideas can make stylish transformations to a kitchen. When it comes to designing a small kitchen, the key is to be creative. And, you can always hire a professional interior designer to help you along the way. 
We hope our small kitchen remodel ideas to make your cooking space a dream to work in. We understand that a kitchen is one of the most functional and social hubs for your family. Why not create a place that your family members will fall in love with. 
17 Small Kitchen Remodel Ideas for the Perfect Makeover
was last modified:
March 27th, 2020
by