Handy Smoke Detector Maintenance Tips
Your smoke detectors are one of the first safety defenses against any damage by fire. When installed and maintained properly, they alert you of smoke and the impending danger — right at the onset of a fire breakout. That's why it's important that you have at hand some smoke detector maintenance tips and keep your detectors in tip-top shape.
Unfortunately, every year a lot of people succumb to fire because their smoke detector didn't set off during a fire. The reason could be dead batteries, having a smoke detector that was well past its useful life, or a far-away location of the smoke detector where the home occupants couldn't hear the alarm.
A good set of smoke detectors will not only double your family's chance of surviving a residential fire, but they will also ensure complete peace of mind for you. This article will list useful smoke detector maintenance tips, including how to check and replace them if necessary. You can then keep your smoke alarms tuned up and ready for action.
Choose the right type of fire alarms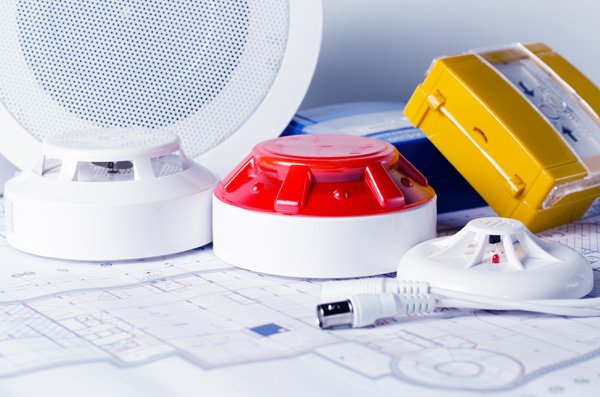 The smoke alarms you select for your home must have the label of a recognized testing laboratory.
There are two kinds of smoke alarms. These are ionization alarms (more responsive to flaming fires) and photoelectric alarms (more responsive to smoldering fires).
It's a good idea to use both ionization and photoelectric technologies in dual sensor smoke detectors. Needless to say, the combination offers you the best protection.
Whether technology you choose, it's best to opt for interconnected smoke alarms — either by using hard-wiring or wireless means. When one smoke alarm sounds, they all sound together.
They offer the best protection — a fact that's validated by the Consumer Product Safety Commission (CPSC) survey of households. This type of alarm is known to alert people during a fire better.
Do make sure that the interconnected detectors are from the same manufacturer. They might not be compatible otherwise, and may not sound.
Installing smoke detectors properly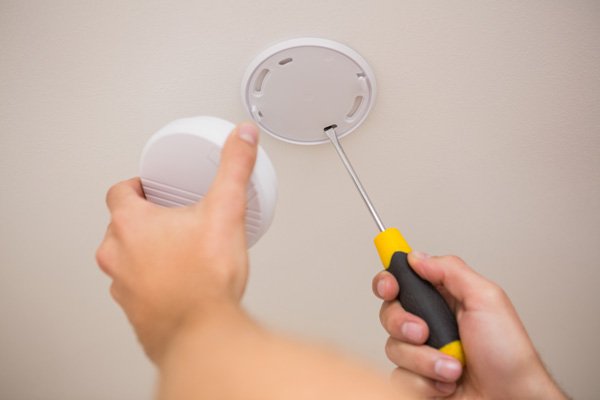 Installing your smoke alarms properly is very important if you want to make your home and family safe from fires. You need to make sure that your alarms are in working order.
Here are some useful installation tips for your fire alarms:
Install a sufficient number of smoke alarms — in every bedroom and on every level of the home, including the basement, living room, family room, and near the stairway.
Remember to install the basement fire alarm on the ceiling at the bottom of the stairs.
Keep your smoke alarms at least 10 feet (3 meters) away from your cooking appliances. This will minimize the chance of a false alarm due to fumes and steam.
Since smoke rises, it's best to mount the smoke detector high on walls or ceilings.
If you opt for wall-mounted alarms, make sure they're not more than 12 inches away from the ceiling.
For pitched ceilings, install the fire alarm within 3 feet of the peak but never within the apex of the peak.
Never install your smoke alarms near the windows, doors, or ducts in the house. The drafts might interfere with their operation.
Do not paint or use stickers and decorations on the fire alarms.
Always keep your manufacturer's instructions handy.
Read more: 7 Tips to Fireproof Home and Be Safe
Testing and smoke detector maintenance tips
Testing your smoke detectors is easy enough. Simply press the test button and the alarm should sound. If you have a battery-powered smoke alarm and it doesn't sound, change its battery and retest it. In case your hardwired alarm doesn't work, it's best to replace it altogether.
Here's how to keep your fire alarm in a ready-steady-go state:
Clean off any external dust and pollutants from the alarm according to the manufacturer's instructions. You should carry out an occasional light dusting with a clean, dry rag.
Opt for a deep clean annually.
Remember to test the smoke alarms at least once a month.
Make sure you get your fire alarm system thoroughly inspected and serviced by a licensed professional at least once every six months.
Replace your smoke alarm batteries with new ones at least once a year. If your smoke alarms come with non-replaceable 10-year batteries, you will need to replace the entire smoke alarm after a period of 10 years.
When replacing the smoke alarm battery, follow the manufacturer's instructions regarding the specific brand and model of batteries to be used.
Do not disable your smoke detectors or forget to replace the batteries — even temporarily.
Make sure all the family members identify the sound of the smoke alarm.
Plan regular mock fire drills to teach everyone how to respond to a fire alarm.
Remember to replace your smoke detectors timely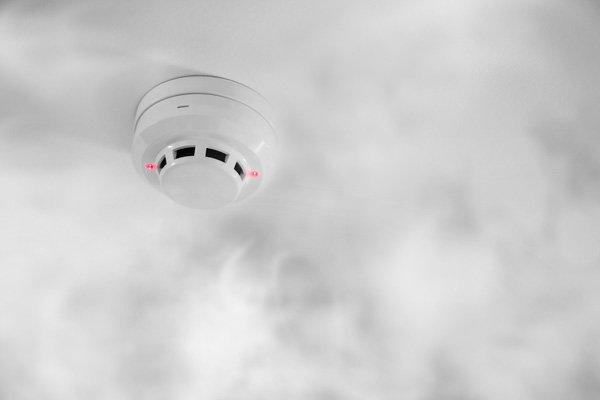 Generally, smoke detectors are effective only for 10 years or so. You'll be able to know when it's due for a replacement as most smoke alarms come equipped with an end-of-life chirping sound. However, there are also incidences where an alarm provides no warning at all and just dies, leaving you and your home totally unprotected.
Make sure you find and read the 'replace by date' on the inside label of your smoke alarm. If yours doesn't have a date code, replace it at the earliest if it's 10 years old or more, even if it passes your button test.
Read more: Ways to Mitigate Roof Damage After a Fire
Have sufficient fire alarms in the house
Your house layout determines exactly how many smoke detectors are required in a home. That said, you do need to install a minimum number of home fire alarms on each level of your home.
So, how many smoke detectors are you supposed to have in your house? According to the NFPA 72, National Fire Alarm and Signaling Code, it's usually one inside every bedroom and one outside the sleeping areas. You should count your basement and attics as separate levels of your home. Larger homes will require additional smoke detectors.
Having enough smoke alarms, properly installed, and at the correct locations, is essential to maximize the escape time you get in times of a fire breakout. If you live in an older home that doesn't meet these minimum smoke detector requirements, it's time to install some of the latest and best smoke detectors at the earliest.
In many states, the enforcement authorities too recognize the importance of reliable smoke detectors and take proactive steps to ensure that each home has sufficient smoke alarms.
Want to create a budget for your home renovation project? Try our free home remodel cost estimator; it's easy and convenient to use!
Key takeaways
Smoke detectors are important safety measures for you and your family. But, these safety devices must be installed and maintained correctly. Only then will they provide you with adequate protection.
And, here's an expert tip: If you're constructing a new home or remodeling your existing home, consider opting for an automatic home fire sprinkler system too.
When sprinklers and smoke alarms work together, they cut your risk of dying in a house fire by a whopping 82 percent — as compared to having neither. These are important steps towards making your home and family safe from any fire damage.
Maintain your smoke detectors well and stay safe!
Handy Smoke Detector Maintenance Tips
was last modified:
December 7th, 2020
by
Recommended