Do you love sitting in your yard well into the night, or hosting dinner parties and BBQs on the patio? The first thing you should invest in is great solar garden lights. There's something ethereal about the soft glow covering everything and lights twinkling all around.
Solar lights give your garden a beautiful, peaceful glow. Not to forget they also offer you greater energy efficiency and zero worry about damaging your plants and structures. Plus, no ugly power cords and a high electricity bill!
We feel every yard deserves the best of solar garden lights. Undoubtedly, well-designed solar outdoor lighting can add plenty of ambiance in your garden besides providing useful functionality. Whatever your lighting needs are, solar lights are definitely a better choice than traditional electric lights.
As mentioned, solar garden lights don't require a wired connection. They are low-maintenance and most importantly environmentally-friendly. They are a lifesaver when outdoor outlets are not available.
Another advantage of solar lights is that these diffused lightings are safer for delicate plants that line a garden path. Bright non-solar LEDs, on the other hand, can cause leafy plants to bleach and curl.
How do solar lights work?
Solar lights work on a three-part system with a light-emitting diode or LED bulb, a solar panel, and a battery. The solar panel, made with photovoltaic cells aka solar cells and crystalline silicon, converts the sun's energy into electricity and charges the battery. The LED bulb then uses this electricity to light up during the night.
Since solar lights are powered by the sun, they must be ideally placed in an area that receives a good amount of sunlight — at least eight hours a day. Most solar garden lights use an automatic on/off — activating according to external light conditions. This allows the light to power on and off when needed.
Take a look at these important things to know before your Solar Panel Installation
Type of solar garden light mounting
The placement of your light fixture is important. For garden use, homeowners often rely on stakes. They can be pushed into the ground in any arrangement. If you need a more permanent decor, you can remove the stakes and attach the units to stems.
In case you're installing solar lights on walls and fences, you can use lights that have flat backs meant to be bracketed or slotted onto sheer surfaces.
The other common placement is attaching through a string placed above an area via hooks or some type of anchoring.
Are you planning a renovation for your house? Try our free home remodel cost estimator; it's easy and convenient to use!
Types of solar garden lights
Thanks to advancements in technology, there's a variety of solar garden lights on the market. They're available in different shapes, styles, and quality. So, which is the best one for your yard? Well, this guide will help you understand the best types of solar lighting. Plus, we also have some important factors to keep in mind before buying them. Get inspired and let your outdoor and landscape design light up beautifully.
Let's explore the most popular types of solar garden lights. Choose the one that suits your lighting needs.
1. Solar path lights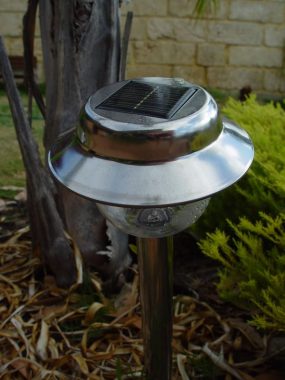 These are small lights that rest on stakes. Simply push them into the ground along a walkway and illuminate the path at night. Since they're not as bright as electric path lights, you'll need almost twice the number of electric lights to get the same amount of illumination.
Pro tips on where to use solar path lights
These lights are ideal for walkways that are far from any exterior outlets. They especially look enchanting if you have a winding garden pathway.
Take a look at these Garden Maintenance Tips Every Gardener Must Know
2. Ambient and decorative solar lights
Have you seen those lovely colorful blown glass, decorative solar lanterns, and surreal string lights? They make your garden look straight out of a magazine centerfold! Although not as bright as solar path lights, such lights provide a warm ambient glow to your space. You can use them in multiples or alongside path lights and spotlights.
Pro tips on where to use ambient solar lights
Such lights are perfect for soft landscape lighting. For example, try placing a few handblown glass solar lights in your garden beds or hang solar string lights in mason jars a welcoming touch at your next gathering. With these decorative lights, the possibilities are many.
Take a look at our guide on what to get for keeping your garden alive
3. Solar-powered spotlights
These solar lights are the brightest. Also called task lights, the spotlights provide the light that's roughly equivalent to a 40-watt incandescent bulb. Depending on the kind of illumination you want in your garden, you can plan on adding the number of spotlights.
Pro-tip on where to use solar spotlights
These task lights are ideal for areas where you want bright, direct light. For instance, you can direct the beam of light at a tree or a landscape design. Try using motion-sensing solar spotlights doors and in the driveway.
Important things to keep in mind before buying solar garden lights
Once you zero in on the style of solar garden light you want, the next step is to ensure that you install them in the most suitable way. Here are some useful points that you must keep in mind.
The brightness of a solar light depends on the amount of daylight it receives. Apart from that, it also depends on the quality of the photovoltaic cells and the size of the LED bulb. If you want bright lights, opt for higher-quality photovoltaic cells and larger LED bulbs.

Keep in mind that brighter lights take more power. Opt for lights that have a high and low setting to meter power usage. Generally, such light features can be changed manually only.

In order to get the most out of a solar cell, keep your lamp posts or decorative lights in direct light. This is especially an issue with lights that sit closer to the ground. They often are under shadows of trees, the house, or even garden foliage. It's wise to wire higher placed solar cells to the lower cells. It can distribute power while minimizing wiring.

If you want to opt for colorful lights, keep in mind that different LED colors require different amounts of power. And, they produce different

amounts of heat

. It's best to use the same white for bulbs. It also ensures straightforward longevity to a unit. Therefore, it's wiser to use bright white LED lights and then a filter to craft the color.

If you prefer the look of incandescent bulbs, opt for solar lights with tinted covers. Look for solar-powered LEDs labeled amber or soft white.

In case the installation requires wiring for larger areas, it's a good idea to hire a licensed installer or an electrician.

It's best to use a variety of styles. Remember that different patterns allow for interesting illumination. For the brightest solar lights, consider direct spotlights that illuminate specific areas. For driveway and pathway lights, string lights and imitation lamp posts look beautiful. Moreover, since such outdoor solar lights are away from any kind of vegetation, they get fully charged.
Read more: Why garden solar lights won't work?
Last words
Solar garden lights don't just enhance the look and feel of your outdoor space, they also provide an efficient exchange of energy along with a worry-free installation.
With solar-powered lights, you'll be able to notice a sharp decline in the power bills immediately. So, go ahead and plan those outdoor dinner parties and BBQs. Trust us, your solar lights will definitely add a lovely charm to your ambiance.
Read more: Landscape Lighting
How to Choose the Best Solar Garden Lights? 7 Important Tips
was last modified:
May 30th, 2022
by
Recommended