A bathtub is more than a mere spot to clean yourself; it's your very own haven where you can relax after a long day at work. Therefore, it's important to choose your bathtub design well. Whether you opt for a standard bathtub size or a customized one, totally depends on what you think is the right fit for you and your family.
This guide will highlight the different types of bathtubs and what the standard bathtub size of each kind is. What's more, it will also offer you useful tips on how to buy the best bathtub for your specific needs.
Finding the perfect tub size is also important as you cannot afford to have one that's either too small or too big. After all, a standard bathroom already has many fitments such as the toilet, bathroom storage, and the all-important bathroom vanity.
Every square inch counts and you need to smartly utilize every nook and corner.
Since a bathtub or bathtub/shower combination takes up the most space, you should factor in this point while planning a bathroom remodel. Knowing about the correct bathtub dimensions is necessary.
So, what is the standard bathtub size?
Now, with every square foot at a premium, space optimization becomes a necessity. And this is when we need to consider sizes, especially for the bigger units. Understanding standard bathtub size is another step toward ensuring a properly planned, efficient bathroom layout.
What are the standard bathtub dimensions?
Standard dimensions are meant to give you a rough estimate of the bathtub sizes. A regular tub would approximately measure 60 inches in length and 30-32 inches in width. However, these figures can widely vary, depending on the shape and type of bathtub you are planning to buy.
Remember that there is no single standard tub size. Since there's a wide range of bathtubs available on the market today, a homeowner is spoilt for choice!
Different categories of tubs include walk-in tubs, soaking tubs, drop-in bathtubs, corner tubs, and freestanding bathtubs, to name a few.
Below, you'll find the standard bathtub size (lengths, widths, and heights) for some of the common varieties of bathtubs. You can then decide which unit would be the best fit for your existing bathroom or a new one if you're planning a bathroom renovation.
Keep in mind that a standard-size bathtub costs anywhere between $200 and $14,000 — depending on the bathtub material, quality, size, and design.
Alcove bathtubs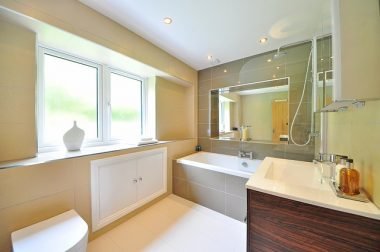 Average tub size: 48-72 inches long and 15-20 inches wide
Alcove bathtubs are a good idea for small and narrow bathrooms. It is bounded by three walls and is installed along the width of the room. Hence, the longer walls serve as the ends and the back wall forms one side. The finished side or the front panel is called an apron.
However, alcoves may not be a good idea for large bathrooms. Since the walls are not close enough to create the alcove, it might have to be placed along the length, with a custom wall built on one end of the tub.
Small bathtubs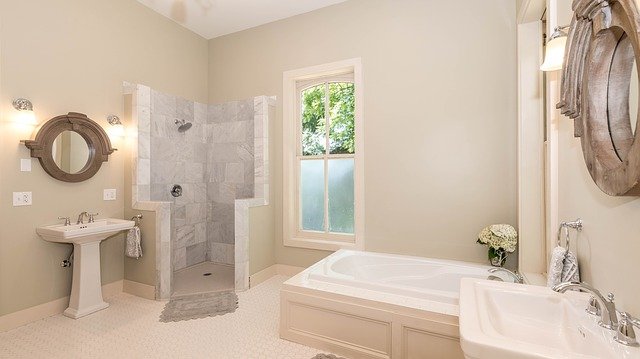 Standard tub size: 54 inches long, 30 inches wide, and 15 inches high
With large spaces gradually becoming a luxury, homeowners usually have to opt for small bathrooms. In such cases, small bathtubs are the go-to options. If space is extra-cramped, then you might just ditch the idea of a tub and opt for a shower instead. However, if you absolutely want a bathtub then you can go for one with a smaller size.
Moderate-sized bathtubs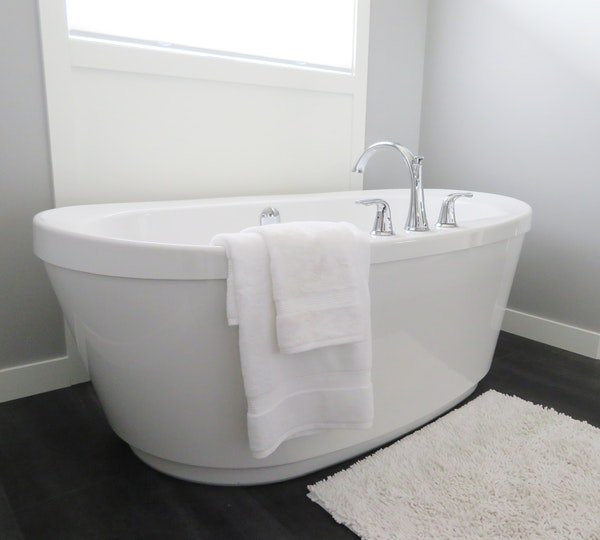 Average tub size: 60 inches long, 32 inches wide, and 18 inches high
Moderate bathtubs are the most common options for maximum homes. This is because most bathrooms are designed to incorporate standard-sized tubs.
Long bathtubs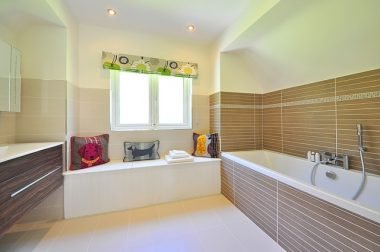 Standard bathtub size: 72 inches long, 36 inches wide, and 20 inches high
A long bathtub is a segment of alcove tubs. It just comes with longer and wider dimensions — so as to accommodate more than two individuals at once. If you have a large bathroom and wish to install a bigger tub, this is the perfect alternative.
Oval bathtubs
Average tub size: 60 inches in length, 40 inches in width, and 24 inches in height
You can get oval bathtubs in the form of drop-in tubs or stand-alone, or freestanding tubs. Generously sized and offering ample space, they are another good option for big bathrooms. Usually, these units are not longer, but wider than standard tubs.
Whirlpool bathtubs
Standard bathtub size: 32-36 inches long, 18 inches wide, and 23 inches high
Whirlpool tubs may appear larger than normal tubs. However, they have dimensions that match alcove-ready spaces. Equipped with a thin acrylic shell, they lend extra interior space for concealing the accompanying jet tubes and the pump unit. You can get them in regular rectangular sizes or as huge walk-in models
Corner bathtubs
Average tub size: 60 inches in length, 60 inches in width, and 22 inches in height
Corner bathtubs are perfect for your master bathroom when you wish to spend time soaking in a warm bath and relaxing with a book or a glass of wine. Luxurious and spacious, they are the ideal option for homeowners who love a steamy, rejuvenating, and deep soak.
Each of the above tub styles comes in a wide variety of sizes. You can choose one that fits your bathroom perfectly. The first step is to carefully measure the size of the bathroom and then decide which tub configuration is best-suited for your space.
Some useful bathtub-buying tips
When it's time to shop for a new bathtub, you need to consider its main purpose. For example, a large corner bath with a whirlpool and air jets would be ideal for a master ensuite bathroom, whilst a walk-in bathtub would be ideal for a first-floor bathroom or a guest bathroom.
Once you've got the intended use of the bathtub, it will be easier for you to choose the right model, size, and tub material. Here are some great tips for buying a bathtub for your home.
Always consider the available space and triple-check the measurements. Make sure to bring a tape measure at the time of shopping for your tub. Your bathtub should fit inside the bathroom so that it does not look out of place. For example, if your tub is too big, it might leave only a few inches for you to maneuver between the sink, toilet, and shower areas. Again, if it's too small, your entire bathroom might seem as if it's swimming in space.
If you're replacing an existing bathtub, it's a good idea to match the size, shape, and water supply connections of the old tub. Keep in mind that you may require more floor space if you're changing to models such as freestanding bathtubs.
Always consider the lifespan of your tub and its maintenance, especially at the time of choosing the bathtub material. For example, a copper bathtub requires more material-specific care and maintenance. Also, a copper tub is best as a freestanding structure and may not suit every bathroom.
Weigh your priorities – whether you want affordability or durability. Most durable tub models generally come at a higher price. And vice versa. For example, a fiberglass bathtub is one of the most affordable tub materials, but it's not as durable as a solid-surface bathtub.
Before you finalize a bathtub design, explore all your options in terms of style, material, and size to find one that fits your preferences.
People who're over six feet tall may be better off with an oversized bathtub (over 70 inches long, with a soaking depth of more than 16 inches) for added comfort.
Last thoughts
When designing a dream bathroom, every homeowner wants to buy the best they can afford. And, a bathtub is one of the most important elements of that space. If you're shopping for a new tub, always know which bathtub size and design will suit your needs.
You needn't be overwhelmed when choosing the correct size for your bathtub. Keep in mind that standard bathtub sizes vary according to the type of tub, its shape, and its model. We hope this blog will give you a fair idea of the kind of tub you need.
Read more: Stunning home spa bathroom design by an expert architect.
Standard Bathtub Size: How to Choose Your Tub Dimensions
was last modified:
October 11th, 2022
by
Recommended