Many of us have a tendency to overlook our kitchen and we fail to appreciate the space in this part of our home. It's time to think deeply about your transitional or contemporary kitchen to get it much more organized and in sync with your needs.
Like most people, you've definitely stumbled across generalized ideas for kitchen organization now and then. But you may not have recognized some simple to follow rules that will make it easier than ever to organize your pantry, kitchen drawers, and cabinets.
So, to help you make your life a whole lot easier and your kitchen a whole lot more organized, we're going to share our favorite organizational tips in all of these areas below. Stick around to discover this powerful and effective information.
Ideas for Organizing Your Transitional Kitchen Cabinets
Organizing your contemporary kitchen cabinets can be a daunting and difficult task at times. But it doesn't need to be if you utilize the suggestions we're about to share with you now.
For starters, it's ideal to keep your individual Tupperware sets within its own boxes in your kitchen cabinets. This may not seem like a big deal, but it's really game-changing for a number of reasons.
For starters, it's very easy to lose Tupperware lids if you aren't organized. By keeping everything in its own box, you'll know exactly where the Tupperware and the lid is at any given time and you'll never have to spend hours searching for rogue lids that don't want to be found.
Second, it's best to put all of your everyday items in cabinets that are easily accessible. By approaching cabinet organization this way, you'll make it very efficient and simple for family members and friends to gain access to the items they need quickly, conveniently, and frequently.
Finally, you can gain additional space by hanging hooks on the inside of your cabinet doors. These hooks can be used to hang up spoons, measuring cups, and other utensils that normally clutter up a kitchen drawer.
Read more: Kitchen Pantry Organization Ideas
Ideas for Organizing Your Contemporary Kitchen Pantry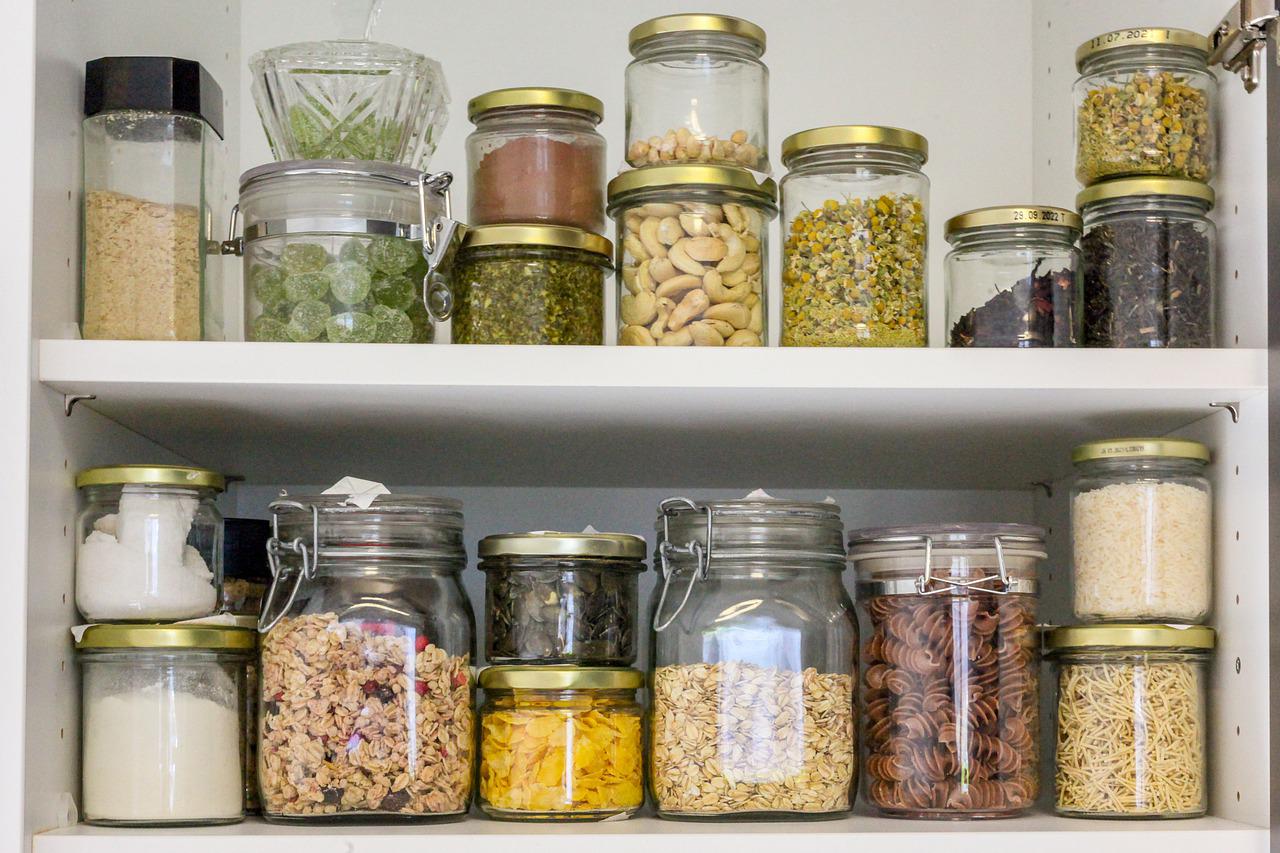 Keeping your kitchen pantry in order seems like an impossible task for many. Things seem to get cluttered and out of sorts very quickly in the pantry, and suddenly it looks like a hurricane swept through this area because things are strewn about, misplaced, and completely disorganized.
Are you ready to get this mess back under control?
First of all, a simple way to keep things organized is to get baskets that you can line your pantry shelves with to keep everything in its place. These baskets or bins make it possible to keep food and other items in your pantry in the right spot.
It's best to organize these baskets or bins by particular categories. You can have a bin for pasta, another bin for baked goods, a third bin for snacks, and so on and so forth. Eventually everybody will get to know which items are in each bin and they'll have no trouble finding exactly what they're looking for whenever they step foot in the pantry.
Second, items you tend to use every day should be at eye level at all times. Why? It makes it easier for everyone to find them in the pantry.
This is especially true if you have young children that constantly walk in the pantry looking for snacks. Make sure their snacks are at their eye level, not yours, to make it simple for them to find.
Third, get a nice set of plastic containers to organize grains and other baking ingredients. You can use these containers to store pancake mix, different types of flour, sugar, oats, and much more.
Ideas for Organizing Your Transitional and/or Contemporary Kitchen Drawers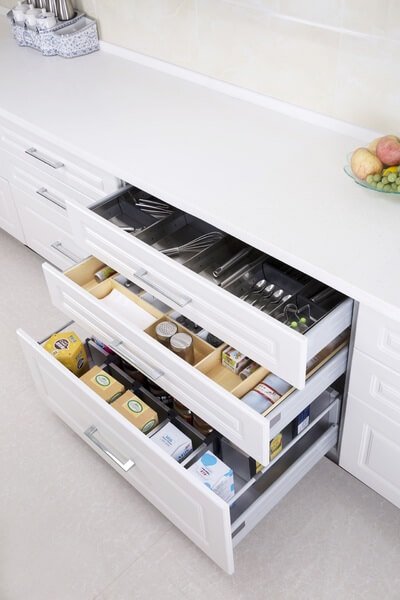 Are your kitchen drawers a complete mess? Let's get them back under control with the following tips.
To start things off, you should work on organizing your drawers by kitchen tools. If you're big on grilling in your backyard, create a drawer for your entire backyard grilling tools collection. If you like to bake, put all of your baking tools and items in the same drawer.
Next, organize kitchen drawers with small dividers. These dividers will make it easy to keep certain items separate from one another so that everything isn't scattered all over the drawer itself.
Last, store pot lids upright with a tension rod. By putting a tension rod across the length of the drawer, you can then squeeze pot lids in behind it and store them upright so they are out of the way and easy to gain access to at the same time.
Final Thoughts
As you can see, organizing your contemporary kitchen cabinets, drawers, and pantry is possible. Use the tips and ideas we've shared today to turn your organizational kitchen dreams into a reality.
Read more: Simple and Highly Effective Corner Kitchen Cabinet Ideas
Stellar Ways to Kitchen Organization: Cabinets, Drawers & Pantry
was last modified:
May 19th, 2022
by
Recommended