A porch railing can give a beautiful character to a house and easily breathe new life into it. Apart from providing it with safety (as required by your local building codes), porch railings add oodles of charm and curb appeal.
Railings are one of the most important parts of a porch. Since such a railing is highly visible, it's important to choose the right kind of materials, styles, and patterns. After all, you don't want an eyesore of a railing that blocks your view too, do you? Fortunately, today, there are many options, with most of them maintenance-free too.
Updating or replacing your porch railings is a great way to change the look of your house. You can do it yourself or hire a contractor for the job. We recommend the latter as it saves a homeowner a lot of construction hassles and gives a professional finish to the railings.
Whatever method you choose or whether you want a wooden, metal, vinyl, glass, or composite railings — we will help you find the right look for your home. In this article, we have six types of stylish and practical materials that are perfect for your porch railing.
1. Wood Porch Railing
Wood is a popular choice among all porch railing systems. Wood is evergreen and easy to customize too. It looks amazing in posts, pickets, and a top and bottom rail. You can use it to carve balusters and post caps into decorative shapes — complementing any style of the house.
However, as wooden railings are solid, do remember to choose a pattern that doesn't block your view or covers your porch completely. Also, keep in mind that wood requires a good amount of maintenance. Having said that, once you commit to taking care of it, a wood railing can last for 10 years or even more.
Read more: Screened in Porch Ideas to Create the Most Relaxing Ambiance
2. Metal Porch Railing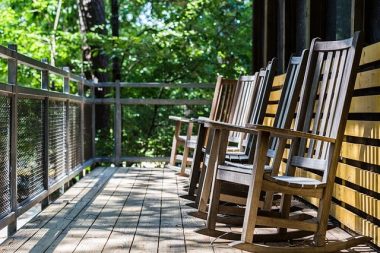 Metal railings are easily the strongest ones, and they don't even increase the home renovation costs too much. You can choose iron, steel, or powder-coated aluminum railings — each one of them an inexpensive way to add style to your porch.
A metallic railing is easy to install; you can do so on a matching metal frame or combine it with a wood railing. The advantage that such a railing has is that metal balusters come in a variety of colors and styles. Square, round, or baroque — your choice. This stylish porch railing is also easy to maintain.
3. Glass Porch Railing
If you have a porch to show off, it's a good idea to opt for glass panels instead of regular pickets or balustrades. There's something really beautiful about such a railing. The minimal look of glass adds a sleek and modern appeal to your house.
Always keep in mind that a glass railing should be tempered with polished edges for safety. You can install it with an aluminum post and rail frame for a clean and sturdy look. Want to add a unique touch to your railing? Let your glass panels have decorative etchings or a color tint.
On the downside, this type of railing is likely to be more expensive than others, and should only be installed by a professional. Also, a glass railing will require more maintenance if you want it looking clean and new. Even more so if you live in a salty, ocean environment. With proper care, a glass railing will easily last more than a decade.
4. Composite Porch Railing
There's a reason why composite railing systems are gaining immense popularity these days. They are durable, low maintenance, cost-effective, and look beautiful. What's more, you can customize them according to the color and style of your house.
A boon for DIYers, a composite railing usually comes prefabricated as a single piece that easily locks into place. Sold as porch railing kits, they are available in a wide range of size, style, as well as colors.
The downside to a composite railing is that colorfastness may be an issue. Sometimes, but not very often, they tend not to last as long as promised.
Read more: Low maintenance front porch landscaping ideas
5. Vinyl Porch Railing
Here's another porch railing that's gorgeous and practical. Vinyl railing. It's high on durability and low on maintenance. Most importantly, it can easily withstand the elements of nature while giving your porch a stunning look.
What's more, you can even custom design your own pattern for the railing. It's available in an assortment of styles and finishes that won't splinter, crack, or discolor over time. Most importantly, the cost-effective option needs no staining, sealing, or finishing every year.
Read more: Affordable and Beautiful Ideas for Your Fall Porch Decor
6. Cable Porch Railing
For those who want to do things differently, a cable railing, with stainless steel wires, is an excellent choice. Its open design will let you enjoy the breeze as well as your scenic vista. To give the cables support and strength, you can combine them with either a wood or metal frame.
When it comes to the look, such a railing complements both modern as well as the traditional style. Not surprisingly, a cable railing is practically maintenance-free and strong enough to withstand the harshest of weathers.
It also comes as prefabricated kits for easy installation as well as unique custom designs. A quality cable railing has the potential to last long, really long.
Conclusion
Just like you carefully choose everything else about your house, selecting the perfect porch railing too is important. Not only is a railing a necessary safety feature, especially in the case of elevated porches, it also defines the exterior of your house — giving it a definitive frame.
We hope our list of porch railing materials helps you create the perfect aesthetics to match your home. The right type of porch railing should offer you style, function, and safety. Just keep in mind that your railing must comply with local building codes. Once that is taken care of, you are all set to woo your guests!
Read more: Porch Design Tips
6 Porch Railing Materials That Lend Style to Your House
was last modified:
May 27th, 2022
by
Recommended