Sunrooms make great additions to any home. Who wouldn't like a room that allows you to enjoy the elements without having to step out? And the fact that you can literally buy DIY sunroom design kits off the shelf makes the decision to add one to your home during your next home improvement a no-brainer.
However, most of these kits do not address your sunroom flooring needs. The type of flooring you choose for your sunroom will depend on where you live, how much traffic your sunroom will see and your budget, among other factors. With these sunroom flooring ideas, what works best for your home should be a breeze to decide.
The ideal sunroom floor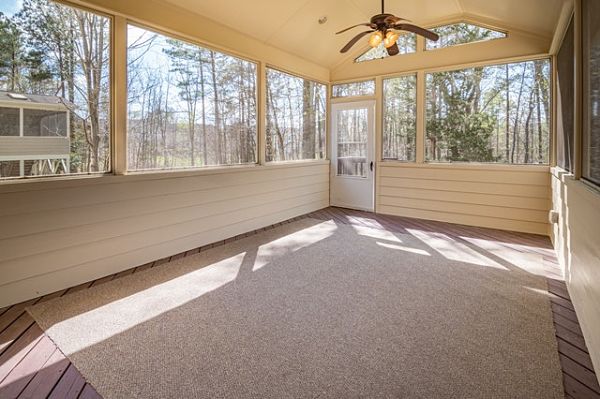 There are three attributes the ideal sunroom floor ought to possess. Look for these while choosing a flooring material for your sunroom.
You will need a durable material, considering your sunroom will see a fair amount of foot traffic from the outdoors.
Your flooring material will also need to be adaptable to the weather, irrespective of whether you live in a three-season or four-season area. You will need a floor that will not overheat and burn the soles of your feet in the peak summer months but will also be able to retain some heat and warm the room in the winter months.
And finally, you will need a sunroom floor that is resistant to moisture and fading.
Let's now introduce you to the most popular options for sunroom flooring.
1. Carpets
We know what you're thinking. We just said you need to expect heavy foot traffic in your sunroom, and here we are asking you to consider carpeting as a flooring option.
But there's a reason carpeting makes a great sunroom flooring material, especially for unheated sunrooms. It will not get too hot underfoot in the summers, and it will keep your feet warm in the winters. This makes them a great choice for three or four-season rooms.
Keep in mind, though, that all kinds of carpets may not work. You will need to buy an indoor-outdoor variant. Popular materials for you to consider include sisal if you're looking at a natural fiber, and polypropylene if you're on a budget.
2. Hardwood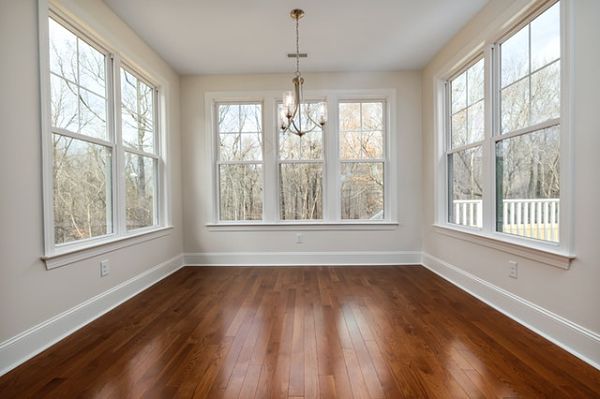 A favorite of all interior designers, hardwood not only feels great underfoot, but it will also add to the value of your home. Who wouldn't want a sunroom that reminds them of a Scandinavian spa? There are, however, a few things for you to consider before you decide to add a hardwood floor.
For starters, wood floors tend to fade, and that is bound to happen thanks to their constant exposure to the elements. The solution is to choose a lighter stain of hardwood as opposed to the visually more impressive darker stains. If you are adamant about getting a darker stain of hardwood, consider covering it with a hardy rug to extend its life.
The other important thing for you to consider is that hardwood flooring, while it feels nice and cool underfoot in the summer, does not really keep the floor warm in the winters. This rules it out if you live in colder climes.
Home Renovation Cost Estimator
Sorry, we currently don't have that project at our disposal.
---
You can take a look at our most popular ones:
Water Heater Installation
Exterior Door Replacement
Install Recessed Lighting
Exterior Door Installation
Interior Door Installation
Interior Door Replacement
Read more: Why getting a sunroom price estimate is crucial
3. Laminate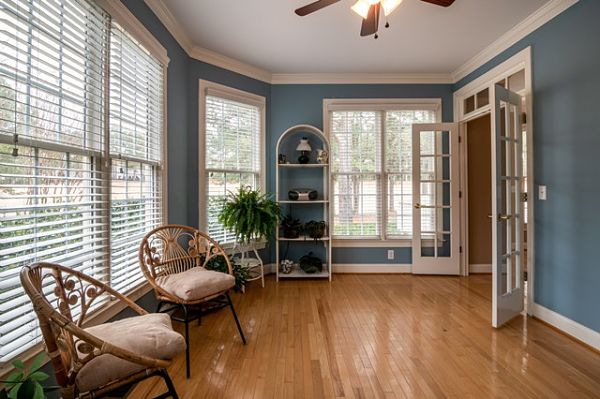 If you're looking at a stylish floor design without having to shell out as much as hardwood flooring costs, laminate flooring is your answer.
Costing a fraction of what hardwood does, you can choose between a natural stone finish, wood finish, or tile finish. You can even buy a laminate floor with UV protection.
Laminate is a great choice for sunroom floors because they're affordable, easy to install, and even easier to clean. 
If you want a long-lasting laminate floor, choose a lighter shade, because even though laminate takes longer to fade than hardwood, fading is a reality. You can extend its longevity by treating it with an oil-based stain.
If you're willing to spend just a little bit more, you could opt for luxury vinyl flooring. All the benefits of wood laminate flooring, but much more durable and comfortable underfoot.
4. Concrete flooring
Bygone are the days when concrete flooring meant rundown factory floors and dingy basements. Concrete flooring finishes have progressed from the dull gray industrial finishes to being visually stunning, thanks to special paints, stamps, and stains.
While concrete sunroom flooring is easy to clean, stained concrete can get slippery when wet. Exposure to too much moisture can also make the flooring soggy.
So if you live in an area that experiences torrential rainfall, or if your sunroom opens up to your pool, concrete flooring may not be your best option.
5. Linoleum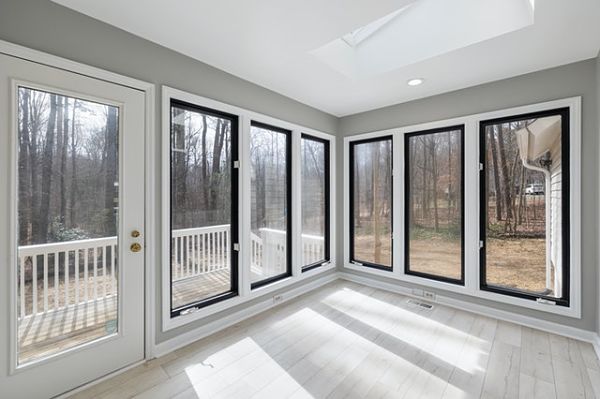 Made of all-natural materials, linoleum has been making a comeback and is another viable choice for your sunroom floor.
Linoleum flooring is an environmentally friendly choice and is extremely easy to maintain. Just be sure you choose a sun-resistant type, as it tends to fade with age.
6. Ceramic tiles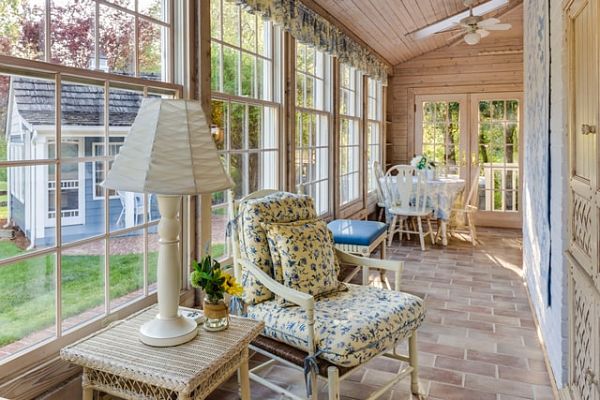 If there was, hands-down, a winner to choose among all of these flooring materials, ceramic tile flooring would probably come out on top.
Ceramic tiles are very durable, scratch-resistant, fade-resistant, are energy efficient, water-resistant if installed correctly, and very easy to clean. They can definitely handle the vagaries of wear and tear.
Sure, they can be hard underfoot, but that's what outdoor rugs are for.
They also come in a variety of colors and prints, so you can even mix and match, making up your own sunroom floor design if you'd like to.
Read more: Sunroom vs screened porch: Which is the right choice for you
Sunroom flooring ideas: What works best for your home
was last modified:
September 9th, 2021
by
Recommended