Sunroom Paint Color Suggestions You Will Love
Nothing can replace the joy of spending a morning or early evening outdoors. However, adding a sunroom comes as a close substitute. It blends the outdoors with the indoors in a beautiful, bright way. Indeed, a sunroom in your home can create a relaxing, inviting oasis where you can enjoy the external landscape while staying comfortable inside. One of the most prominent features of a sunroom is its windows, which allow ample sunlight. Hence, choosing paint colors should be approached slightly differently than that of the other rooms in your house. Always remember to honor the surroundings when decorating your sunroom. Keeping outdoor elements in mind is the key to choosing paint colors for a sunroom. The shades should maximize the room's potential and create a space where you'll look forward to spending time in. Here are some sunroom paint color suggestions we'd like you to see before you remodel your space.
Read more: Sunroom vs screened porch: Which is the right choice for you
Nature-inspired hues
Your sunroom is bringing the outdoors into your home. So, what can be a better place for inspiration than nature itself? Bring in some potted plants and set them as strategic locations. Think of how colors are arranged in the external world. You can see the dark shade of grass on the ground, medium hues of trees and plants at the mid-level, and the light blue color of the sky at the highest point.
Follow this pattern in your sunroom and paint your ceiling (and perhaps walls) in light shades. Soft yellows or pale greens will look beautiful and natural on your walls. Because this sunroom color scheme is imitating that of the outdoors and since you can see so much of the outside from here, this method will create a seamless blend of both environments.
Throughout the room, use furniture that is made of wood, bamboo, or wicker. Add greens, blues, browns, and whites in your window treatments and upholstery.
Instantly estimate the cost of your remodel...
...or take your time to personalize dozens of choices to transform your house into your dream home.
Neutral color schemes
Sometimes, the outdoors can be the best focus of a room. If you want to let that happen in your sunroom, you'll need to remove any competition between an indoor and outdoor focus. Choosing a neutral color scheme for your walls is one of the best ways to do this because it greatly gives a sense of quiet and calm.
Your walls can be colored with a light beige or gray paint as it creates a background that unifies with a different color palette of furniture and other sunroom remodeling items. Bringing in furniture made of natural wood, like wicker or bamboo, will help the room blend with the outdoors. Check the idea above. White wicker furniture, with light blue-striped cushions, set against a gray backdrop, create a warm, spacious feeling in the set-up.
Read more: Sunroom financing options
Complementary colors of backdrops and furniture
If your sunroom is completely closed off, you can furnish it with indoor furniture and electronics without worry. With its extra focus on the outdoors, but safely protected from the elements, it can become a welcome, entertaining retreat. If you choose to use your sunroom as a recreational area, go with neutral walls for a safe background. Gray is especially pleasing.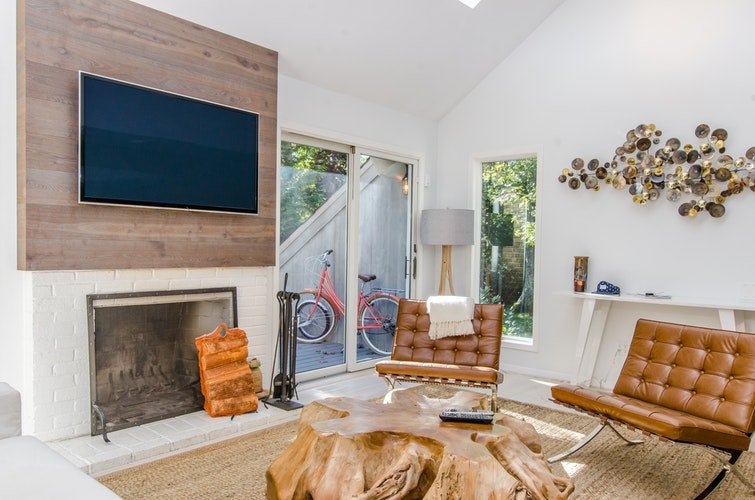 If you're extending your living space with a sunroom, keep the sunroom in the same color family as the rest of your home. Simply extend the color scheme of your other living spaces into your sunroom for a cohesive look.
Pops of different colors
Are you a color lover? Don't stifle your passion — bring pops of colors into your sunroom! Look to nature again for your inspiration, but don't hold back. Add your favorite bright colors with the help of plants and use those in your furniture and accents as well. Keep it controlled by painting your walls green and ceiling white. Placing dark-colored wicker furniture sets, coupled with floral or patterned cushions, shall lend the required contrast to your interiors.
Thinking about interior paint? Find the best cost with our estimator tool.
An airy look
If you want an airy, light feeling, white paint is almost always a perfect paint color choice for a sunroom. White on white works — and it works beautifully in a sunny space. In fact, it works so well that you simply can't go wrong when you choose white for your sunroom. Paint your walls in white color, paint the ceiling white, and even hang window treatments that are white. Bring in natural elements with wood flooring and add in soft hues throughout the rest of the room.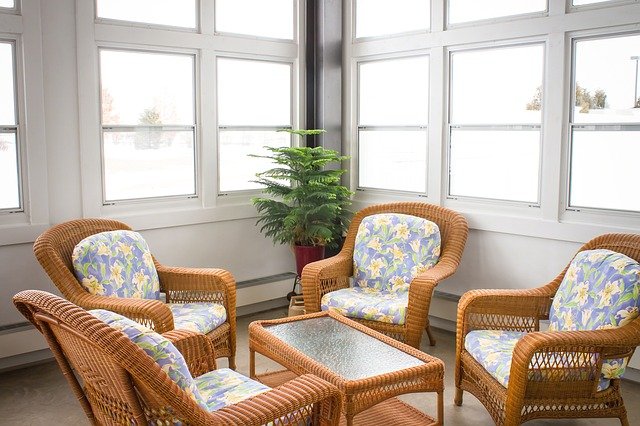 Playing up the architectural elements
Does your sunroom have mantels, wainscoting, arched doorways, bookcases, or other interesting architectural features? Add a layer of interest by painting these elements just one shade lighter or darker than your walls. You can also go for a more bold route and paint your walls and architectural elements in contrasting colors.
Color-coded ceiling
A simple way to make your sunroom feel airy and big is to paint your ceiling in a lighter shade than that of your wall. On a paint sample card, use the middle choice for your wall and go one or two choices lighter on the ceiling. This will soften the shade of your ceiling and open up your sunroom.
A bright color palette
Break the monotony by going for bright, bold colors. Seek ideas from nature, but this time, don't introduce the colors in small doses. Instead, paint the entire walls in that particular shade. Select some lighter hues such as pale brown, yellow, or blue and add them to your furniture and throw pillows. Pick accents that are lighter versions of your selected colors. Paint the ceiling white or sky blue so that you don't overdo this look.
Your interior painting cost calculator is important. Get the best estimate with us.
Go with your gut
Following a design rule perfectly won't mean anything if you just really hate a paint color in your sunroom. Follow one of the above sunroom paint color suggestions, but always give yourself the final test: do you love the color? Does it make you feel the way you want to feel in that room? If not, keep looking until you're satisfied.
MORE: Perfect Guide for Adding a Sunroom – Types, Costs, and Benefits
Sunroom Paint Color Suggestions You Will Love
was last modified:
August 31st, 2022
by
Recommended