What's more relaxing than lazing by the pool on a hot summer day and occasionally taking a plunge in the blue, sparkling waters? Nothing can compare to this experience, seriously! Long gone are the days when we used to find only plain, rectangular pools gracing the backyards of homes. Nowadays, you find so many interesting swimming pool design ideas that not only add character to your pool but also transforms the entire landscape. So, here we go! Below we have listed some cool swimming pool design ideas that are so easy to replicate. Go on. Check them out and gather some inspiration for your next swimming pool renovation project.
Read more: Everything you need to know about Pool Renovation
Tropical retreat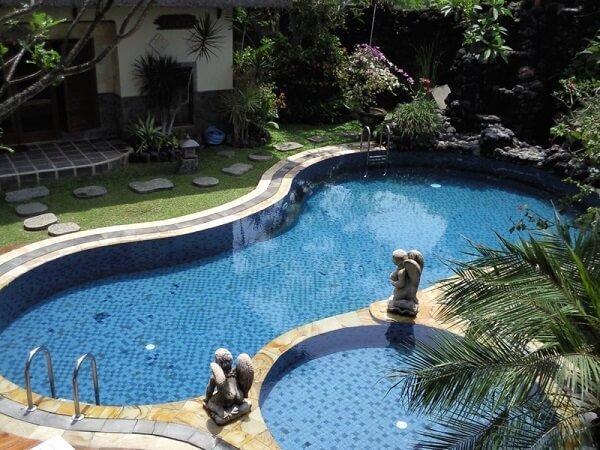 Who said that you have to book immediate flight tickets in order to spend a tropical holiday in Hawaii or the Bahamas? Why not create your own natural oasis in your backyard? Plenty of green plantations bring in the tropical vibe, while also protecting you from too much sunlight. You can go a step further and incorporate a rocky structure into the design. A simple mix of gray stones at one of the edges can reinforce the natural feeling. Add elements such as small statues and pretty blooming flowers to create a cohesive environment.
Modern and elegant in-ground pool
Check out the layout above. This contemporary, in-ground swimming pool features a rectangular shape with sharp, cut edges. In order to make it interesting, the designer has incorporated two shaded, relaxing seating areas at the corners — equipped with huge umbrellas. When you are done with your swim, you can retreat here and sip on a cocktail or simply read a book. Water features such as a segmented waterfall at the far end, augmented with a natural backdrop of thick trees, complete the set-up. Neatly trimmed grass lawns surround the pool, adding the much-required natural touch.
The all-inclusive spa
This is one of our favorite swimming pool design ideas. Why? Because it's all-inclusive. The pool itself is segmented into two parts — a jacuzzi where you can immerse yourself in a rejuvenating hot bath and a larger pool with steps leading into the water. A shaded spa area with pool loungers makes it the perfect backyard getaway. What's more? There's also an outdoor kitchen area with a sitting arrangement around a fire pit. A comfortable patio completes the entire set-up, making it an ideal retreat spot to host small get-togethers or cocktail parties.
Below is a closer view of this same layout:
See the extra elements added by the edges. A rocky waterfall at the far edge, a space to indulge in water sports, and an irregular paved boundary all around. Everything simply adds up to the nature-inspired aura that the homeowner wants to create.
Segmented wonder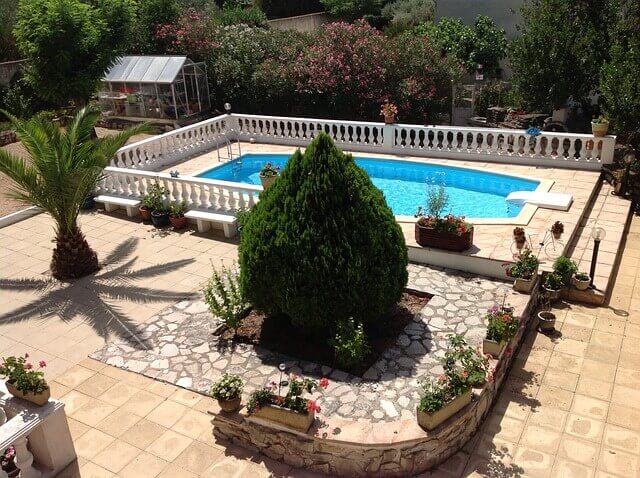 When you divide your backyard into sections, you get a neat, orderly, and geometric landscape. In the above design idea, the homeowner has separated the swimming pool from the rest of the garden with a white intricate gate, leaving only one entry point to the pool area. The entire area is paved, with demarcations for plantations or design elements. To break the monotony, he has opted for thick foliage as the background, which adds in the required nature-inspired touch.
Read more: A Complete Guide for Installing an Indoor Pool in Your House
Colorful and lively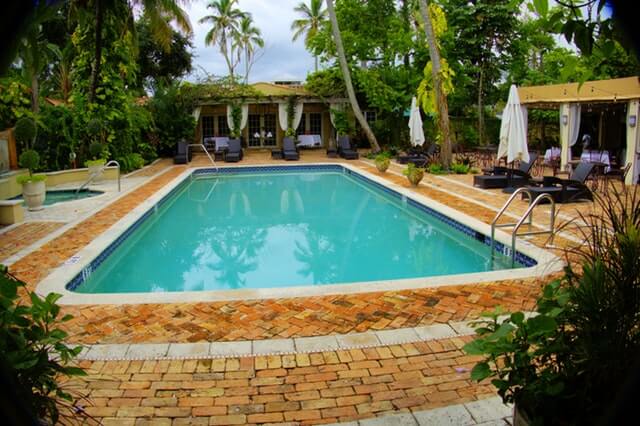 Have you ever thought about a landscape designed with colorful elements? The pool builders here have gone for brilliant colors by ditching the traditional neutral theme and incorporating lively orange brick pavers. You can also consider bold shades for the furniture or furniture pads in the loungers, chairs, and tables by the poolside. What about dark blue, purple, or even contrasting black? And of course, here, you can also see how natural splashes of colors are evident in the tall trees, shrubs, and plants that envelop this entire outdoor living space.
A neutral color scheme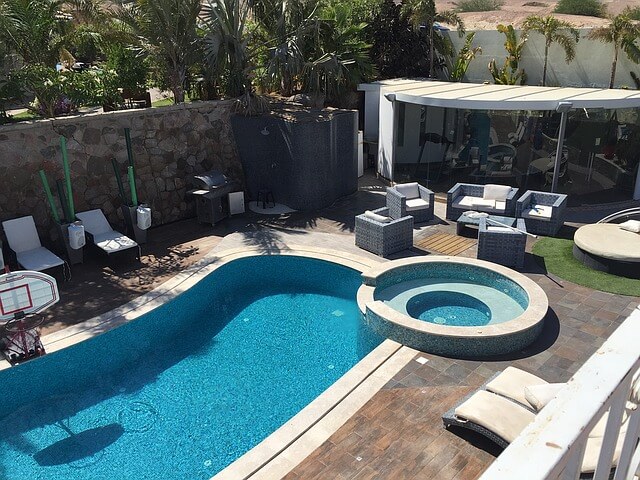 Pool environments designed with a neutral scheme exude a sophisticated contemporary appeal. White and grey are the prominent hues that dominate this outdoor pool. Grey seating arrangements with white cushions feature sharp, cut edges and square or rectangular designs. The round shaped jacuzzi and an ovalish larger segment perfectly match the architecture. Separating this set-up from the outside is a tall, rocky wall that ensures your privacy while you chill and laze in your personal oasis.
Read more: Ways to Landscape Around Above Ground Pools
Playing with shapes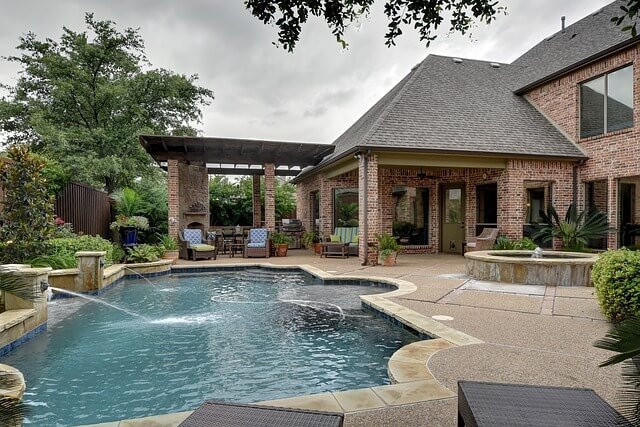 Who said that swimming pools only need to come in the conventional rectangular or kidney shapes. Explore your creativity. Consider designing something that is meaningful to you and appeals to your heart. The irregular boundary of this swimming pool goes so perfectly with the brick-clad exterior of the house. Large format flagstone pavements are perfect for integrating the rim of the pool with the rest of the area.
Clad in concrete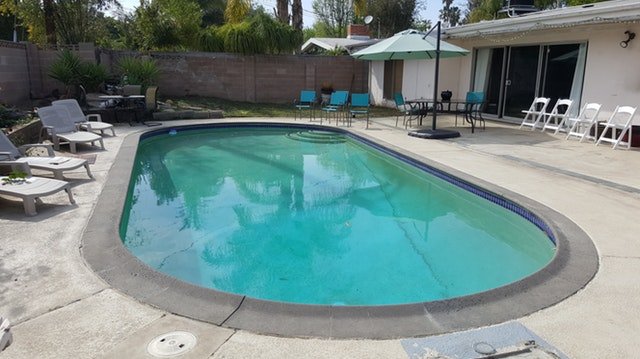 Stamped concrete or any other form of concrete is the traditional way to create style in and around your pool. Use it to get a unique design and feel to the pool itself or to decorate the decking around the pool. You can augment this simple and neat set-up with a high retaining wall and grey and white pool loungers. Throw in some contrast with brightly colored furniture and a colorful large umbrella. Concrete is a conventional material for pools which is popular because of its low maintenance requirements.
Plantation swimming pool
Beautifully integrating the indoors with outdoor living, this pool design plays with technical vs natural. The classic rectangular shape of this inground lap pool has a protruding edge at the entry point — thereby, rendering it versatile enough to be used for multiple activities — swimming, relaxing, or simply sitting by the side. Note how it merges the technical details with the native natural backdrop, comprised of thick, tropical trees. It's almost like the forest has taken refuge within your boundaries.
Read more: How much does it cost to build a pool
Reflecting tiles
In this contemporary small swimming pool idea, a tiled bottom reflects the sky and plays with daylight. The designer has enhanced the modern layout further by constructing a paved surrounding poolside. You can get further creative and install lights in the pool to intensify the illumination affect even during evening or night hours.
Read more: Pool Renovations – A Comprehensive Guide
Final take
It is definitely not a must that you always go for traditional elements when you gather inspiration from the myriad of available swimming pool design ideas. They are not meant only for swimming anymore. Swimming pools with beautiful water features can make your backyard a lot more interesting. They should define your sense of style and art while offering an abode to chill and relax. Use one of our tips above or simply use your creativity to come up with an idea of your own. Allow your imagination to flow and trust us, you will yourself be surprised with the final results!
Read more: Can A Swimming Pool Add Value To Your Property?
Cool Swimming Pool Design Ideas for Your Backyard
was last modified:
May 24th, 2022
by
Recommended